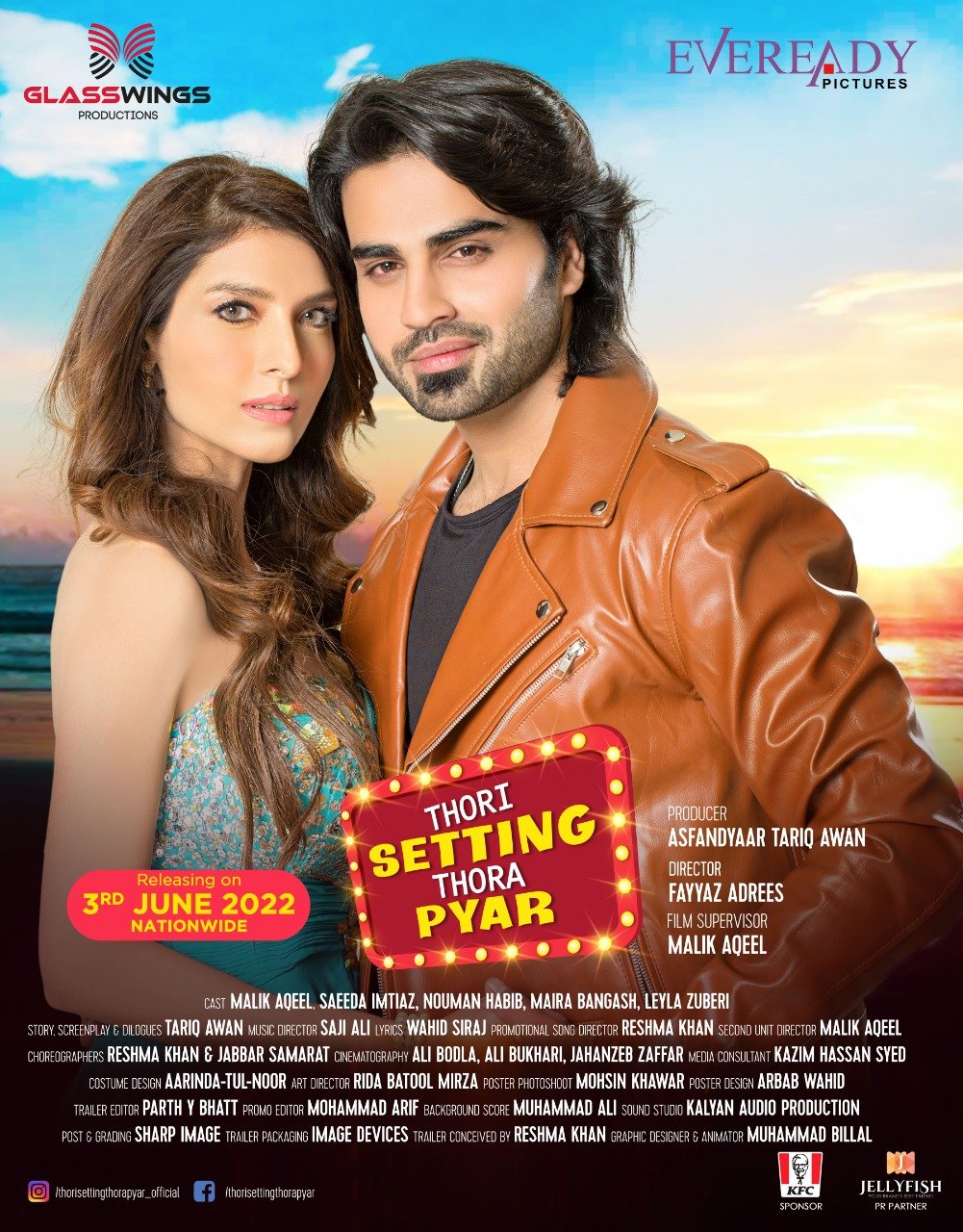 On 03 June 2022 movie Thori Setting Thora Pyar is being released in cinemas nationwide for the general public. Although the movie is being released by a new production house 'Glass Wings Productions' and is being distributed by Eveready Group; still the general public is up for a treat to watch.
Videos of songs and trailers are already going viral on social media where people are expressing their love for the movie and anticipating the release on the 3rd of June 2022 to enjoy the movie on big screens with their families.
The cast has made appearances on mainstream media channels on various shows and also on radio shows where the cast and producer talked about their journey, experiences, and motivation for making the movie. The launch of the content so far as seen on social media has made us accrue the following to be the top 5 reasons why this movie is a must-watch in cinemas:
Great Music and Songs: The movie has songs being sung by the Maestro Ustad Rahat Fateh Ali Khan, and Ustad Amanat Ali Khan who have not just produced marvels in the past but have also beautifully sung the songs of the movie. The anticipated tunes among people include: Fizao Mei, Na Hum Rukei, Chal Hut Mamoo
New Good Looking Faces: It is always a sigh of relief for the audience to see young and good-looking new faces on cinema screens. Guys are looking forward to the new poster girl Saeeda Imtiaz while girls are already seen chanting for the handsome Malik Aqeel.
Just for Laughs: TSTP promises to offer pure entertainment and no unnecessary melodramatic nonsense. The movie might seem really strong in technicalities yet it also has an ample amount of great jokes and will keep you entertained. All the actors especially Noman Habib aka Mamoo have exhibited great comedic timing.
Novel Storyline: The writer & producer of the movie, Tariq Awan, has been seen discussing about the novel storyline, focusing on female empowerment unlike the normal vanilla movies being made routine in the cinema industry. The new writers and storytellers have revamped the way movies are being made in the cinema today.
Picturesque Locations: The whole movie has been filmed beautifully in the Northern Areas of Pakistan. People are going to see beautiful locations which were never explored by the camera previously and feel like dreamy locations on cinema screens.
The public wants pure entertainment and TSTP is up to offer exactly that. The rom-com Thori Setting Thora Pyar is written & produced by Asfandyar Tariq Awan, directed by Fayyaz Adrees, and a movie supervised by Malik Aqeel. The movie is set to release on 03rd June 2022 in all cinemas across the country. Go watch it with your friends and loved ones to have a great time.