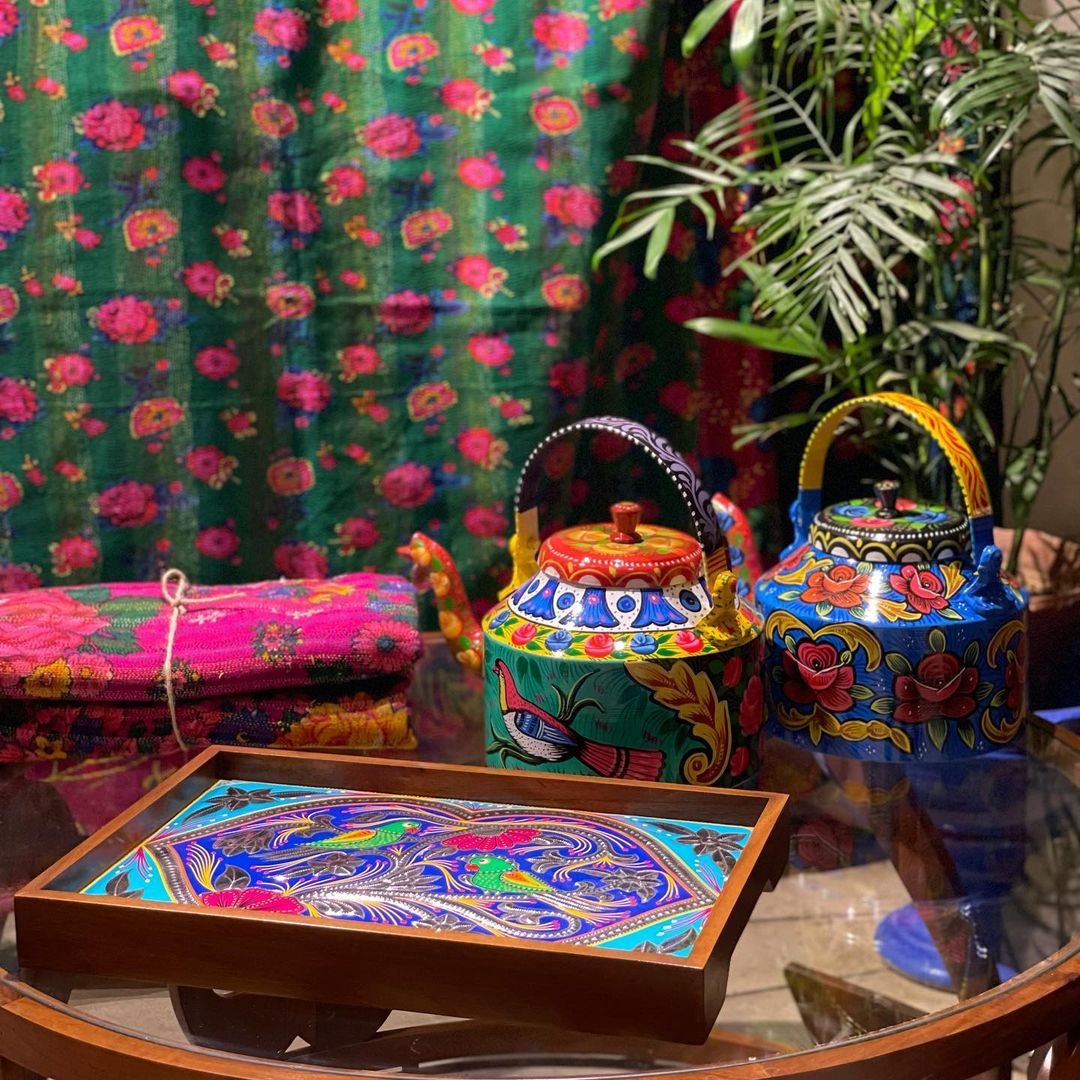 Pakistan is a culturally rich country thanks to its historical, geographical, and ethnic diversity. Being one of the oldest civilizations Pakistan has inherited a variety of cultures. Pakistan is quite famous for its handicrafts worldwide. Because of the striking hues, alluring designs, and texture they are quite popular not only within Pakistan but in the international market as well.
In recent times the number of Pakistani entrepreneurs is on the rise. With the power that social media holds, skilled Pakistani individuals have resorted to using these platforms for offering hand-made products that depict Pakistan's culture. Small scale businesses are on the boost as promoting the company's culture and product on social media is cost-effective means of driving brand engagement and boosting the public image.
Here is a list of Sunday Editor's favorite start-ups that are promoting Pakistan's cultural soft image through their products.
Tali-Karachi
The word Tali (Taali) is a Sindhi name for the wood commonly known as Sheesham used for manufacturing various furniture. Tali is a set-up based in Karachi. They surely know how to utilize the locally available resources and craftsmanship and produce products that are a beautiful depiction of Pakistan's culture. Each product is handmade with precision and love.
View this post on Instagram

It is the brainchild of Sadiqa Husain Tayebaly, a product designer with a vision to create awareness and promote the real story of Pakistan through the works of her master artisans. At Tali one can find a variety of products ranging from handmade jewellery pieces to colorful Ralli, candle stands, pottery, cushion covers, and whatnot. If you are fond of decorating your living room aesthetically then you must visit their shop.
View this post on Instagram
Keepsakes Pakistan- Handcrafted With Love
Using Pakistan's beautiful landscapes and diverse culture as an inspiration, Keepsakes Pakistan is creating handcrafted souvenirs that are unique and Oh! So Pretty that we cannot take our eyes off them.  Keepsakes Pakistan is an online souvenir shop where you can buy good quality, artisanal tokens of love from all corners of Pakistan. A designer-artist duo Sarah and Mariya are the brains behind the initiative. Pakistan is a country full of hidden cultural treasures and beautiful places. Their aim is to promote Pakistan's tourism industry.
View this post on Instagram
Gul Khan Truck Art
Gul Khan Truck Art has surely aced the saying Fasla Rakhain warna pyaar hojayega because we cannot resist and are so in love with their truck art products. It is Samia Ali's project who believes that Pakistan has much more to offer than what is being already shown to the public and the world. Pakistan is one of the most beautiful countries yet highly misperceived. It has an amazing culture which needs to be shown to the world. The beauty of Truck Art is that it portrays the imagination and the thoughts of the artists in vibrant and amusing colors. The product portfolio of Gul Khan Truck Art includes beautifully handpainted mugs, home décor items, and handpainted khussas.
View this post on Instagram
9Lines
9Lines is the creation of artists Hassan Iqbal Rizvi and Saad Shahid who intend to showcase the quirky, chic, and contemporarily designed products infused with culture. Since 2013, 9lines have been delivering designs that depict combined traits of being everything extraordinary!
They have a variety of range of stationery, bags, and apparel. If you are preparing for school or want some funky stuff for your office desk or need a cute journal to organize your thoughts then we would highly recommend you to go through their products and add them to your cart.
View this post on Instagram
View this post on Instagram

Well, we are certainly heading to their websites to load our cart. Happy Shopping!