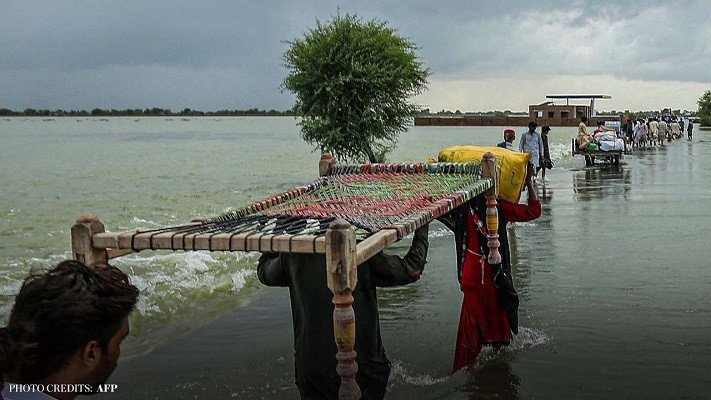 While Europe, China, and some other regions of the world are experiencing a severe drought, Pakistan is facing one of the worst floods in its recent history. Reports say about 110 of the 150 districts in the country are affected by the flooding. Pakistan's National Disaster Management Authority (NDMA) said on Sunday that over 1,000 people were confirmed dead in the floods so far.
The flooding, the result of an unusually wet monsoon season in Pakistan this year, started in July but has worsened over the last couple of weeks. The regions of Sindh and Balochistan, comprising the western half of Pakistan, have been Punjab and Khyber Pakhtunkhwa have been severely hit. Disrupting lives, washing away entire villages, infrastructure, and people's life savings. Millions have been displaced, shelter-less as the rain continues to pound.

News television has been running eyewitness accounts about people, especially children, getting swept by raging rivers. Several people are reported to have died in house collapses triggered by flash floods and landslides in the hilly areas.
More than 100 districts across four provinces have been hit by the floods, with Balochistan's capital Quetta isolated from the rest of the country as many highways and bridges have been swept away by the deluge. Many areas face a complete internet and network outage as all the infrastructure has been swept away.

The heart-wrenching visuals only depict the disaster partly. Let's all be their voice and unite to help our people.
Here Is How We Can Help
Today, Pakistan needs us all to come forward and donate generously. Children and our people are starving and dying due to waterborne diseases, and a lack of medical facilities and hygiene. The country's crisis is expected to worsen as entire crops and fields have been swept away, causing prices of vegetables to skyrocket.  We urge our fellow Pakistanis and the world to come forward in this humanitarian crisis of epic proportions and help save and rehabilitate these people. Here are some items that are needed immediately.
Essential Items To Donate
-Clean drinking water
-Dry fuel such as wood, kerosene oil, etc
-Dry eatables (As cooked food might perish or be only useful one time)
-Cooked Food
-Dry milk (for children) and boxes of liquid milk
-Linen sheets instead of blankets and duvets
-Stitched clothes that can be readily worn
-Plastic shoes as the stitching of regular shoes are useless amid stagnant flood water
-Sanitary items and pads (with disposing of wrappers) or cloth napkins for female affectees
-Raw food items such as rice, flour, and lentils for people stuck in homes due to flooding outside
-Dry ration such as roasted black chana and dates
-Dry fodder for cattle
-Tents
Organizations Offering Flood Relief Campaigns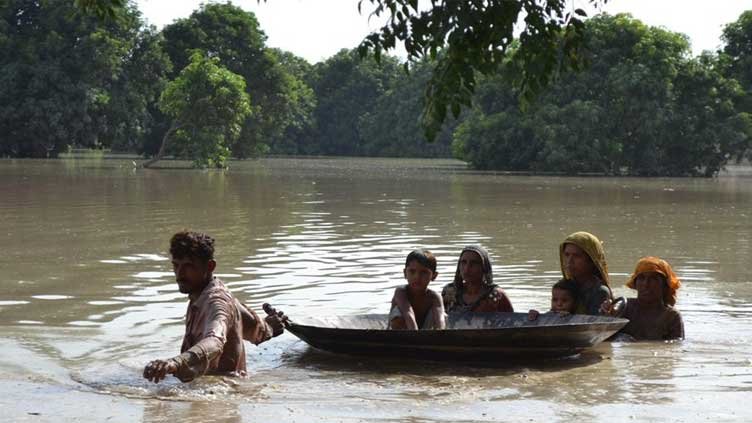 Pakistan has called on the international community to help as it struggles to cope with the aftermath of torrential rains. The Government of Pakistan has established the Prime Minister's Flood Relief Fund 2022 to accept donations/contributions, both from home and abroad. In addition to monetary aid, we urge and request the youth to provide on-ground voluntary services in rescue efforts.
The entire Pakistani nation, civil society, and humanitarian organizations have stepped forward to assist in the rescue and relief efforts. We urge everyone to come forward in this humanitarian crisis of epic proportions, and unite to save, provide immediate relief and rehabilitate our distraught fellow Pakistanis. We urge everyone to do their research and donate generously to any of their trusted organizations. Here are some organizations providing flood relief.
Edhi Foundation's Flood Relief Campaign
View this post on Instagram
Akhuwat Foundation
View this post on Instagram
Vaseela-e-Rah by Hadiqa Kayani
JDC Welfare Organisation
View this post on Instagram
Saylani Welfare Trust
View this post on Instagram
Al Khidmat Foundation
Share Rizq
View this post on Instagram
The Citizens Foundation
View this post on Instagram
Charity Maa
View this post on Instagram