Domestic Violence is a brutal act that defines violence and abuse resulting in sexual, verbal, physical, and mental harm to women. Most women don't even recognize going through an abusive and violent marriage.
As per research, women aged, between 15-49 years in married life are found to carry relationships that are either subjected to physical, verbal, or sexual violence. Most of these physical violence cases of women were reported during the Covid19 lockdown years, considering it to be the most crucial phase for women.
As per the research of WHO, most of these physical violence cases appear in areas and situations due to the following reasons:
Illiteracy
History of physical abuse in the family
Antisocial personality disorder
Use of drugs
Irregular gender equality
Marital discord
Lack of communication
Marriages are a real risk, and one has no idea if it will be chaos or feel like a fairy tale. Families love to cheer, decorate, celebrate and enjoy all the festivities. However,  you hardly know what life will offer to the woman who's getting into this puddle of uncertainty.
In a society where marriages and weddings are glorified to an unhealthy extent, Moltyfoam and Mashion have recently collaborated on a thought-provoking campaign; Mashaadi. The campaign has not only highlighted the thus essential issue of violence and abuse in marriages but has also sparked conversations, encouraging women to come forward with their heart-wrenching stories.
Regretfully, in today's age, most women don't even know their rights and the boundaries they should set before getting married. Thus,  they keep tolerating the abuse in the name of marriage, and family respect.
View this post on Instagram

As per Pakistan Democratic and Health Survey, 1 out of 4 married women starts to experience physical abuse from the age of 15. Indeed it's never too late to take that first step. Life is precious and equal for everyone. Women have the right to live free of hassle, abuse, and hurt. Even if you have to stand alone and speak for yourself, you should know despite the worst aftermath you have to face.
This year Master MoltyFoam has collaborated with Mashion once again to bring this empowering message of celebrating courage to speak up against abuse in all forms. It's never too late to stand up, even if you stand alone!
The Moltyfoam Mashadi campaign gives a video message showing a bride getting ready for her wedding. Still, she's drowned in the thoughts of how her husband-to-be has once abused her physically, and she has no idea about what surprises life has kept for her in the future. The applaudable performance of Mahirah Khan brilliantly showcased the character of a courageous woman who took a stand for herself at the right time, denying abuse, in the name of marriage.
See Also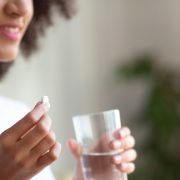 She was left with the last conversation with her husband-to-be to discuss, and that's where she found male dominance in her fiancé and decided to step back just when all of the guests and family members were waiting to celebrate. The campaign beautifully highlights how it's never too late to take a stand for yourself, and say NO.
The video also amplifies the importance of supportive parents who prioritize the happiness and wellbeing of their daughters over societal pressures in the name of respect. Moltyfoam has taught many women this year to step out of the marriage if it's affecting their physical or mental health.
The point to ponder is the idea and the initiative taken for the first time, by Moltyfoam and Mashaadi to bright such a pertinent issue to light. People talk about marriages and relationships, but nobody talks about the abuse that destroys a woman's individuality after getting married.
Women are no less than men; women know the right time to speak for themselves, and women know that they deserve happiness and a life free of violence, abuse, and disrespect.
We, at Sunday, applaud the brilliant initiative by Moltyfoam and Mashaadi and wish more brands to follow suit in producing well-thought-out and well-executed campaigns that address societal ills and create much-needed awareness.
'Celebrate Courage, Celebrate Life'