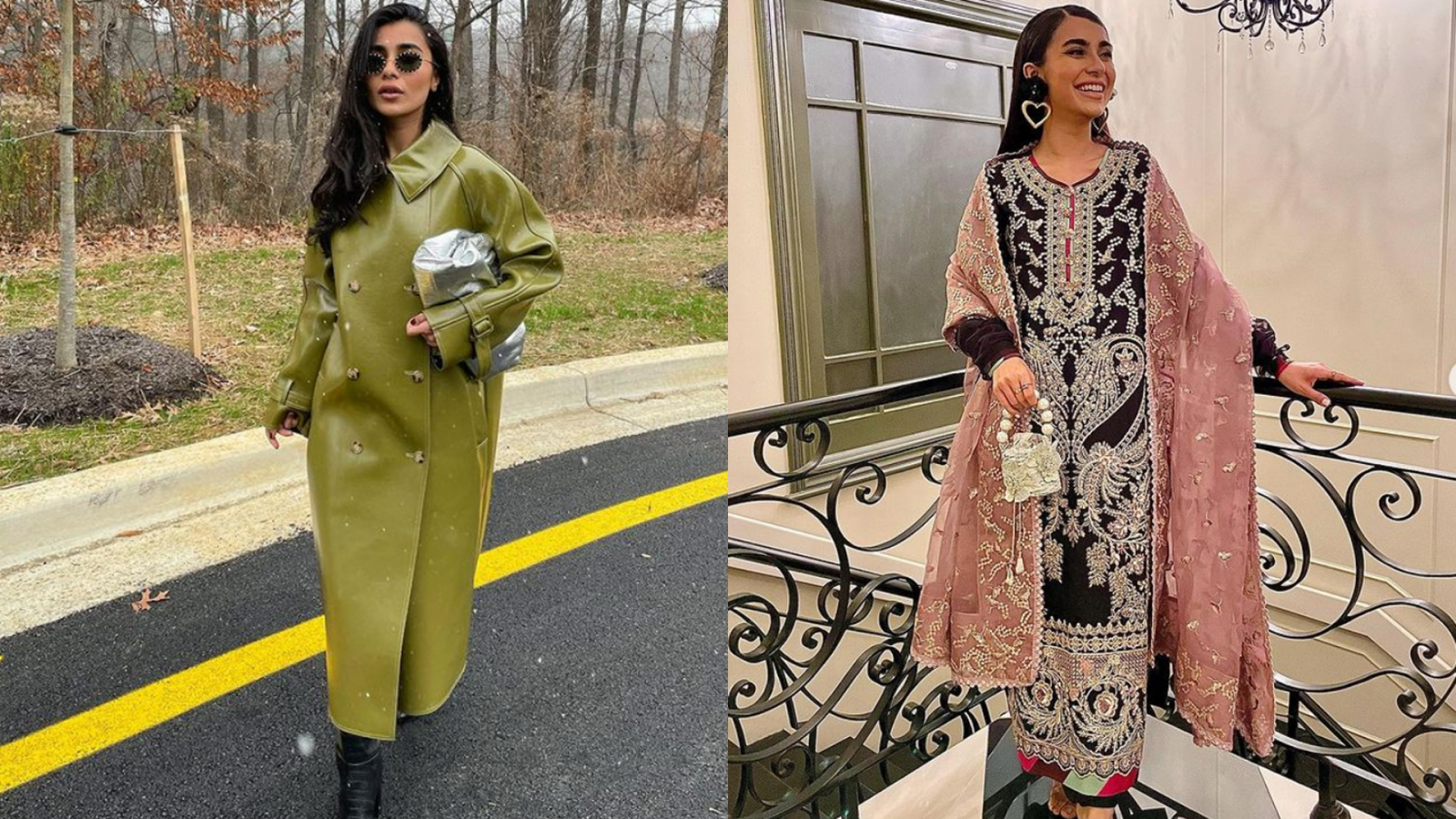 Sona Rafiq's style is enviable, to say the least. The influencer-turned-model's wardrobe boasts both Pakistani and international designers with her own championed twist – draped with very impressive transitions. Be it fluffy knit dresses paired with high-top trainers, or green leather oversized coats, we've compiled a roundup of her best Winter looks to emulate this December. From shaadi season, sunlit brunches, and in-door dinners, Sona shows you how to work every frosty occasion.
AM to PM with the perfect white blazer
Work one blazer all day, from work to play with Sona's effortless four styles.
Keep it simple in denim
You can never go wrong with denim. It's the one fabric that screams "the more the merrier!" Go all out from head-to-toe for your next brunch date.
Grocery runs must always be comfortable – but comfort doesn't mean basic!
An oversized hoodie is an essential – couple it with cycling shorts and simple trainers for your next grocery run (we're not sure about pets inside).
Cropped works day and night
We're used to seeing cropped sweatshirts, but the style is now transitioning into formal wear too. Sona looks effortless in this earthy-toned suit, which screams chic without looking too structured.
Bringing back the classics
Button-down sweaters usually remind us of our grandmas, but Sona shows us how to reclaim them with this embellished chunky sage green number.
Layers on layers
Two basics equal a thought out outfit – a basic tank layered with a blazer can elevate your outfit from day to night.
Plaid is back, back with a bang
If you want plaid to make a comeback in your wardrobe, you want to start with a neutral yet statement piece like this coat.
One fit wonder
For days when all else fails, a simple one-piece sweater dress is your best friend. With a variety of colors to choose from, we suggest you go for the earthy palette that's all the rage this season.
Take your dresses from season to season
Dresses can be aired out in the winter with layers, whether it's a button-down on top or a basic t-shirt underneath.
Green is the new black
We've been seeing green all season, and it's here to stay. You can make a statement like Sona, with this oversized green leather jacket. It's a great piece to build your entire look around.
Classy in tweed
You want to keep a tweed outfit in your collection for a rainy day, you never know when you need it for a business meeting or a formal dinner.
Get your winter wedding arsenal ready
Deep jewel tones with hints of pastels have always been a classic combination; paired with the right accessories, maybe a statement bag – you'll be a vision this wedding season.