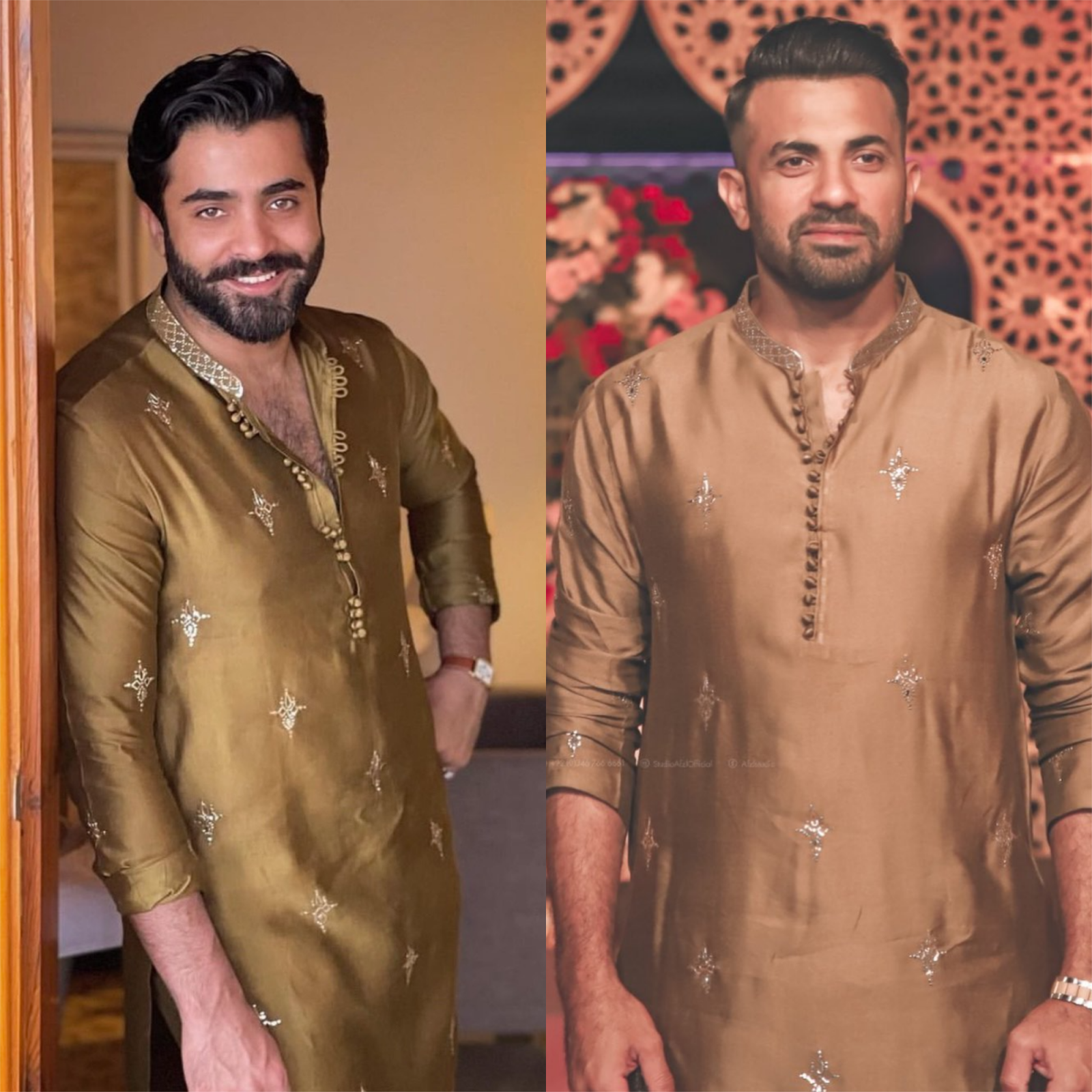 Women rule the fashion world but so do men! There are several men's fashion trends that immediately catch the eye. We are in awe of the amazing trends and styles that are making their way into men's fashion! Looking forward to seeing these trends more as men deserve equal attention in terms of fashion. We are absolutely drooling over an olive green kurta shalwar by Mohsin Naveed Ranjha. The outfit offers the perfect blend of comfort and luxury revamping men's style. With Ramadan and Eid around the corner, we completely adore this new trend that is the perfect ceremonial wear!
The outfit has an olive green cotton net shirt paired with plain cotton net trousers. The minimal kamdani work on the collar adds additional grace and elegance to the overall look making it the perfect attire for small festivities or iftar looks. The appealing color would make you stand out in the crowd! Moreover, it also has a delicate kundan spray all over the kurta. The breathable fabric offering comfort, as well as the right amount of style, wins us over. The hot weather draws us completely towards the elegant outfit exhibiting grace and a royal finish!
Viewing our favorite personalities clad in the dignified outfit makes us immediately replicate the look. This attire by Mohsin Naveed Ranjha is definitely a trend alert for Eid and the upcoming wedding season!
Wahab Riaz
Wahab Riaz wears the trendy outfit at a recent wedding styling it to perfection. He adds a unique touch to the outfit enhancing the overall look. Wahab styles the stylish outfit for a wedding revamping men's eastern fashion! We absolutely love the overall look created by the cricket star. From the color to the fitting, embroidery to the delicate finishing, it is all perfect. Get past the typical white or black shalwar kameez and style the trendy kurta shalwar for your next event!
View this post on Instagram
Sheheryar Munawar
Sheheryar Munawar has been recently spotted in the same kurta shalwar! This trendy piece definitely makes us a fan of the gorgeous details embedded in the outfit. The classic number is definitely the perfect outfit for a family gathering. It will keep your style game on point and also offer the comfort that you desire in this hot weather! Stay classic in summer with the trendy pieces by our talented designers!