Sana Javed is a renowned Pakistani drama actress with the super hit 2017 drama Khaani under her belt and the more recent Dunk. She's no stranger to playing characters that push society's bounds of what a woman should be – and her brilliant portrayal of these strong female roles is inspiring to say the least.
Moving to a recent Pakistani drama by Geo that has taken the world by storm, Aye Musht-e-Khaak, we see the return of our favorite controversial on-screen duo Sana Javed and Feroze Khan.
Interestingly, this time around, Sana is seen adorning the role of Dua, a humble yet steadfast girl who feels a strong connection with her Creator in comparison to her non-believing husband.
While Sana does a fantastic job at delivering the punchy lines in the Pakistani drama, we've got our eye on her wardrobe. With exquisite long kurtas, draped shawls, and sleek silhouettes, Dua shows us how to style modest fashion.
Pastel Courtship Attire
In the few episodes leading up to Dua and Mustajab's wedding, we see the pair meeting each other for the first time. It doesn't take long for Mustajab to fall for her, given her elegant dressing and poised personality. We see her rocking pastel shades and long kurtas from the start, which showcases her somber yet stylish taste.
As episode one kicks off, we see Dua praying, which sets the premise for her religious and spiritual character. Even as Dua chills at home, the girl's got a good fashion sense as she's seen in this Zara Shahjahan suit.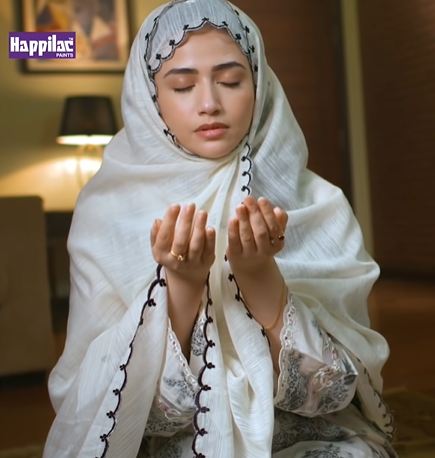 Next up, there's this muted rosy pishwas by Ansab Jahangir Studio that takes us back to classic royal silhouettes, and Sana looks no less than a princess in it.
The pink hues in the outfit work in unison with her blushed cheeks and a nude lip to give the Pakistani drama actress a glow from within!
It seems that Zara Shahjahan is a hot favorite for Dua since we see her once again rocking a blue 3-piece suit from the designer.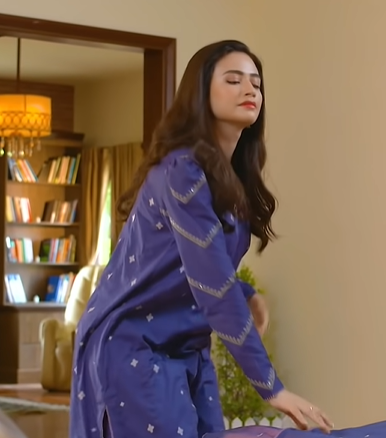 Of course, she can't leave the house without her signature dupatta draped over her head, and we're amazed at how well she carries the organza number!
Another suit from Zara Shahjahan that catches our eye is this simple pastel lilac suit, which fits the simplistic charm of Dua to the T.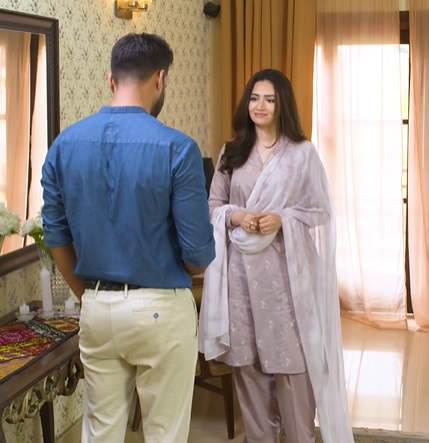 Soft and Dewy Engagement
As Dua finally agrees to tie the knot with Mustajab, the parents hold an intimate ceremony at home for the couple's engagement. We like how Dua doesn't go overboard with the preparations and opts to keep things white and elegant with this Ansab Jahangir Studio outfit.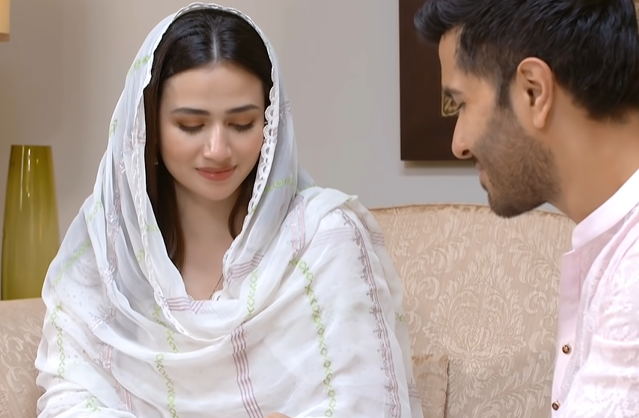 No matter the occasion, one can never go wrong with white, and Sana Javed proves just that with this Safina ensemble and glowy skin.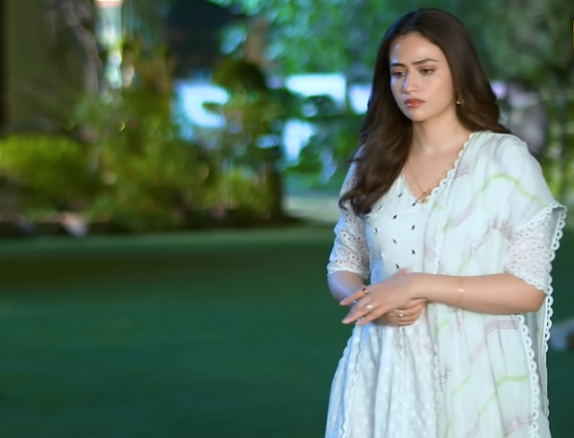 Back to Regal Classics
Sana Javed's character might be in touch with religion and humble living, but she doesn't make any compromises when it comes to her big day! Like any other bride lately, Dua opts for the ever-green Mohsin Naveed Ranjha for her Nikkah and Ruksati.
The Kashmiri tea pink kalidaar perfectly aligns with Dua's subtle taste, and it's the perfect outfit to say yes to her man in.
We love how she sticks to the classic maroon bridal look with this Jodhpuri ensemble entrenched in tilla, dabka, and gota work. The bold statement polki jewelry is just the cherry on top!
It's a surprising change to see the adorable Dua all dolled up and smiling at her Ruksati ceremony.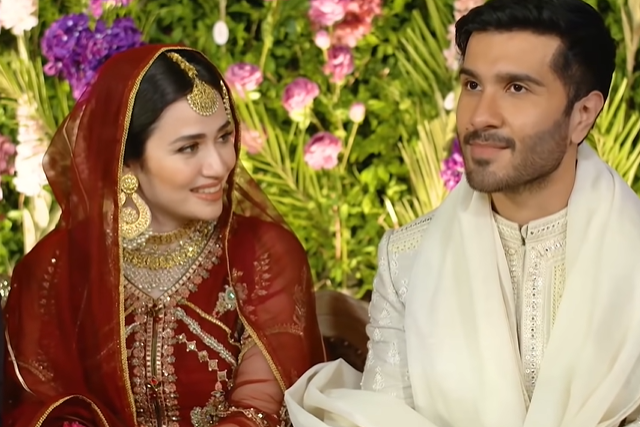 Post-Wedding Closet Upgrade
Shifting from her pastel color palette, we see Dua transition towards deeper jewel-tone hues and different cuts from her new wardrobe.
One such piece is this suit from Ansab Jahangir Studio, a bright coral color that brings out the glow on Dua's face as she spends time with her family.
Moving on, we have another chikankari outfit by Ansab Jahangir, this time bedazzled with mukaish to fit the wedding bash Dua's friends have thrown.
We think black is definitely her color. Even with a fancy outfit such as this one, Dua makes it look simple with minimum jewelry and light, warm-toned makeup.
Keeping it Comfortable and Casual
When Dua isn't dressed in fancy clothes, we see her in casual kurta shalwar combinations on her day-to-day errands. Zara Shahjahan gets the limelight once again for the printed 3-piece suits we see Sana Javed wearing.
Dua wastes no time after her marriage to introduce her new family to her religious mentor. She chooses this suit by the designer, complete with a shimmery dupatta and intricate embroidery around the neck for the occasion.
This lawn suit is perfect for a summery day out with her husband, as she takes him on a tour of her hometown and her favorite place – the mosque.
Similarly, we see Dua finding her footing at her in-law's house, as she's seen styling this suit in her way, with a perfectly draped chaddar.
Or, it can even look great while she's enthralled in a serious heart-to-heart in the woods with her brother.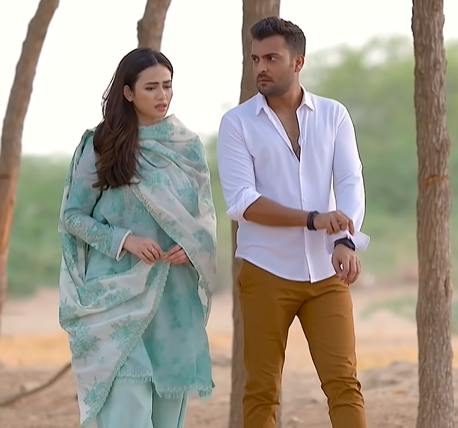 Aye Musht-e-Khaak has its audience hooked every Monday and Tuesday at 8 pm sharp. If you've been following the series, we're sure you found some of these looks appealing, and now you have the chance to get your hands on Dua's look too!