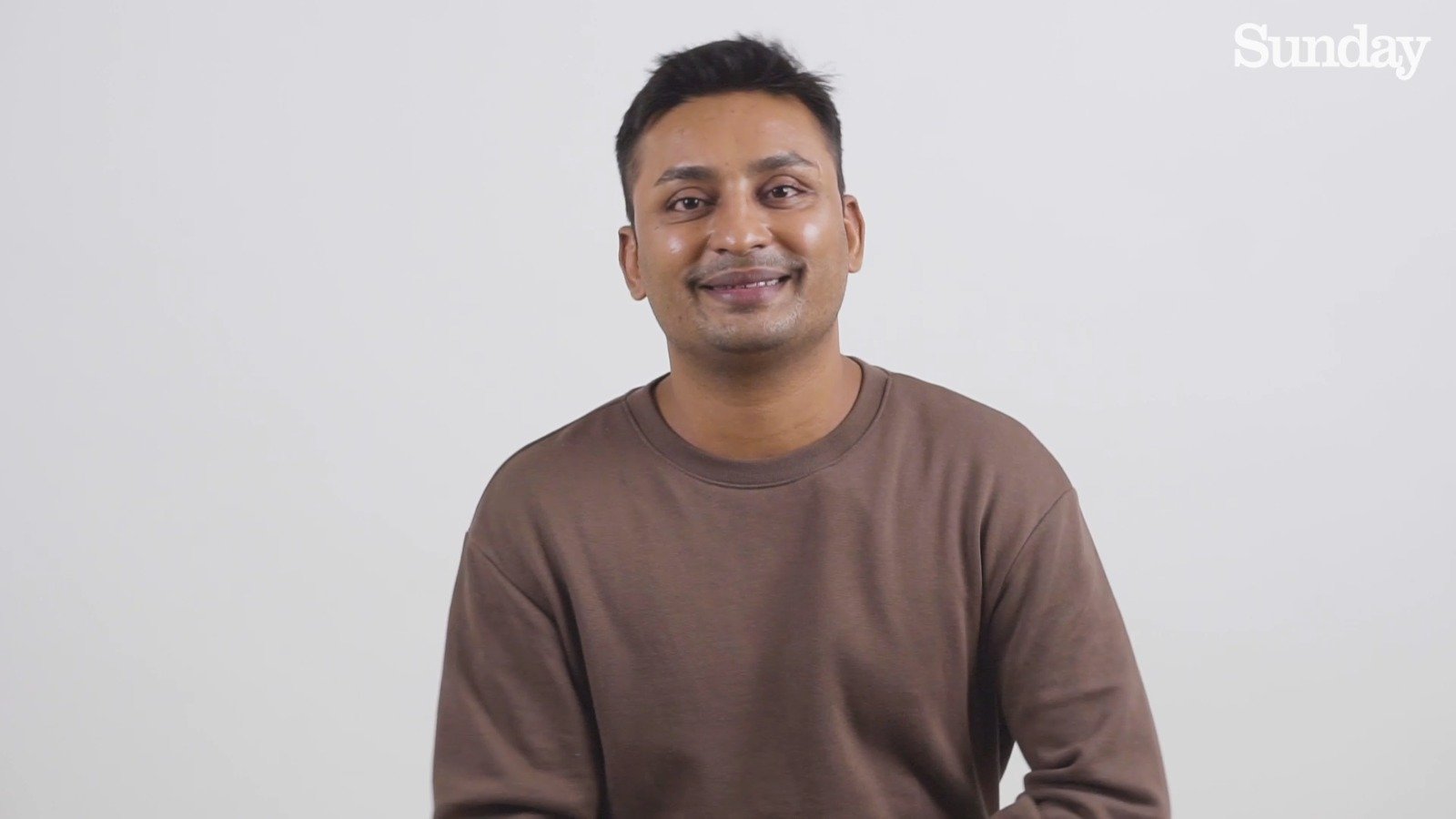 Sultry glowing skin, bright editorial looks, or his signature bold bridal makeup – Babar is the master of all things makeup and hair. He's been in the game for so long, and he's styled almost every celebrity, from Mahira Khan and Hania Amir to models like Amna Ilyas, even crossing over borders to reach Sania Mirza. 
A humble and talented individual, Babar has secured a place for himself in the fashion fraternity. In conversation with Sunday Times, he spills all his secret makeup hacks, favorite looks, and experience being a part of all the glitz and glamor. 
Q1: What inspired you to become a makeup artist? 
I owe it all to my khala (maternal aunt), who I've seen doing makeup ever since I was a child. I used to nag her to let me do the makeup looks she was creating, but she'd always exclaim that I was too young to get into any of this right now. Then one day, I convinced her to let me do the eyeliner for one of her brides, and she absolutely loved it. That day was a defining moment that marked my journey of learning how to be a makeup artist. 
Q2: Is there a certain look that would suit most people? 
I always tell my friends one thing; please try to do less makeup; it's the best thing you can do for your skin. I prefer the no-makeup makeup look, a little bit of mascara, blush, and lip tint, and I think it's the perfect combination for a light yet defined approach. I find people who do makeup well to be an inspiration for me. 
Q3: What is your essential makeup product? 
Blush! For sure, it's blush, it looks good on everyone, and everyone needs to use it. Especially for our South Asian skin tones with yellow undertones, we need blush to add life back to our face and define our features.  
Q4: The best way to deal with pigmentation and dark circles? 
We have a range of skin types, from very dry, to combination and oily skin, but one thing that works well for everyone is an orange-toned corrector. It's essentially a concealer that counteracts the dark pigmentation, after which I go in with a regular concealer. These two combined give a smooth and clean under-eye look, especially if you bake with setting powder. However, I wouldn't recommend baking for winters because under eyes tend to get pretty dry during that season. 

Q5: How do you prepare skin for makeup? 
If it's an outdoor shoot, I always start by using a good sunblock and then apply a Hyaluronic acid serum, finishing off with moisturizer. If you have oily skin, I'd recommend that you go lighter with the moisturizer since the natural oils will surface over time, balancing your look. 
Q6: What's more fun for you – bridal or celebrity makeup? 
Celebrity artist, for sure. Brides always require a fixed look; their clothes mostly have a pre-determined color palette, be it reds or pastels. When it comes to celebrities, I get room to experiment a lot, especially with editorial looks where I can play around with many colors. 
Q7: What is the best undertone for red lipstick? 
Red can never go wrong, no matter what your color. It doesn't matter whether you're brown or fair-skinned or have yellow tones or olive; rock a red lip. 
Q8: What is something you love about Karachi? 
The people. I love my Karachi-ites. 
Q9: One Karachi food you can't live without? 
Karachi has an excellent barbeque. 
Q10: Is it different from Lahore BBQ? 
There's a massive difference in masala. My grandparents are from Delhi, so we all love going heavy on the spices in our house. I have a lot of Lahori friends who keep telling me that they have better food, but I keep telling them they need to visit Karachi and give our food a shot before making up their minds. The flavor, the variety, the diversity – everything is excellent in Karachi. 
Q11:Do you enjoy cooking? 
I'm a really good cook, anything you want me to cook for you I can make it. I can even do it right now!
Q12: One thing you cook that your wife loves? 
Kingfish, colloquially known as Surmai in Karachi, I'm somewhat of an expert at making that. I make it using spices that I hand blend as taught by my mother; she's the one that's passed the recipe on to me. 
Q13: Your favorite travel destination? 
America, specifically Los Angeles. I think it's a great place to visit in terms of shopping; they have the best deals and products. 
Q14: Something personal you and Mahira Khan discuss on set? 
We don't discuss anything; we just discuss each other. I'll complain about why she didn't pick up my calls or why she did this or that; it's all we do. But I must say, we share an incredible bond that enables us to be this comfortable around each other. 
Q15: Best makeup tool for blending? 
Your fingers. The heat radiating from your fingertips is great to help foundation blend into your skin quickly and seamlessly. What a beauty blender will take a while to do; your fingers can achieve in half the time. 
Q16: What's an overrated makeup product?
Highlighter. Sometimes when I don't feel like using my highlight palette, I simply pick out a shade from my eyeshadow palette, and it works just as well as a highlighter. I'd suggest that you don't spend a lot of money buying different highlighters, I have a few that I keep, and they get the job done just fine.  
Q17: Eyeliner or Kajal? 
Eyeliner, because it defines your eyes and helps to lift them upwards. 
Q18: Black or brown eyeliner?
Brown, it's become my favorite lately. 
Q19: Who is Babar Zaheer in 3 words?
Calm, chill, and sometimes crazy. 
Q20: What helped you become a calmer person? 
Thirty-one years of life have taught me many valuable life lessons; the most important one is taking time to slow down and calm myself. A lot of things are indeed learned with age. I see that hyperactivity and self-doubt seem to be replaced with self-confidence and a feeling of serenity. 
Q21: One milestone you want to achieve? 
I want to open up my salon as soon as I can. 
Q22: Would you want to open a salon in Lahore? 
I would love to since most of my clients are based in Lahore. Most of my bridal clients are in Lahore, and I get paid really well from that, so why not.
Q23: What can you do about wrinkles? 
If you want to delay the signs of aging, start using two products religiously, SPF and moisturizer. Make sure you never leave the house without applying these two products, especially in the wintertime be sure to lather on a thick moisturizer. 
Q24: 3 makeup products you can't leave the house without? 
My hair kit, makeup vanity, and my backpack. 
Q25: Some makeup hacks? 
One trick I always use on all my clients is the way I apply mascara. People mostly wiggle the wand upwards, thinking it gets them the most volume, but I like to keep the mascara bristles fixed near the lash base, creating a black line and then moving the product upwards.
Secondly, red lipstick doubles up as an excellent cheek tint; just make sure you don't go too overboard. 
Q26: What are some basic tips for applying contour? 
The best technique to find out where exactly the contour needs to go is to pout, and you'll see a natural hollow forming on your cheek. That's usually the best spot to aim for contouring, although I do change up my techniques according to the face shape of each of my clients. 
Q27: What type of foundation is your go-to? 
Liquid foundation, since its consistency, allows it to blend really well into the skin.
Q28: Any Bollywood celebrity you want to work with? 
I want to work with Deepika; I find her absolutely beautiful, and I know I'll be able to create a gorgeous look for her. 
Watch the Full interview here!