Fashion designer Mohsin Naveed Ranjha has unveiled his beautiful masterpiece, the "Aath Baatein" collection, meticulously crafted to pay homage to timeless traditions while seamlessly embracing modernity. In a society dominated with conversation and advice for the 'ideal wife', this collection boldly and assuredly reverses the narrative, speaking instead to men, with 8 pieces of advice to always remember, on marriage, love, and relationships.
"Aath Baatein" transcends the conventional realm of clothing; it emerges as a powerful homage to traditions intertwined with profound life lessons. Traditionally, these values have been imparted to brides by the elders of the family. However, this collection boldly shifts the focus towards teaching these long-lost values to grooms as well.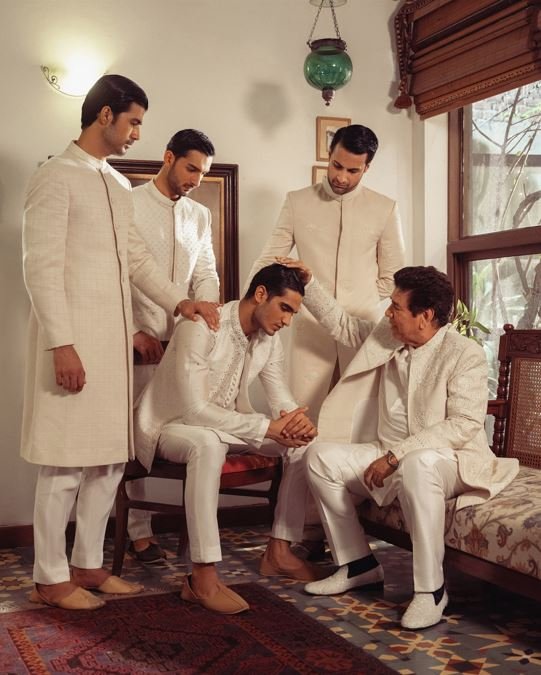 Each garment in this collection serves as a living testament to the seamless integration of age-old traditions with the essence of modernity. It's a poignant reminder that timeless values can navigate our journey, regardless of the era we find ourselves in. This campaign radiates contemporary wisdom, centering on ideals like respect, understanding, and patience—values that resonate profoundly in today's context.
In a fashion context, with Mohsin Naveed Ranjha's work we step into a world of opulent sherwanis exuding regal elegance, while the kurta pajama ensembles offer comfort and charisma – something for everyone.
So, we say, "Shaadi Mubarak" with "Aath Baatein" where each exquisite piece is a reminder of timeless wisdom; where tradition and modernity coalesce, creating a remarkable symphony.