Ayeza Khan and Maya Ali recently had a fashion face-off, both spotted wearing the same black kaftan by Mushq, but styled in unique ways. This face-off showcased how two talented actresses can infuse their individual styles into a single garment, proving that fashion is truly a form of self-expression.
Mushq
The black kaftan by Mushq is a stunning piece that effortlessly combines elegance and glamour. Adorned with shimmering sequins, it adds a touch of sparkle and allure to any outfit. The golden brooch placed at the front adds a regal touch, enhancing its overall appeal. This kaftan is a timeless and versatile choice, perfect for special occasions or formal events. Its flowing silhouette and intricate detailing make it a statement piece that exudes sophistication and grace. Whether paired with heels or flats, the black kaftan by Mushq is sure to make a lasting impression and turn heads wherever it is worn.

Ayeza Khan
Ayeza Khan, known for her impeccable style, effortlessly styled the black kaftan by Mushq with her signature touch. Opting for a natural and relaxed look, she kept her hair naturally wavy, perfectly blending comfort with luxury. This styling choice added a touch of effortless elegance to her overall ensemble.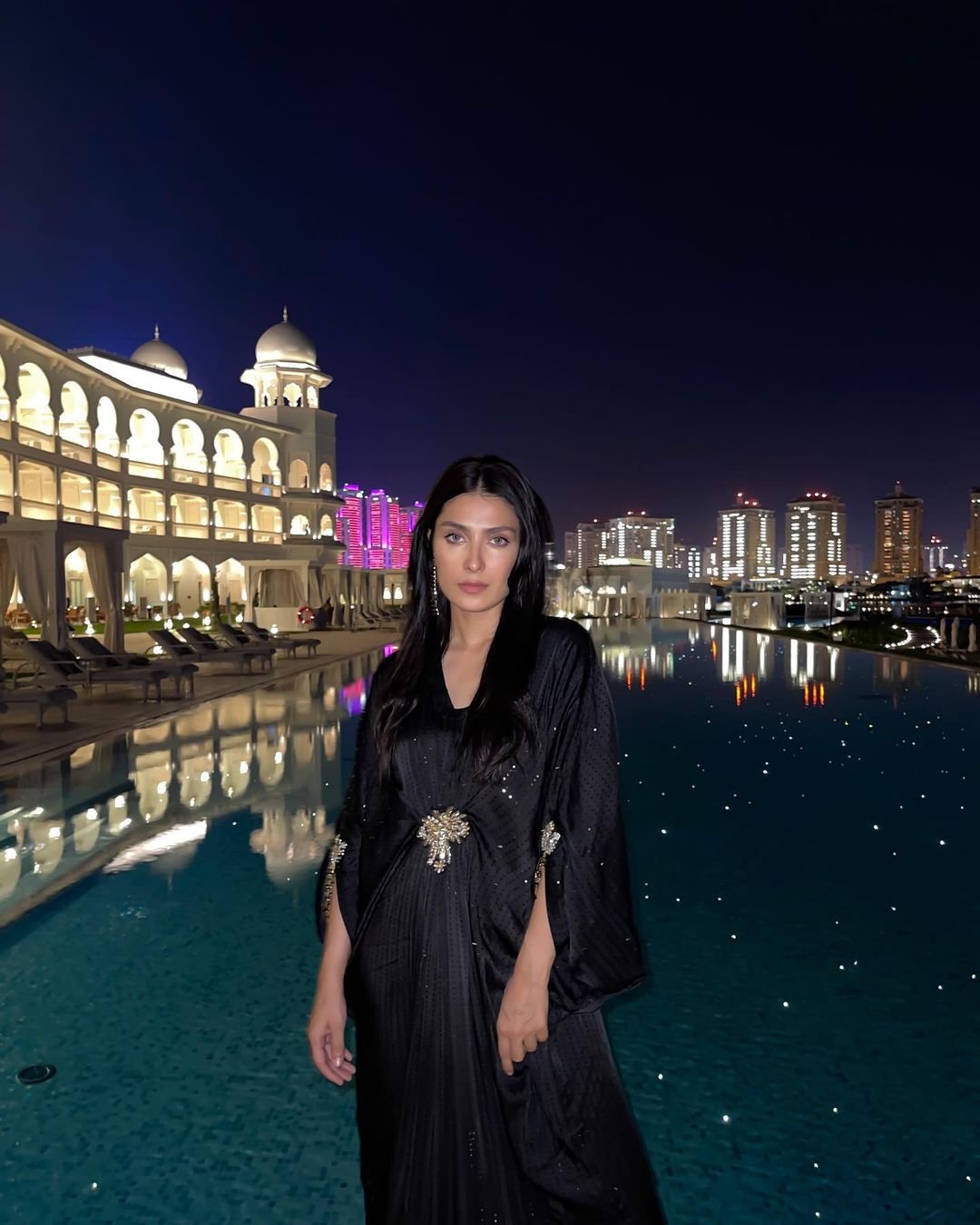 By keeping her hair wavy, Ayeza Khan embraced her natural beauty and showcased a laid-back yet sophisticated vibe. The soft waves cascading down her shoulders created a harmonious balance with the sequined black kaftan. This combination exuded a sense of ease and grace, elevating her look to a whole new level. Ayeza Khan's choice to keep her hair naturally wavy exemplifies her ability to strike the perfect balance between comfort and luxury. It showcases her innate sense of style, proving that even in the simplest of hairstyles, she can exude an air of effortless glamour.
Maya Ali
Maya Ali, known for her bold fashion choices, put her own spin on the black kaftan by Mushq. Contrasting with Ayeza Khan's natural waves, Maya opted for a sleek hairstyle, adding a touch of sophistication to her overall look. Her hair, perfectly straight and polished, created a sleek and streamlined appearance that perfectly complemented the sequined kaftan. To complete her ensemble, Maya Ali paired the black kaftan with silver heels, adding a touch of glamour and creating a cohesive look.
The silver heels not only elevated her height but also added a touch of sparkle that perfectly mirrored the shimmering sequins on the kaftan. Maya Ali's styling of the black kaftan showcased her ability to experiment with different looks and make them her own. Her sleek hair and silver heels added a modern twist to the traditional kaftan, creating a unique and eye-catching ensemble that perfectly captured her fashion-forward sensibility.