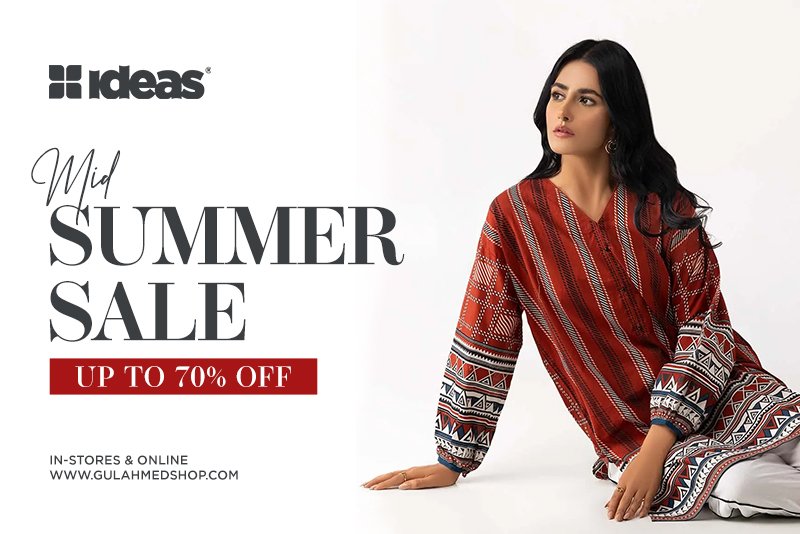 The prêt collection launched by Ideas is what we need to sail through the long summers in Pakistan. The best thing about their prêt collection is that it is stitched under the supervision of the highly professional team at Ideas. This way the final product is long-lasting, comfortable and sewn to perfection.
In this article we are sharing with you the digital printed shirts in the prêt range which are sure to attract your attention: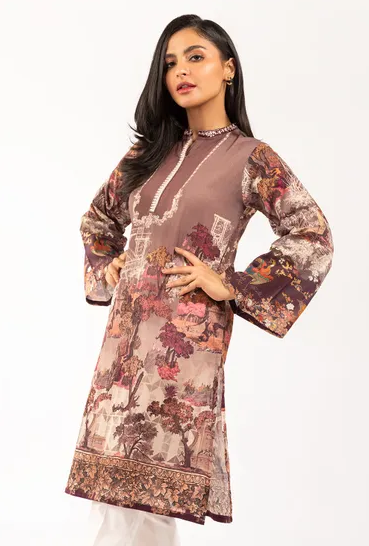 Here is a perfectly feminine digital printed cotton shirt in shades of brown. It has a beautiful pattern on it which takes one on a journey in imagination. The color is soothing to the eyes and the neckline is simple yet elegant with pleated ben collar and a stylized placket. The kimono sleeves give an added touch to this shirt.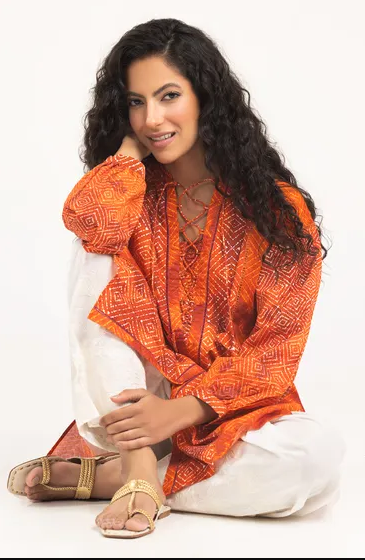 This bright orange digital printed light cotton shirt featuring lace-looped bodice and puff sleeves is perfect daily wear for women. It has an eye-catching color and can be worn to work as well as in the evening with friends and family. It is available in all sizes. It makes a perfect gift for the young at heart in your life.
Summer calls for vibrant and eye-catching colors and this shirt is a perfect example of it. The geometrical tie-and-dye digital print is sure to lift your mood and get you ready for the day. It can be worn to work and also to a gathering in the evening. You are sure to get compliments for your excellent choice in clothing.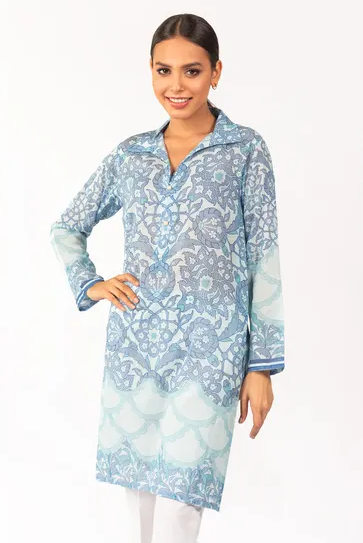 We all have a special place in our wardrobe for light colors especially in summers. This light blue shirt is so appealing; It has a beautiful soothing design. The neckline is simple yet elegant with collars and pearl buttons to add to the beauty of the shirt. This cool shirt is sure to act as a shield against the summer heat. This digital printed shirt is sure to become your favorite shirt this summer!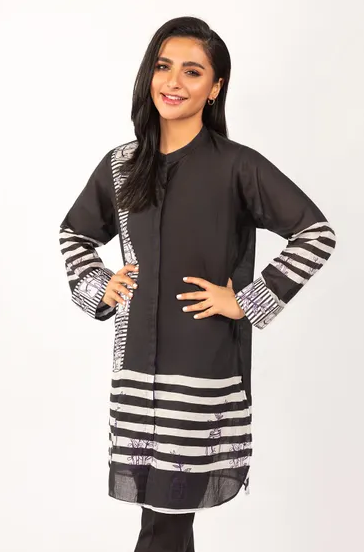 We are sure you will not spare a second and buy this chic digital printed and embroidered shirt. It has a black base and white print on the daman and one side of the shirt. The same pattern is on the cuffed sleeves. This shirt has a chic sherwani collar design. This shirt is meant for those who like to dress to impress. This shirt is soon to become your most favorite this summer.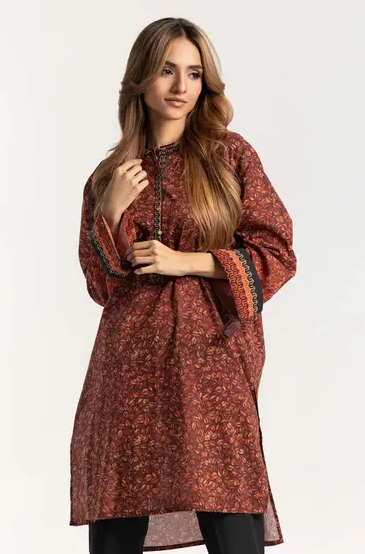 This digital print brown shirt is one of our favorites this summer. The neckline of this cambric shirt is decorated with geometrical print fabric strip and gold-colored flat buttons. The sleeves have a beautiful border in print. You can pair it with a black trouser to enhance the beauty of this shirt. It can be worn to work as well as at home when you want to beat the heat.
Now that you have an insight as to what is offered in the prêt collection, we recommend you to visit Ideas website and see the details for yourself of all the mesmerizing designs that are available online at www.gulahmedshop.com/ and enjoy FREE delivery across Pakistan on orders worth PKR 2,000 or more.