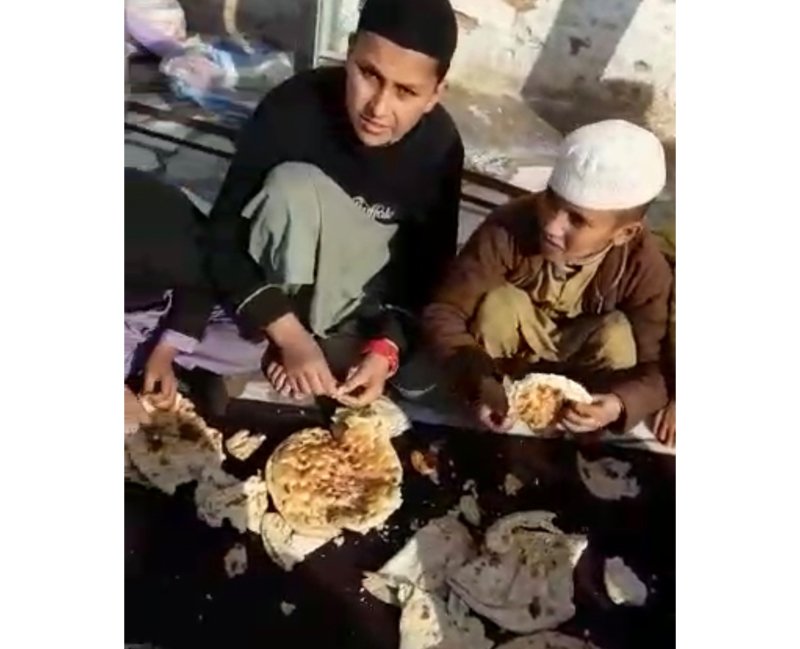 A Madrasa. A place where parents send their children to learn everything about Islam in what they believe to be a safe and healthy environment. But unfortunately , in recent times due to the power of social media, the truth about many of these institutes has come forward, and it's not pretty. From physical abuse to stories of sexual assault and even murder, Madarsas are no longer what they once used to be. While every Madarsa does not fall into the bad category, an image is slowly being created, and rightfully so as more and more disturbing stories of life in a Madarsa are coming to light.
And once again, a video is making the rounds on social media of a Madarsa in KPK, during lunch time for the kids enrolled there:
According to the person making the video, the roti and naan seen in the video are collected from peoples homes, they're leftovers. And that's it. That's all the kids get to eat. Hard, old, dry naan and roti with a handful of bowls of salan shared between what looks like over 50 children.
The worst part is, these kids are so desperate for food that they're scrambling for the scraps in front of them. While the government is taking steps forward in terms of punishing child molesters and creating a safer environment, it's about time some kind of surveillance is put in place since Madrasas make up such a big part of the educational institutes in Pakistan.
In December 2019, A Madrasa teacher identified as Shamsuddin, along with three others, sexually assaulted a 10 year old boy over a hundred times in Manshera district. According to reports, the boy was rushed to the hospital as blood started to ooze from his eyes as the result of the brutal sexual abuse.
How many more of these stories and these videos will we have to see before ANY kind of action is taken and rules and regulations are put into place? Spread the word as much as possible so our government takes notice and takes action.