Iman Aly Clarifies her Stance on Current Models, Blames the MS
Supermodel from yesteryear, Iman Aly, made headlines after making an appearance on Iffat Omar's show 'Say It All With Iffat Omar'. Her condescending statements did not sit well with current top model, Mushk Kaleem, who released the following statement :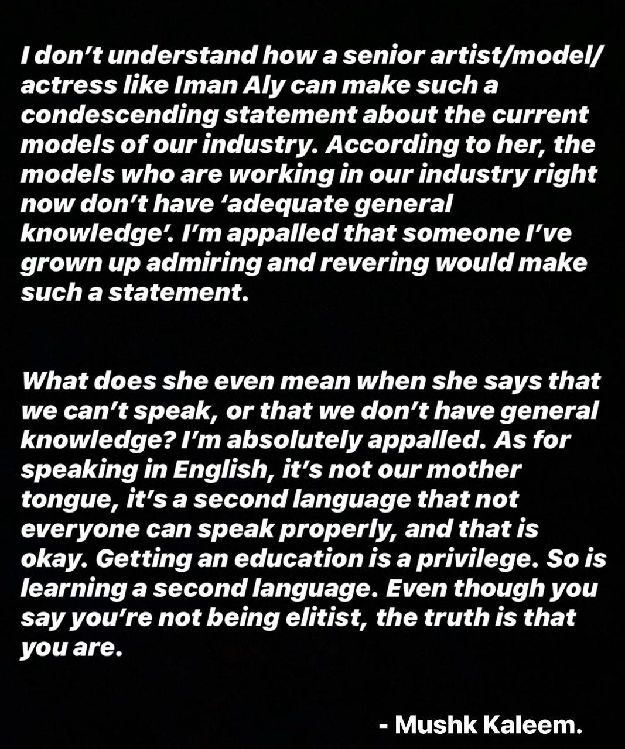 Now, during a live instagram session with HSY, Iman Aly has clarified her statements. Well, somewhat:
https://web.facebook.com/NicheLifestyle/videos/vb.210068375761434/1573616672792175/?type=2&theater
When HSY questioned Iman Aly about Mushk Kaleem's reaction, Aly said " Mei unko jaanti bhi nai hu. I wasn't talking about her. I was being questioned constantly keh 'Batao na ab Iman Aly kyu nai banti?' toh meine kuch toh bolna tha!" She continued, "Pichas minute se mei bolrahi hu. It was a very long interview and I was not feeling well. I had cancelled three shows before that."
"Mera MS ka relapse chal raha tha aur bahut mushkilo se apni thakaan ki halat mei leykar gayi hu udher. After 50 minutes of giving an interview you just agree with everything. How would I know ab supermodels kyu nai ban rahi? I can't decide that."
Either way, we wish the former model a speedy recovery and hope all women learn to uplift each other rather than put each other down.