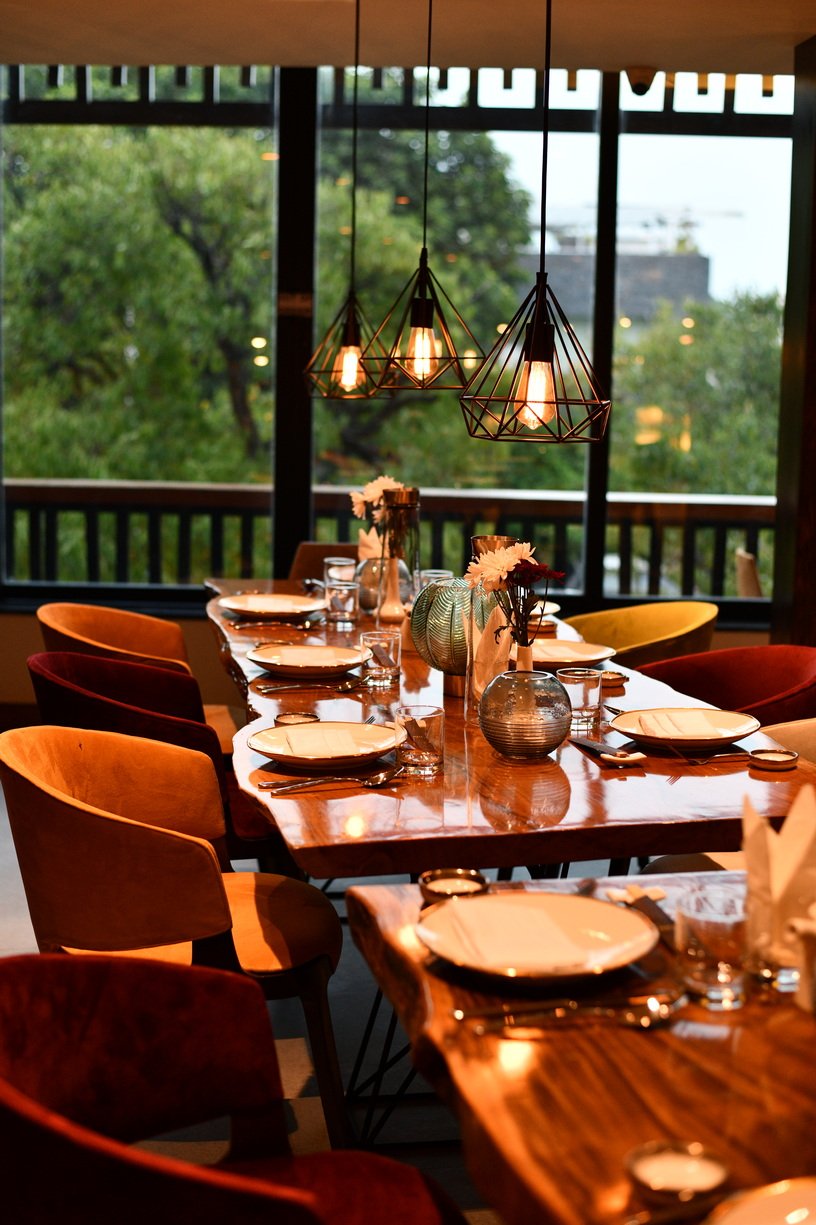 Historically, Japanese restaurants have been a novelty in Islamabad, but in the past few years, we have seen a number of them spring up in the capital city; from Suki Sushi to Koi to Chop Chop Wok and now the most recent entrant, Japanese fusion restaurant, Gaia.
Originally from Lahore, Gaia just opened its doors in the heart of Islamabad in F-6. Unlike the other sushi eateries, Gaia offers not just exquisite quality in food but also a complete fine-dining experience with an ambience that is both sophisticated and hip.

Upon entering the restaurant, you feel as if you've been transported to one of the major metropolitan cities of the world (think Zuma in London or Nobu in New York City.)
The interiors are Zen and minimalistic with mood lighting, vibrant paintings that pop and an effervescent bar brimming with the shine of crystal glasses. The ambience is vibrant with house music that instantly gets you in the mood to bop your head. There is also outdoor seating in the balcony with tall wooden structures that offer a more intimate, nest-like atmosphere.
As appetizers, we ordered the Rock Prawn Tempura, which were fried prawn balls served in a bowl with a spicy mayo sauce at the base. I personally found them to be quite addictive and easy to pop with my chopsticks. Next, we had the Beef Tataki, thinly sliced beef with a very rare center soaked in black truffle oil. It was succulent and delectable.

The "star" dish and my personal favourite were the Gaia Maki rolls– sushi rolls with prawn on the inside and raw salmon on the outside topped with green, orange and black caviar (tobiko), crispy crumbs and a creamy spicy sauce. It was served with wasabi, pink ginger and soya sauce. Not only was it visually stunning but was also a burst of flavor in my mouth, as I simultaneously got to taste nuances of sweet, sour, savory and spicy. The sushi was much more refined and wholesome in comparison to those offered at other eateries.
For entrées, we had the Red Snapper Teppanyaki and Chicken Teppanyaki, which had an artistic presentation. They were served with sides of garlic rice with toasted garlic slices on top and mixed vegetables. It was a satisfying meal, however, it could have used more of the sweet Mirin-vinegar touch to it as the taste of the soya sauce and garlic was a bit overpowering. The restaurant also boasts Lobster Risotto, Wagyu Beef steak and Black Cod as its specialties.
To end the meal on a sweet note, we relished the tantalizing Chocolate Torte and the Matcha Banana Cake with coffee. The chocolate torte, which is an Italian flourless chocolate cake, appeared like a work of art. It was moist and luscious and you could amp up the flavors by drizzling white and dark chocolate on top that was served in cute little pitchers.
The Matcha tea and banana cake was comforting and homely and was topped with caramel sauce. The restaurant also offers an interesting coffee and tea menu with a choice of latte, espresso, cappuccino, Goji Acai tea and Oolong tea. Gaia is pricey but offers value for money thanks to the quality experience and the welcoming treatment of the serving staff that are also keen on taking feedback.
We were pleased to actually meet the CEO & Director of Gaia, Mr. Imran Shehzad at the premises who had a few words to share, "We hope to disrupt the restaurant landscape by raising the bar in terms of quality of food with a menu that is constantly evolving. And by providing our guests with an ambiance where they feel welcome and are truly able to have a memorable experience. We want to bring the 'Soul' back in your dining experience."
Gaia is definitely an excellent choice if you want to relish top-notch Japanese cuisine with your friends or family in a luxurious atmosphere.