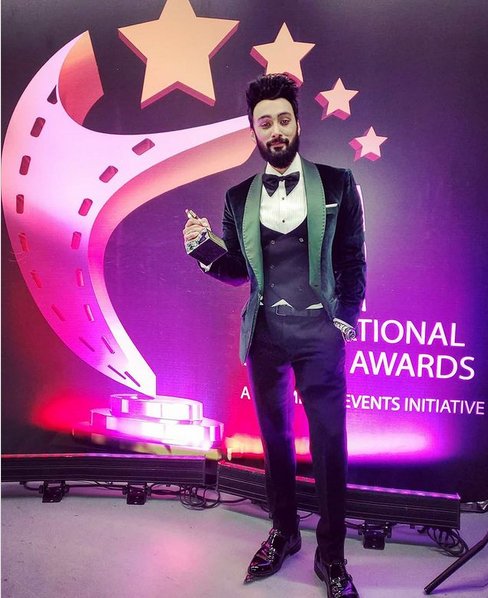 Who could ever forget one of the most incredible nights of 2020 where all of our favorite celebrities came together at the first-ever Pakistan International Screen Awards (PISA), held in Dubai! We definitely can't get over it. The glitz, the glamour, glory on the red carpet, the superstars shining against the night sky, and most of all, the incredible performances which left audiences within the arena as well as across the country awe-struck. Some of the most dynamic celebrities in our industry gave epic performances while young newcomers made their marks as well. Here are some of our favorite performances from the magical night:
1.Sara Khan – One of the most memorable performances of the night has to be the opening ceremony of PISA2020 with Sara Khan's beautiful rendition of the national anthem which was seamlessly followed by the UAE national anthem. Pakistanis and Emiratis alike showed their support for one another by standing up in respect for each other's countries. The recital was truly symbolic of the healthy ties between Pakistan and UAE where both nations could stand strong in harmony.

2.Mustafa Khan – A fantastic version of 'Main Bhi Pakistan Hoon' was sung by the young talent, Mustafa Khan, who at the age of 17, blew audiences away. His performance was powerful and energetic and ignited strong feelings of patriotism in our hearts. With green and white lighting, the stage was booming with Pakistani spirit as Khan's incredible vocals enchanted the room.

3.Umair Jaswal – In true rockstar fashion, Umair Jaswal brought the house to life and we were loving every minute of it! His powerful voice took over the whole room and crowds were amazed by his incredible performance. Literally setting the stage on fire, his song sent forth a burst of energy and was surely one of the true highlights of the night.

4.Hareem Farooq – The gorgeous actress Hareem Farooq also performed an amazing setlist of eastern tracks that the entire crowd could jam to. Dancing perfectly to the rhythm, she also had a brilliant set of backup dancers to add to the magic. The fun-fuelled dance had the entire audience entertained!

5.Ali Zafar – We have to admit Ali Zafar's LIVE performance was just the cherry on top of a perfect evening. The brilliant singer was up on the stage with an acoustic guitar and a mic alone and yet he pulled off an incredible show. As one of the biggest names in our industry, it seemed like the audience was being serenaded by Sinatra himself.

A night to remember, PISA2020 put Pakistani talent on the map by showcasing some of our best talents yet. The performances blew us away and we just can't wait to witness the next PISA!