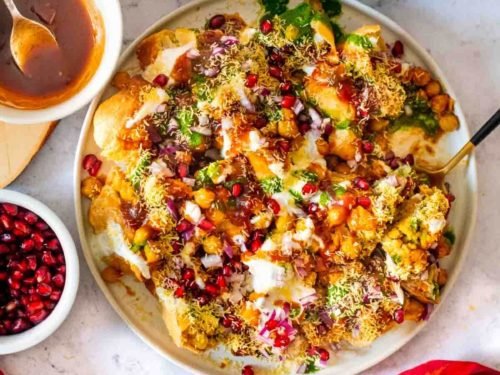 We all love chatpati chaat for the perfect evening snack. Chana chaat, bhel puri, paani puri are all that fall under the category of chatpati snacks! No matter what, these munchies are perfect for any day. Lahore is full of such yummy spots and here are the top 6 of them to try out instantly for a quick chaat fix.
Mastani
Mastani is the ideal spot that provides all the different types of chatpati chaats. These scrumptious snacks are a must have with evening tea. Papri chaat and samosa chaat are enriched with scrumptious flavors and the right amount of sweetness and spice. The food is hygienic and is also very fulfilling. It is a decent place to visit to satisfy your chaat cravings!
View this post on Instagram
Gully bites
This is another perfect place for all the chaat lovers! The place offers delicious chaat options including Pappu papri, Gangster Gujarati puri, and the Babbu bhel puri. Babbu bhel puri is a must try because of the yummy taste that you are definitely going to come back for more! Other than chaat, gol gappy is also very scrumptious and mouth watering. A plate of each is fulfilling and will satisfy your hunger along with the sweet and savory cravings.
Bombay Chowpatty
Situated in multiple locations of Lahore, Bombay Chowpatty is a decent place offering a variety of chaats. Samosa chaat, dahi batata puri, and dahi sev puri are some of the best sellers of the restaurant. It is the ideal place for scrumptious evening snacks with a perfect balance of spices and ingredients. Dahi batata puri is a unique item on the menu that is seen rarely on the menu of any other restaurant. From the taste to serving and presentation, everything is ideal in the restaurant, and is a perfect chaat spot!
Lahore Chatkhara
Lahore Chatkhara is one of the oldest chaat spots in Lahore which is known for a variety of chaats offering a delectable taste. Unlike many chaat places, it is a proper sit down place that is suitable for families. Good food and a comfortable environment are rare to find these days and Lahore Chatkhara offers both! The taste of all the different chaats is quite unique and makes you come back for more as the cravings are real!
View this post on Instagram
Nafees Dahi Bhallay
If you have heard that the best chatpata food is found on the streets, you've not heard wrong! Nafees Dahi Bhallay is situated in Model Town and serves yummy Dahi bhallay which is generously topped with paapri that adds all the magic. A plate of this is fulfilling and will satisfy your hunger right away! Other than this, it is rich in flavor, sweet, and spice for the perfect chaat fix.
Best Samosa Shop
Another place to visit is the Best Samosa Shop situated in Ghalib Market. The place is known for the mouthwatering samosa cholay which is served with red, sweet chutney, and channa chutney! Try this chaat once and you will become a regular customer. The place is famous for its excellent samosa chaat which will satisfy your chatpati cravings and make you a fan of samosa cholay!