Eman Suleman's "Kiss on the Nose" Picture With Her Husband Sends the Internet Into a Frenzy
https://www.instagram.com/p/CF421JPsuEm/?utm_source=ig_embed
Say what you must – there is something absolutely beautiful about Eman Suleman's openness and honesty. While some celebs, influencers and models may tone down who they truly are, Eman Suleman embraces it. And for that, we love her!
It's a shame that in our country, love and PDA between a married couple is also criticized. Everytime a celeb has put up a picture that shows a whole lot of love and affection between the couple, the moral brigade is quick to throw "Islamic Republic of Pakistan" in their faces.
Such a thing happened again. Eman Suleman, on her travel to Hunza, shared an aww-dorable picture of her husband kissing her nose. And, in a split second, the moral brigade lost it. Um, for a kiss on the nose? You got that right!
Reminder: THIS IS A MARRIED COUPLE. AND IT IS JUST A KISS ON THE NOSE.
She even captioned the picture "Pahaar, pyaar, pappi (on the nose so chill), pathar aur pathar per rang barangi algae.", clearly expecting some sort of moral outrage. However, as expected, Eman clapped back with some hilarious comments, and her husband was not far behind either.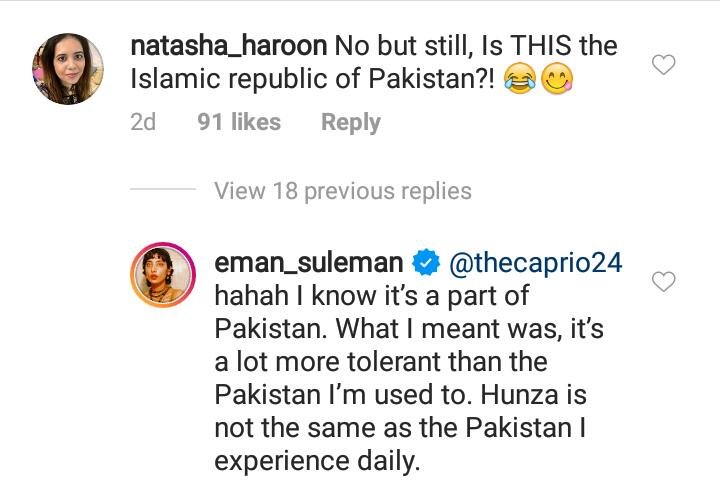 It is also interesting to see how a couple posting pictures of something as innocent as a kiss on the nose can result in articles with headlines referring to it as "BOLD PICTURES". It's a shame that a kiss on the nose by a husband to his wife gets people more riled up than a man hitting his wife in the very same Islamic Republic of Pakistan!