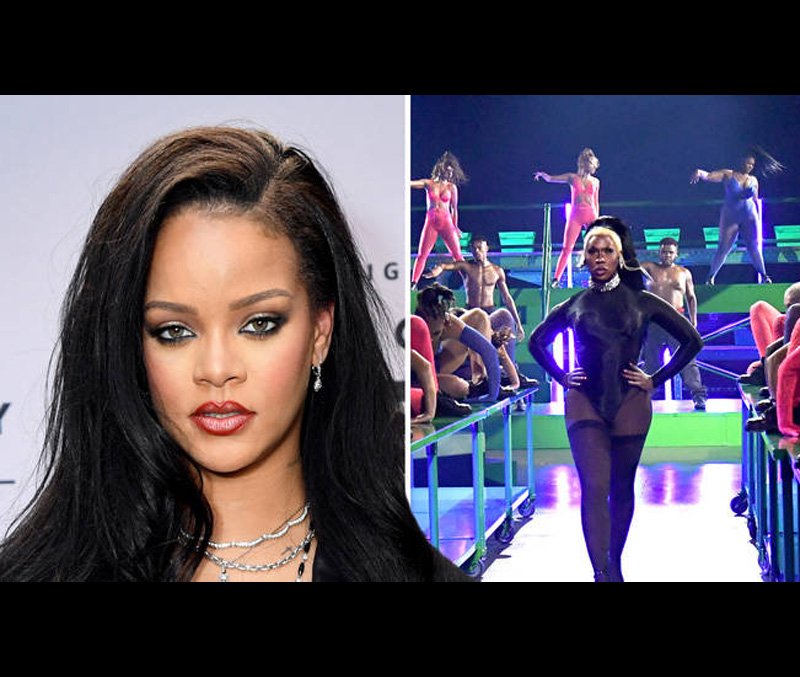 https://twitter.com/crystaldise/status/1312865027926433797?ref_src=twsrc%5Etfw%7Ctwcamp%5Etweetembed%7Ctwterm%5E1312865027926433797%7Ctwgr%5Eshare_3&ref_url=https%3A%2F%2Fexbulletin.com%2Fentertainment%2F443193%2F
Rihanna came under fierce criticism after lingerie models at her latest fashion show for Savage X Fenty danced to a song that seemed to remix an Islamic hadith.
On Friday, the Barbadian singer launched Savage X Fenty Volume 2, the second edition of her lingerie line, accompanied by a pre-recorded fashion show aired on Amazon Prime.
Social media users noticed that in one segment of the show, the models were dancing to a song called Doom by London producer Coucou Chloe. The song samples a narration of a hadith – a saying from Prophet Muhammad that Muslims use as a guide.
Muslims and non-Muslims alike have taken to social media to criticize Rihanna, accusing her of disrespecting Islam by using sacred text in a sexualized context. People all over the world beg the question "Why are you using our religion for your aesthetics?"
as a muslim, no words can describe how disappointed i am with Rihanna for letting her models dance to hadith. Hadith are the sacred words of our prophet, you can't just use it for your lingerie show. disgusting and extremely disrespectful

— dee⁷ (@kookdice) October 4, 2020
to all my muslim mutuals and friends i love you and i am with you. your religion is not an aesthetic and i'm so sorry nobody cares to talk about it. i support and hear you. i learned a lot today and rihanna using a hadith in her show is absolutely disgusting ily all:(

— em (@vrtlcoastlines) October 5, 2020
But Rihanna has, in the past, been all about inclusiveness and diversity. Last week, TheSavage X Fenty launch was praised for including models of different races and sizes – something lingerie brands such as Victoria's Secret have been criticized for not doing in the past. The Rihannas line has received particular applause this year for including plus size male models. However, using a song that uses a hadith has sparked fierce outrage, and rightly so.
So disturbing how rihanna and her team used a muslim hijabi girl in their fenty makeup line but cant even take the time to actually educate themselves on her religion! a line thats supposed to "represent"diversity no less pic.twitter.com/2abXSbulF7

— s. (@lisadahab) October 4, 2020
However, it is important to note that she is definitely not the first hip-hop star to use Arabic or Islamic phrases in music, with singer Drake doing so more recently. But, Drake used the word Inshallah (God willing) in 2018 song Diplomatic Immunity made music publisher Genius follow history of Arab and Muslim references in hip-hop, notably by Kendrick Lamar, Kanye West and Jay-Z. Nevertheless, using the Islamic text and Hadith is a step too far.