Intermittent fasting (IF) is currently one of the world's most popular health and fitness trends. People are using it to lose weight, improve their health and simplify their lifestyles. Many studies show that it can have powerful effects on your body and brain and may even help you live longer. Here is all you need to know about the health trending that is transforming lives for the better.
What is Intermittent Fasting?
Intermittent Fasting (IF) is an eating pattern that cycles between periods of fasting and eating. It doesn't specify which foods you should eat but rather when you should eat them.
In this respect, it's not a diet in the conventional sense but more accurately described as an eating pattern.
Fasting has been a practice throughout human evolution. Ancient hunter-gatherers didn't have supermarkets, refrigerators or food available year-round. Sometimes they couldn't find anything to eat. As a result, humans evolved to be able to function without food for extended periods of time.
As muslims, fasting comes naturally to us thanks to our blessed month of Ramadan.
Intermittent Fasting Methods
There are several different ways of doing intermittent fasting — all of which involve splitting the day or week into eating and fasting periods.During the fasting periods, you eat either very little or nothing at all.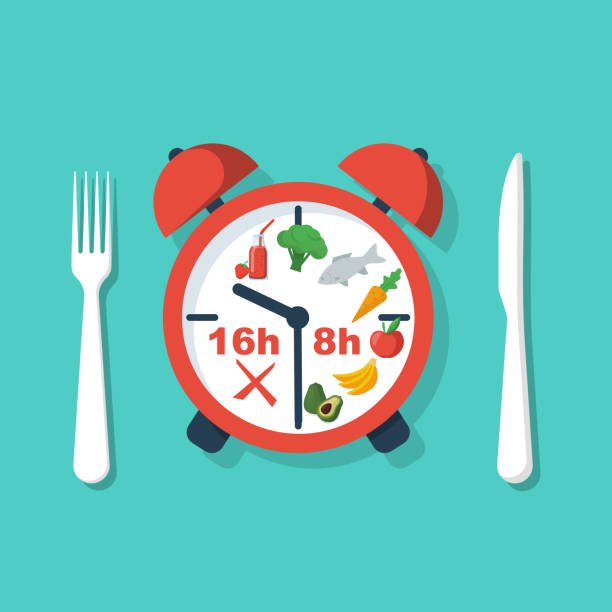 These are the most popular methods:
The 16/8 method: It involves skipping breakfast and restricting your daily eating period to 8 hours, such as 1–9 p.m. Then you fast for 16 hours in between.
Eat-Stop-Eat: This involves fasting for 24 hours, once or twice a week, for example by not eating from dinner one day until dinner the next day.
The 5:2 diet: With this method, you consume only 500–600 calories on two nonconsecutive days of the week, but eat normally the other 5 days.
View this post on Instagram

By reducing your calorie intake, all of these methods should cause weight loss as long as you don't compensate by eating much more during the eating periods.
Many people find the 16/8 method to be the simplest, most sustainable and easiest to stick to. It's also the most popular.
Health Benefits of Intermittent Fasting: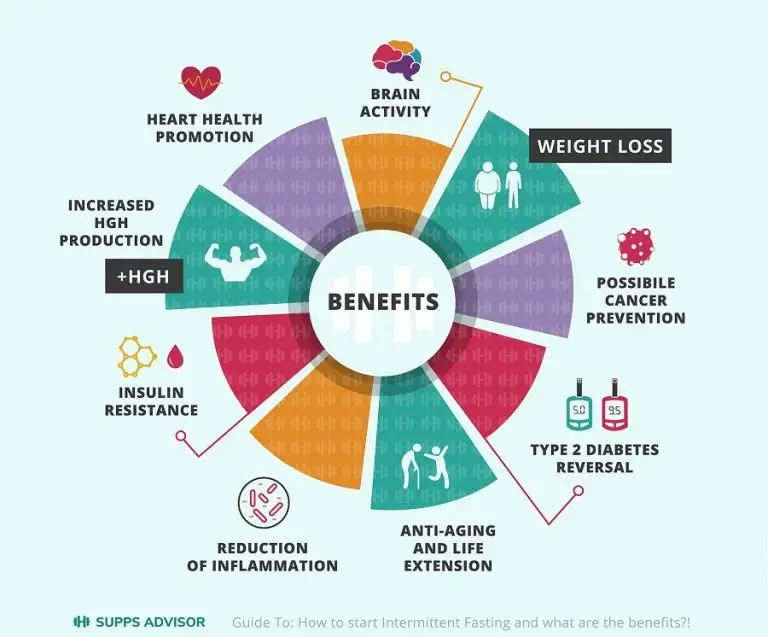 Improves Metabolism And Aids Weight Loss
By making you eat fewer meals, intermittent fasting can lead to an automatic reduction in calorie intake. Additionally, intermittent fasting changes hormone levels to facilitate weight loss.
In addition to lowering insulin and increasing growth hormone levels, it increases the release of the fat burning hormone, norepinephrine (noradrenaline).
Because of these changes in hormones, short-term fasting may increase your metabolic rate. By helping you eat fewer and burn more calories, intermittent fasting causes weight loss by changing both sides of the calorie equation.
Has Benefits for Your Brain
What's good for the body is often good for the brain as well. Intermittent fasting improves various metabolic features known to be important for brain health.
Intermittent fasting helps reduce:
oxidative stress
inflammation
Blood Sugar Levels
Insulin Resistance
Helps Improve Health, And Prevent Diseases
Some research suggests that intermittent fasting may be more beneficial than other diets for reducing inflammation and improving conditions associated with inflammation, such as:
Alzheimer's disease
Arthritis
Asthma
Multiple sclerosis
Stroke
Some Side Effects of Intermittent Fasting
It's important to note that intermittent fasting can have unpleasant side effects, but they usually go away within a month. Side effects may include:
Hunger
Fatigue
Insomnia
Nausea
Headaches
Intermittent fasting is safe for many people, but it's not for everyone. If experienced with any of these symptoms or health condition, one must consult their physiologist and dietitian.
Tips To Help You Stick To Intermittent Fasting
It can be challenging to stick to an intermittent fasting program.
The following tips may help people stay on track and maximize the benefits of intermittent fasting:
Staying hydrated Drink lots of water and calorie-free drinks, such as herbal teas, throughout the day.
Avoiding obsessing over food  Plan plenty of distractions on fasting days to avoid thinking about food, such as catching up on paperwork or going to see a movie.
Resting and relaxing  Avoid strenuous activities on fasting days, although light exercise such as yoga may be beneficial.
Making every calorie count If the chosen plan allows some calories during fasting periods, select nutrient-dense foods that are rich in protein, fiber, and healthful fats. Examples include beans, lentils, eggs, fish, nuts, and avocado.
Eating high-volume foods Select filling yet low-calorie foods, which include popcorn, raw vegetables, and fruits with high water content, such as grapes and melon

Although Intermittent Fasting has innumerable health benefits, in addition to aiding in weight loss, consistency is key! Happy Fasting!