An MBA Graduate in Marketing, and founder of 'Aesthetic Life' – incredibly dedicated and committed to his work, and the pioneer of introducing superior equipment, apparatus and mechanism for high-quality aesthetic, and dermatological procedures, Ghazanfar Rauf has transformed Pakistan's world of beauty and aesthetics.

In 2003, Aesthetic Life was set up as a father-son organization and soon established itself as the top avenue for beauty industry-related supplies. AestheticLife today represents leading companies in aesthetics, professional beauty, and Pivot Point, a US-licensed beauty school. It has sold over 200 lasers and devices in different categories supported by a clinical and service team located in Karachi, Lahore, and Islamabad. The company provides a one-stop solution to a new clinic, salons & spa. It also helps with consultancy, training, as well as marketing support.
We, at Sunday Times had the honor to get the secrets and insights regarding dermatology and aesthetic products, and tips on how to save yourself from being scammed in an exclusive interview with the most sought-after industry expert – Ghazanfar Rauf.
View this post on Instagram
Sunday Exclusive Interview With Ghazanfar Rauf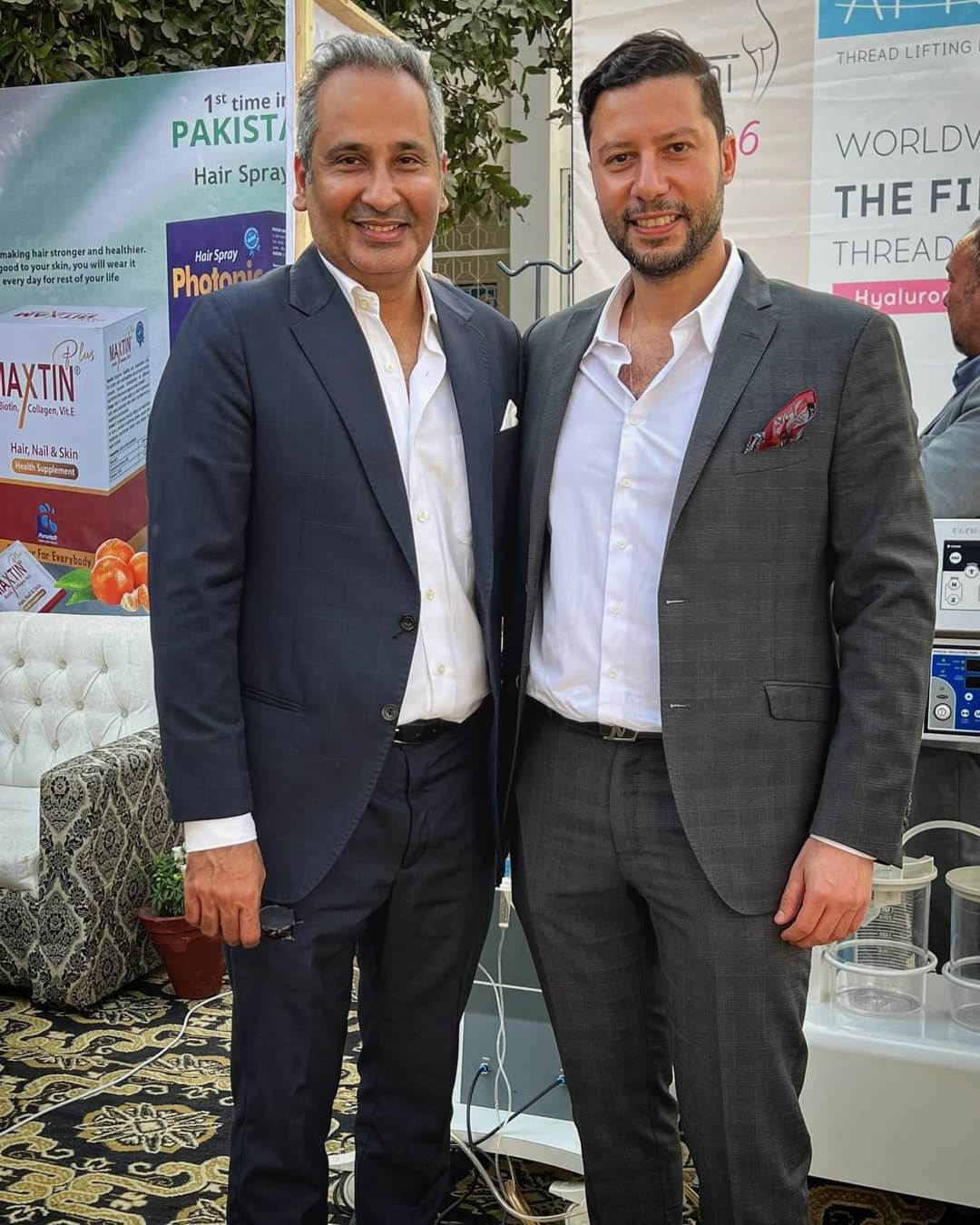 Q. How, and when did you decide to venture into beauty and aesthetics?
I started in 2003 as a sub-distributor for a breast implant brand and subsequently went into dermatology devices and later into the professional beauty segment. Fillers, Botox and lasers were fairly new and there were a limited number of doctors practicing aesthetics. Today, there are so many clinics offering treatments, however, the quality has diluted due to substandard products and device usage.
Q. What is the most common malpractice in the Pakistani beauty industry?
If we talk about beauty salons, then the bottles are refilled with substandard and low-priced products. There is so much formaldehyde in certain keratin brands which produces a lot of smoke that is harmful to both the client and the technician inhaling it every day. Bleach is used on the face and certain salons use a mixture of different creams including steroids for an instant brightening result. On the clinical side, lower-priced Chinese products are used even by big doctors but the patients do not know because of low awareness. Similarly, the Hydrafacial serums used are poor quality and sourced from a low-quality manufacturer. PRP is not done correctly in many places, and I also see poor-quality devices used on clients which have no safety standards. People get burnt and get scars, but nobody can do anything about it. The laws are not protective of patients and clients who undergo bad treatment due to negligence, lack of training, or poor quality product used.
Q. How can customers differentiate between original and fake machinery for procedures?
Normally, famous device companies have a clinic locator on their website. So, if someone is searching for an Original Hydrafacial from the USA or a Thermage or Fraxel treatment, a person can simply go to their website, and type in the city and country to find the clinics which have these devices installed. Only the real ones will be listed as the information is given to the companies by the dealers who sell them. Other than that, a person can ask for the equipment, and check it on the original website to see whether it is identical. Sometimes, the copy is so perfect that it looks exactly like the original. There are Chinese copies of American devices and clinics openly advertise it as the original from the USA.
Q. One cosmetic procedure that you do not recommend?
I do not recommend peels as they are harsh and have a high probability of causing pigmentation. Also, ablative resurfacing procedures by lasers are something to be careful about, as it removes the top layer of the skin leaving it highly prone to pigmentation.
Q. What things must a customer look out for when selecting a salon for their cosmetic procedure?
First, and foremost,  cleanliness and sterilization. This is the most important factor which can lead to so many issues. Product quality is to be seen in its original packaging, not in tiny cups. Ensure that you see the product applied on you being dispensed in front of you, If a device is used, make sure it is not Chinese as Chinese equipment results inbad in results.
Q.  With so many HydraFacial machines surfacing, how to identify the authentic one?
For the reader's information, a Chinese HydraFacial costs 60 times less than the original one. However, the procedure cost is similar for both devices. This is so unfair, but people do not know.
To identify the original ones, go to www.hydrafacial.com and click the tab of clinic locator to identify ways to authenticate the machine and avoid being scammed.
Q. What is the most common side effect customers have suffered due to aesthetic malpractice?
The foremost complaint by people going to clinics is that they did not see any results. The second complaint is that they got more pigmentation when they went in to get it cleared in the first place.
Thirdly, patients complain that they were overcharged, or sold a treatment by pushing them to do it. Fourthly, a substandard product was prescribed to them simply because the doctor has benefited from the pharmaceutical company.