Get Fit Pakistan brings the first EMS gym to revamp the fitness game. In a conversation with Sunday, the owner of Get fit Pakistan, Anshal Munir comments over the new workout program.
Tell us a little about yourself and how you got started with the Get Fit program. What made you bring it to Pakistan?
Get Fit is an international chain having four branches in UAE, and is not marking its footsteps in Pakistan. In the struggle to spread fitness awareness in the country, we found that taking out time from the busy schedules and motivation for a consistent workout were the major barriers stopping people from achieving their fitness goals. Electrical Muscle Stimulation (EMS) seemed to be the perfect solution for this as people from all domains and age groups could make the use of this. Moreover, the efficacy of EMS had been proven globally so it was time the fitness revolution was brought to our country.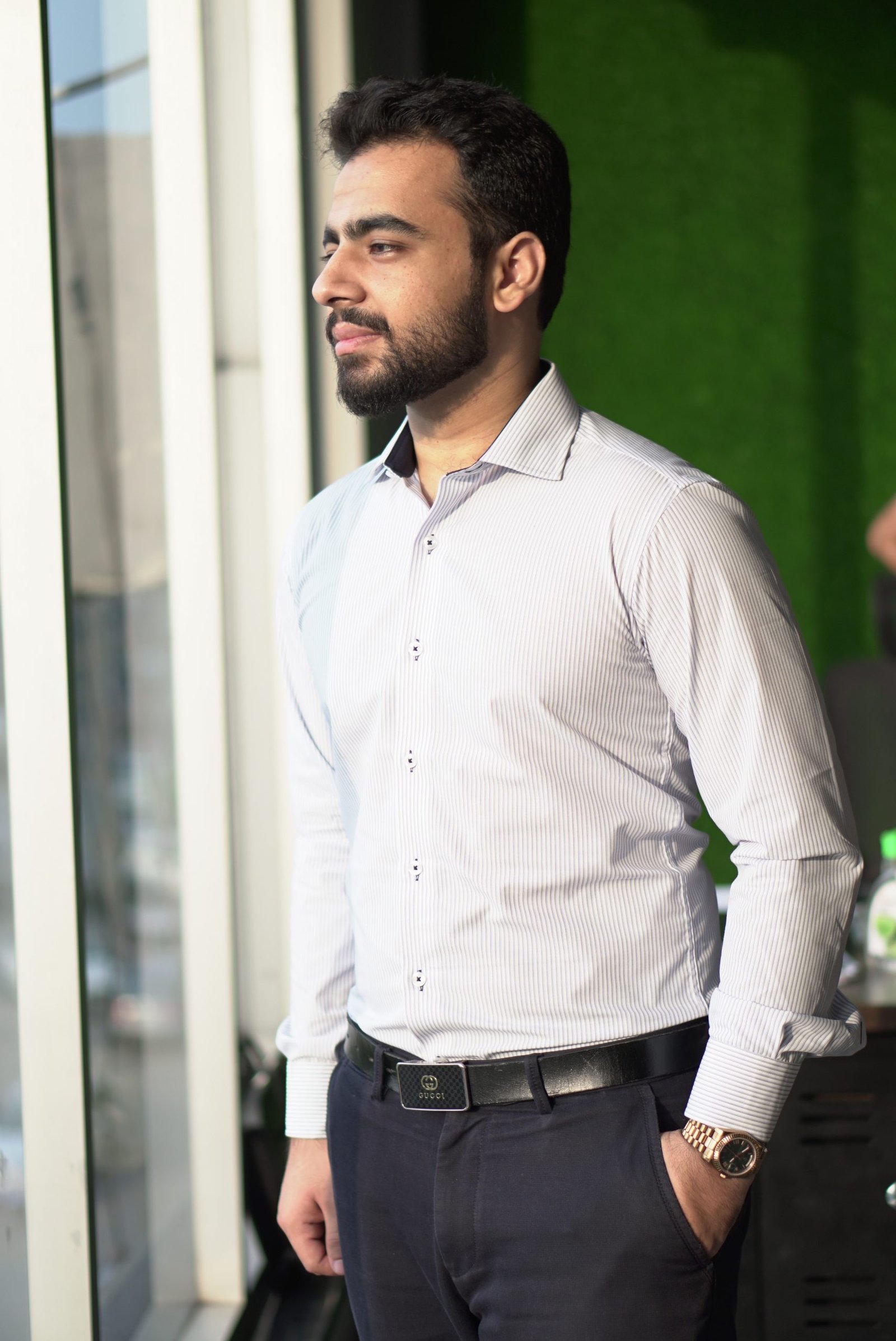 EMS training sounds scary and clinical – break it down for us! What exactly is it?
It's a revolutionary way to get fit and healthy in 20 minutes, twice a week. It involves the use of modern innovative technology to stimulate your muscles through contractions that helps to increase metabolism and maintain your cardiac and physical fitness. When you do a normal workout, your brain sends electrical impulses to muscles to stimulate them and contract or relax. EMS uses the same principle of muscle stimulation, except it heightens those contractions and intensifies your workout in a way that your body cannot on its own.
20 min workouts seem too good to be true. How does this technology work in such short time spans?
In any conventional fitness center, one needs to hit the gym daily because you need exert each individual muscle daily to complete a full body workout in 5-6 days. For any person, it is practically impossible to get your muscle contracted more than its 35% limit. Through EMS, you complete a full body workout in a single 20 minute session up to 80% of muscle activation due to heightened muscle contractions.
What does a regular EMS workout entail?
This involves a mix of cardio, cross-fit and weight training depending on each individual's personal targets and needs. The workout is done individually under the personal supervision of a certified fitness trainer. The workout mainly focusses on functional training and muscle movement exercises. It saves you from lifting heavy weights, thus lowering the risk of any muscle injury. It does not cause joint stress as EMS pulses help your muscles to exert more without putting pressure on the joints.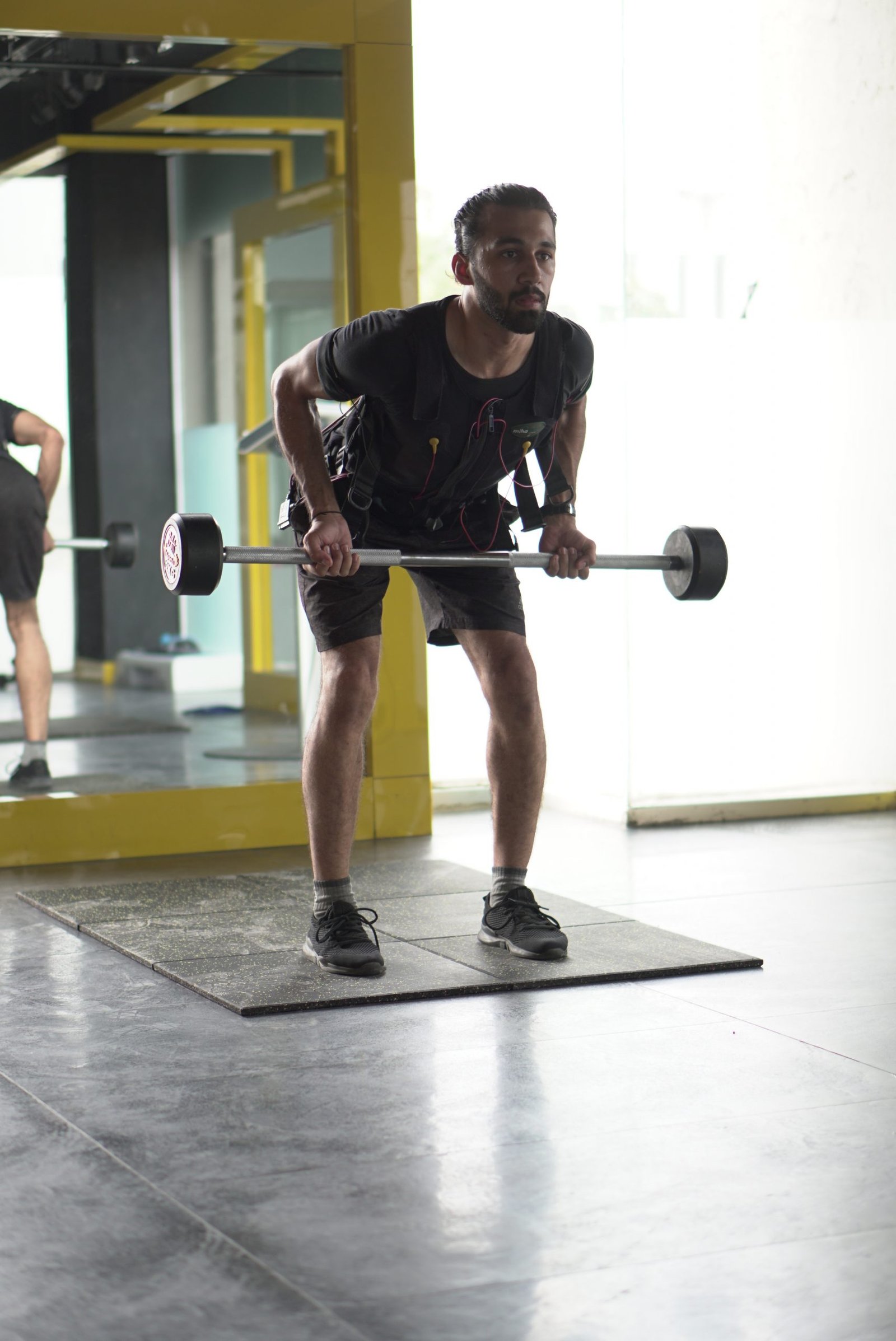 How safe is EMS?
EMS is FDA approved and without any side effect. This is being used in Physiotherapy for muscle recovery and muscle strengthening. This is not a medical procedure but an effective way to improve muscle-mind connection, improve strength and fitness.
Is this workout for everyone? From beginners to pro?
Yes, EMS can be done by any person irrespective of workout history. In fact, it helps beginners more to build up their strength in less time due to muscle activation. And for pros, it really ups their game by increasing their strength and fitness significantly and making them reach limits they had not gone to before. Moreover, any differently abled person can get huge benefit of this technology as it improves muscle mind connection, strengthens muscles, and increases blood flow that helps in rehabilitation and recovery. Children aged above 10 years and adults from any age groups can do EMS.
What are some common misconceptions people have? What would you tell a beginner before they start?
The most common misconception is that people find it artificial, which is completely false. It works in the same way as a regular workout but just with greater efficacy. We always tell to not judge your fitness by weight. An ideal fitness benchmark is you have less fat % and more muscle mass % in the body. Another misconception that people usually have is eating too less would make them lose weight. And it does, but weight loss does not necessarily mean fat loss. So you need to lose actual fat and improve muscle mass in order to have a healthy and sustainable result.
What fitness goals can people target with Get Fit?
Anyone with any fitness target can join Get Fit. It is highly effective for fat loss, muscle gaining, toning up, losing cellulite as well as for rehabilitation and recovery.
How much can one aim to lose in a month's time?
We believe in fat loss, body toning and muscle strengthening more than just keeping a track on weighing scale. But it produces a result of overall 5kgs in 8 sessions (a month) in which you lose both fat and inches and improve your muscle mass simultaneously. We recommend you to take at least 24 sessions that gives you a sustainable result of overall 12kgs-15kgs and a lot of inches.
How did you manage to run a gym during Covid times?
Covid turned out to be a breakthrough for us as people preferred to join Get Fit, because of the safe and personalized experience they get here. Its appointment based with fixed daily workout slots for each person. At maximum capacity, there are only three people doing their workout simultaneously at their specific times. So, there is never a gym crowd. Moreover, there is a fixed workout station for each individual so you don't need to go and share different machines to hit different muscles.
How does this differ from FAD diets and quick fix workouts?
This is actual workout and nothing related to diet. And neither it is a short cut for a workout. It just saves your time and reduces your physical effort of lifting heavy weights. We do recommend portion control of regular healthy eatables to keep you in overall calorie deficit for you to lose fat. But it does not entail any specific and fixed diet. Roughly, a diet plan contains 1600-1800 calories per day but subject to each person's health assessment.
Tell us some successful client transformation stories:
These previous two and a half years have been really tremendous for the company as we have managed to expand to 3 branches in two biggest cities of Pakistan, especially under lockdown situations. Our customer retention is around 70% as majority people have accepted it to be a part of their lifestyle even after they achieved their goals. We have people who have lost around 20kgs in 24 sessions. And we have people who have gained significant muscle mass and improved their body shapes and structures. On top of that, we have been able to improve fitness and health by becoming a part of people's lifestyles. Our biggest success however has been helping people recover from muscle and joint related complications, and helping differently abled people do so much better and sparking hopes for their recoveries.
We would be happy to share Fatima Hassan's, a corporate professional and differently abled influencer, feedback on EMS journey with Get Fit:
"I suffered from dystonia and dysphonia since an early age. Get Fit has tremendously helped me in my muscle recovery as it supported my busy professional lifestyle and helped me with my neuro muscular disease which tends to affect the muscle strength of one side. I managed to improve my strength through this technology. I had a lot of troubles even in my regular walk initially but now, I can manage to walk around independently and my balance has improved a lot. It's been 1.5 year and there is no going back to other gyms."
You have two branches in Lahore and one recently opened in Karachi. What can we expect to see next? 
We have plans to open in all major cities of Pakistan and expand further globally as well. Our positive customer feedback has pushed us to work more to make this community bigger. We aim to make people healthier and fitter and will continue to do so.