If you are someone like us, who has spent half their life in jeans, you must remember that these pants are a direct descendant of that first pair made back in 1873. That year, two visionary immigrants — Levi Strauss and Jacob Davis, (owners of Levi's) — turned denim, thread and a little metal into what has become the most popular apparel on earth. Apart from being durable, stylish and diverse-this piece of apparel is universally agreed to be a wardrobe staple. It is not only worth the investment, but dressed up or down, can be worn a million ways! Here's the ultimate guide to help you find your perfect pair of jeans.
Know your rise for the perfect fit:
High rise
People are usually skeptical about wearing these but the truth is, they are a classic! Athletic body types with smaller waists will love this fit. Hourglass shapes on the skinny side look fantastic in high-rise jeans with stretch. This is a perfect style for cropped tops and tuck-ins.
Mid-rise
The most figure-friendly and comfortable style that gives structure around our waists and is most definitely owned by everyone! Mid rise jeans are compatible with any top length and add versatility to any outfit. Low Rise:
Low Rise
The perfect style to show off and feel confident about those curvy hips! It's important to ensure a snug fit to avoid any gap from the waist. Slender body types can also rock the low rise. Because you may not have the curve in your hips, the jeans may hang a little lower so make sure to choose a fitted style with stretch.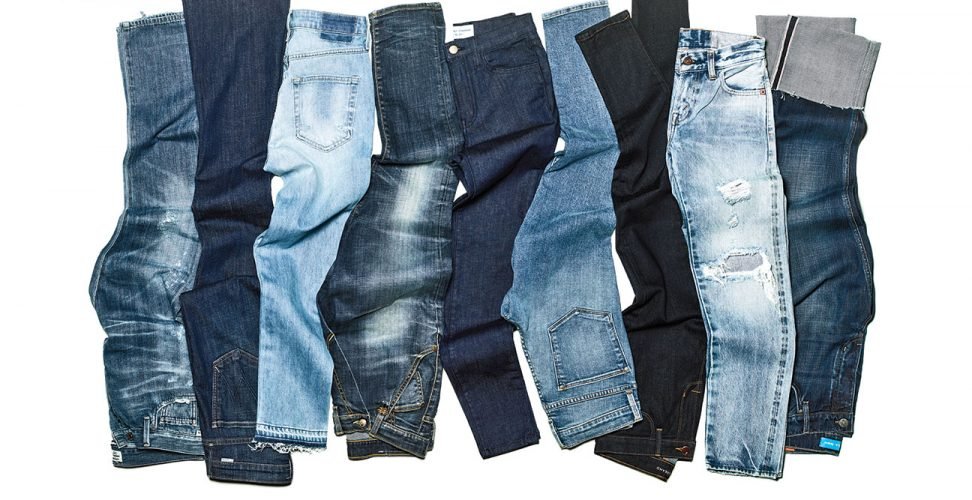 There are 3 main types of washes:
Dark Wash
A dark wash pair of jeans is universally appealing to all shapes & is durable too. Dark Blue and Black washes are a universal wardrobe staple. Don't forget to wash them properly to avoid them fading over time.
Light to Medium Wash
This wash can be dressed up or down through seasons, day and night-one can never go wrong with it! The lighter the wash, the more casual the vibe-Pair it with a light neutral top for a monochromatic look.
Coloured Denim
a basic jeans and tee look by rocking colored jeans-Because bold is beautiful!

The different types of cuts available:
Bootcut jeans
Are slim up top, fitted towards the knee, with a slight flared out effect.
Stretch jeans
Are slightly elasticated and a cross between comfort and style, balancing both.
Trouser/Flared jeans
Are a loose-fit wide-legged cut for the ultimate comfort.
Mom Jeans
High-rise jeans with a solid straight leg named such as they were predominantly common in the 1980s and 1990s.
Boyfriend Jeans
Typically fit at the hips with a more relaxed, trouser fit down the legs.
Skinny Jeans:
Low rise, fitted jeans which as the name suggests, hug the skin.

Identify your body shape for that perfect fit!
Triangle or Pear S
haped
You may be this body type if you have fuller hips and rear and your shoulders are narrower in comparison to your hips. High Rise, Boot Cut, and Stretch are the ones to go for you as they help to balance out the hips and figure, keeping your legs in proportion with the extra fabric around the calves.
View this post on Instagram
Hourglass and curvy body shaped
If you are curvy and have fuller hips, thighs and a bust and a narrow waist, Flares, Skinny and Skinny flares will definitely flatter those beautiful curves. Skinny jeans tend to highlight your legs since your chest and hips are already in proportion, adding a little flare from the knee onwards, further looks flattering by directing attention away from your hips.
View this post on Instagram
Round or Apple-shaped
If you are generally well proportioned and have shoulders broader than the hips, then High rise jeans, trousers, Boot cuts, and skinny's with longer tops are the way to go to hide those problem areas and direct attention away from the hips and stomach by balancing out proportions and highlighting the legs.
View this post on Instagram
Rectangle and slender shaped
If your weight is evenly distributed around your body and has feminine long legs, straighter hips- mom jeans, high-rise boyfriend jeans, boot cut, and skinny jeans are all bound to flatter those long legs, be comfortable and compliment the body shape.
View this post on Instagram
Our top picks to find the perfect jeans
While selecting your perfect jeans and revamping that wardrobe, one must also bear in mind that 2022 is rather nostalgic, with low-rise, baggy jeans making a huge comeback. Here are some of our top picks of go-to brands to get your hands on the perfect jeans.
Craxx Fashion for the perfect fit!
An upcoming local brand that has already made waves in the market with its supreme quality and reasonable prices.
View this post on Instagram
Chic and trendy? Outfitters is your pick!
Offering a wide variety of washes and fits, they cater to all style and wash preferences and are reasonable too. They are the top choice for Boyfriend and Mon Jeans because of their chic styles.
View this post on Instagram
 Old is definitely gold! Levi's for the perfect pair!
Being the pioneer of the apparel itself, there is no place like Levi's for sheer perfection and the ultimate fit as they cater to all sizes and body types.
View this post on Instagram