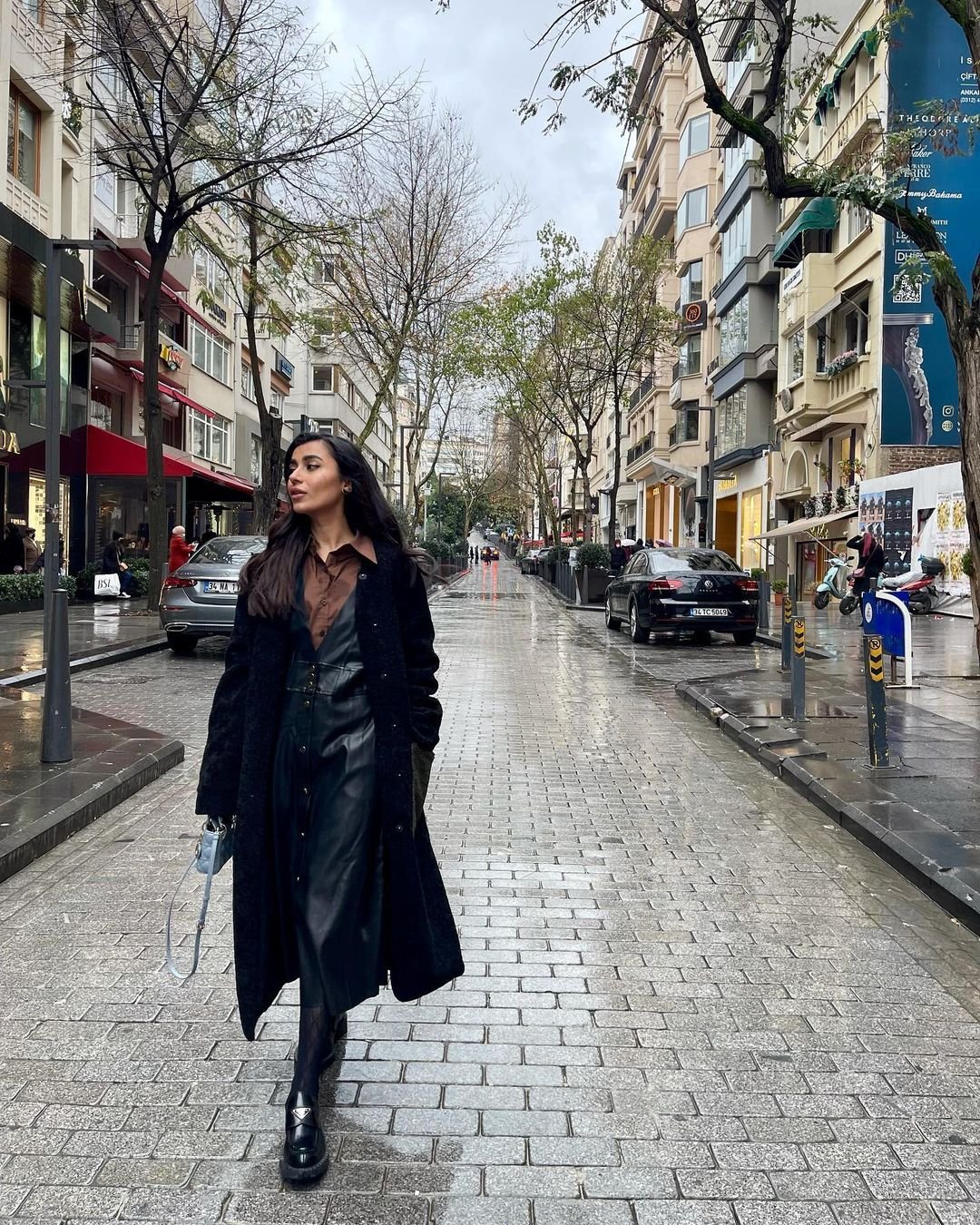 The harsh winter months paired with chic outfits created the perfect love child – leather! From jackets and pants to boots and hats, Sunday Times is seeing leather everywhere.
As we progress into the new year, we're glad to see the trend isn't dying anytime soon, with our favorite influencers styling leather pieces in their unique style. Hold onto your seats because leather isn't just long-lasting but very on-trend for 2022, and we're excited to share some of our favorite ways to style them.
Center of Attention
View this post on Instagram
Sona shows us how it's done as she makes a bold statement with a leather dress. Don't be shy to air out those bold leather pieces in your wardrobe; the more, the merrier. We love her take on layering textures, as her patent leather shoes shine bright even in the gloomy weather.
Night Time Glam
View this post on Instagram
Leather is the perfect partner in crime for night-outs when all else fails. We love how Anushe styles her leather jacket synched at the waist for adding a feminine twist to the seemingly masculine material. Paired with the right choice of heels, this look can take you from day to night in an instant.
Keeping it Classic
View this post on Instagram
Pakistan's latest and favorite heartthrob schools us on styling leather jackets for men. All you need is a nice moto jacket, and it'll work well over any sweater, hoodie, or shirt. It's a timeless look that never goes wrong!
Pop of Color
View this post on Instagram
Resident fashionista Fatima Hasan nails the subtle art of incorporating leather into her look with a crisp pair of leather pants and a bag. She keeps her outfit simple with a classic all-black ensemble, but the kicker is the blinding neon green heels on her feet.
Leather on Leather
View this post on Instagram
Anzela isn't afraid of taking risks, as she pairs a brown leather jacket with matching pants. It's a no-brainer outfit, and adding a plain shirt underneath helps break the monotony of the material. We suggest you take a leap of faith, too, before the season is over.
Puffer Up or Leave
View this post on Instagram
If you're not taking our word for it, take a page out of the uber-stylish Hussain Rehar's fashion diary. Much like his bold designs, his fashion choices are out there. He's seen pairing a vibrant and playful outfit with an oversized leather puffer – tying in all the tones together seamlessly.
Edgy Rocker
View this post on Instagram

Eman Suleman stuns us in leather pants that sit perfectly on her as she rocks a black strappy top. A certain elegance exuded from her look, with the complimentary smokey eyeliner and bare lips. She looks straight out of a vintage magazine, and we're here for the revival!
Thigh High in Leather
View this post on Instagram
While there's nothing to decipher with Aqsa's post, we can't resist a gorgeous pair of long leather boots. They're great at keeping your legs warm while ensuring your outfit stays on point. Especially for all our tall girls out there, run to grab your nearest pair of leather boots.
Varsity Chic
View this post on Instagram
Leather pants might be daunting, but not if you style them the right way. Anjiya styles her pair pretty dressed down as she opts for a puffer vest to balance sporty and elegant. It's a great look for all the girls who want to take out their leather pants for a spin during the daytime.
Desi Fusion
View this post on Instagram
Who said leather couldn't work with desi clothes? Leather mixes exceptionally well with a silk saree, as seen on the gorgeous Abeera. If you want to stand out at the next wedding, we suggest taking a risk by throwing on a leather jacket over your shoulders.
Shop Leather
If you're tempted to recreate one of these looks for yourself, we've got you covered. Here are a few leather goodies that caught our eye, so you look your best for any occasion.
Shop Pants: https://akgalleria.com/slim-fit-faux-leather-trousers-mng-77055547-wine.html
https://www.pelagoboutique.com/products/bi-fabric-leather-trousers-in-black?_pos=1&_sid=2300d6b62&_ss=r
Shop Leather Boots: https://outfitters.com.pk/products/f0005-612-901?_pos=1&_sid=34be6a340&_ss=r&variant=41016257151167
https://outfitters.com.pk/collections/women-winter-sale-2022-upto-50-off/products/f0013-212-901?variant=41012006617279
Shop Biker Jacket: https://outfitters.com.pk/products/f0026-201-005?_pos=2&_sid=34be6a340&_ss=r&variant=40874984538303
https://akgalleria.com/biker-leather-jacket-me-l-sw02-blj1-black.html
Shop Men's Jacket: https://outfitters.com.pk/products/f0020-101-904?_pos=4&_sid=34be6a340&_ss=r&variant=40969614229695
https://breakout.com.pk/collections/men-jacket/products/21wjk278-brn?gclid=CjwKCAiA24SPBhB0EiwAjBgkhqFxKFcIKSMG-eXQJnVmZ6c9JU5OmLDXi9jPaKOqg75L9G-loOUPCBoCTXsQAvD_BwE