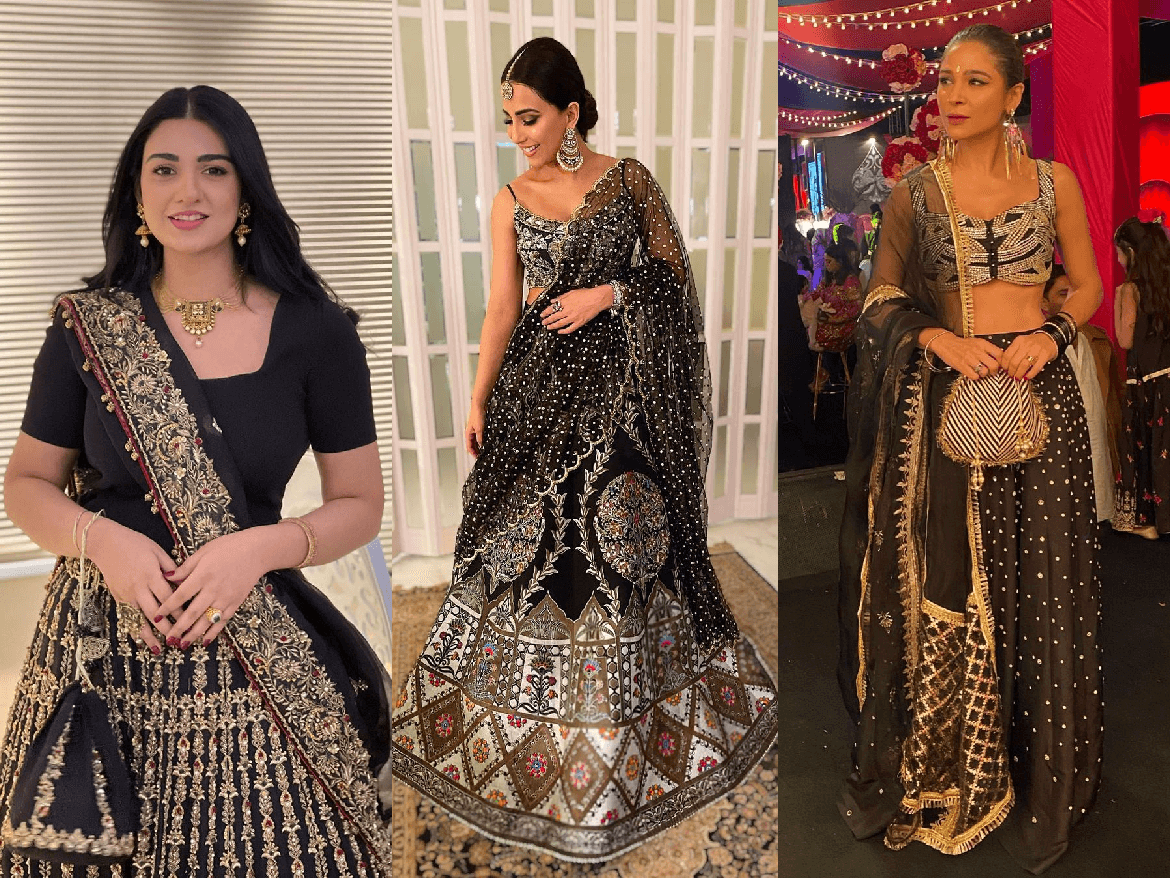 Gone are the days when black was considered an ominous colour for special occasions. As we enjoy the wedding season in full throttle, Sunday Times came across a handful of distinguished black looks (mainly lehenga cholis!). Everyone is putting their spin on the classic black look, from influencers to actors, and we're here for it.
Here are a few of our favourite fashion trends from which you can take inspiration!
Ayesha Omar
View this post on Instagram
Khubsurat from Bulbulay looks ravishing in an all-black Mohsin Naveed Ranjha ensemble, dripping with gold embellishments and an intricate bodice. Despite her head-to-toe black look, her light makeup and slicked-back hair balance out the outfit perfectly.
The Aly Sisters
View this post on Instagram
We're obsessed with this unique twist on the classic saree, with loads of frill and volume at the bottom. Nadia Khan Studio nails the finer details with the golden strap detailing, which goes perfectly with Alayna's statement earrings and a sleek clutch.
Yasmeen Hashmi
View this post on Instagram
Yasmeen looks killer in her black Nomi Ansari lehenga choli, fully bedazzled with his statement mirror work this season. We love how Yasmeen let the outfit do all the taking, with a sparkly silver teeka and the dupatta around her neck.
Fatima Hasan
View this post on Instagram
Fatima goes the traditional route, as she opts for a classic black pishwas by Reema Ahsan decorated with a heavy golden border and embellished bodice. We like how she's pulled her hair back in a bun to showcase the sheer back detailing.
Sarah Khan
View this post on Instagram
Mrs. Falak opts for a regal fully embroidered black lehenga paired with a plain blouse from Kanwal Malik. Her traditional gold jewellery is the perfect accessory for this heavy look, and she looks as radiant as ever in rosy cheeks and pink lips.
Natalia Castillo
View this post on Instagram
Hussain Rehar breaks the monotonous black wedding look with this exquisite black choli and ivory white lehenga, clad with a pink mirror work border. Natalia looks drop-dead gorgeous with a heavy bronze choker gracing her neck and a colourful organza dupatta, adding a bit of pizzaz to the simple outfit.
Ushna Shah
View this post on Instagram
Ushna Shah is working this heavily embellished black lehenga choli – more is definitely more for this one! Wardha Saleem has outdone herself with this classy black number, filled with a variety of patterns, motifs, and colours without overdoing the look.
Laraib Rahim
View this post on Instagram
Laraib Rahim is a classic beauty in this reinvented saree from Everthine By Samar. We've been seeing new fashion dresses for ladies incorporating cigarette pants under the classic drapery, which makes it look oh-so-classy yet distinct.
Ayla Adnan
View this post on Instagram
Ayla adorns classic jhumkas with a black lehenga choli sparsely embroidered with beads that almost make it look like a clear starry night. Her outfit is designed by a budding designer, Selia, a 17-year old girl based in Karachi. We love this new wave of young artists in Pakistan and their creative talent!
Manal Tabani
View this post on Instagram
A floor-length kalidaar is the perfect note to end our round-up with, especially since Manal looks straight out of a royal painting with this Farah Talib Aziz look. We're glad to see the three-quarter length sleeves making a comeback with this outfit, paired with a belt to synch the waist – it's a modern-classic love story!
Azekah Daniel
View this post on Instagram
Our winter outfit roundup won't be complete without this Zainab Chottani velvet outfit, which is the perfect balance of comfortable and chic. Azekah looks like a vision in black in this lehenga choli, paired with a golden dupatta, messy updo, and dangly earrings.