Continuing its tradition of industry firsts, Master Changan Motors Ltd (MCML is a joint venture with Changan International) has successfully exported the first batch of 14 Oshan X7s to Kenya for onwards sale to Kenya and Tanzania markets. Last year first sample unit was also exported to a country in the Oceania region
Making it the first company to becomePakistan's volume exporter of technologically advanced SUVs 'Made in Pakistan' the Oshan X7 will be the first SUV to be launched in an international market. This major milestone is achieved at the 10th year anniversary of the CPEC and is an example of the deep economic cooperation between Pakistan and China.
An export ceremony was held in Karachi, during which Master Changan's CEO Mr. Danial Malik said, "We are taking our next major step to achieve our vision of making Master Changana  part of Changan's global vehicle supply chain under the 'Vast Ocean Plan', while putting Pakistan on the map for producing and exporting high quality vehicles to the world. Kenya and Tanzania are one of the many countries where Master Changan Motors plans to leave its mark, as we look to expand our export volumes."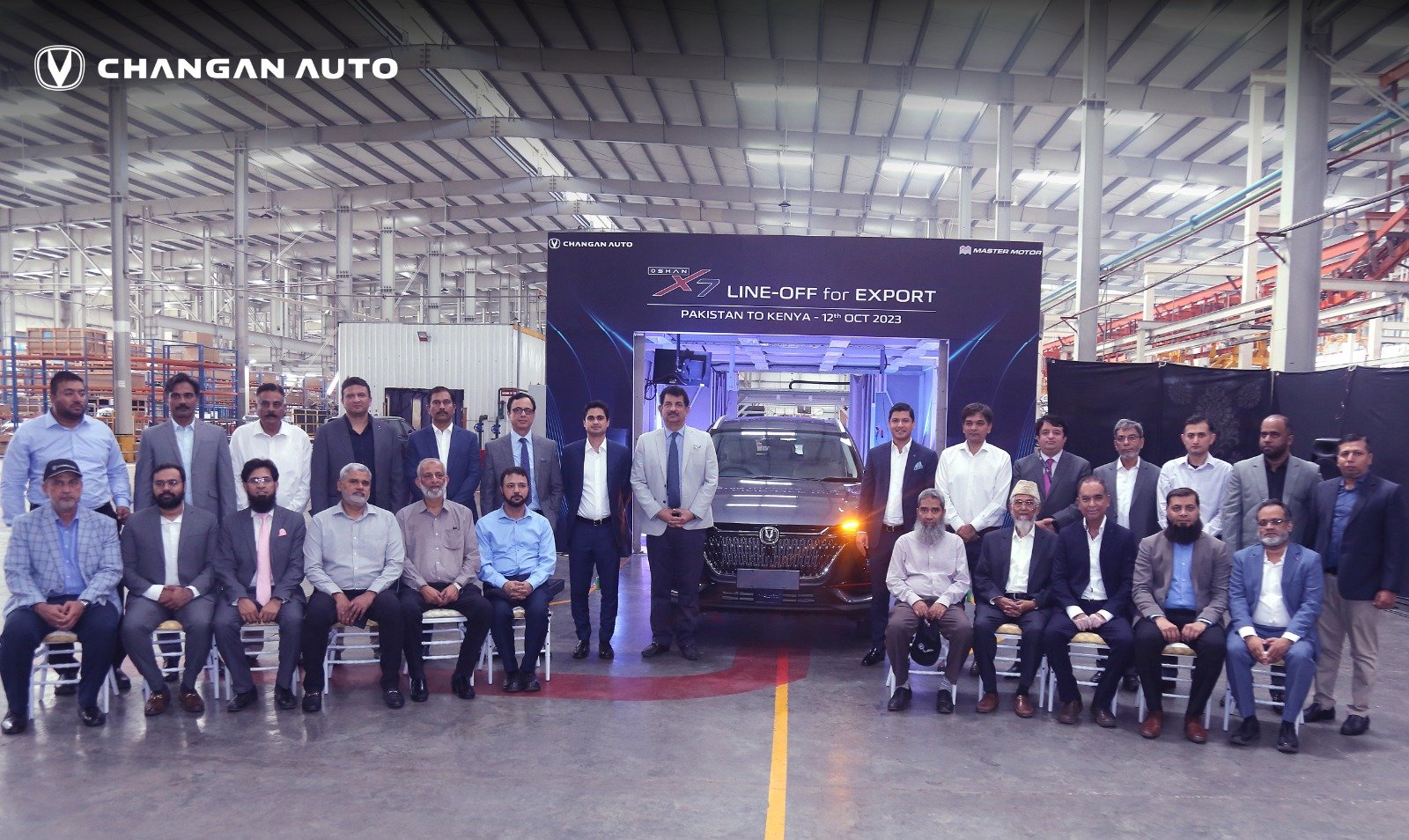 The ceremony was attended by Chief Guest, Mr. AsadRehmanGilani, Secretary Industries and Production; Mr. AsimAyaz, General Manager Policy from the Engineering Development Board; RizwanBhatti CEO PIDC; AsadAltaf, Corporate Head HBL
Earlier this year, on 18th April, Mr. Zhu Huarong, Chairman of Changan Automobile, made a significant announcement at the 2023 Shanghai International Automobile Industry Exhibition by launching the 'Vast Ocean' plan, a strategy to accelerate the company's international expansion and propel it towards becoming a world-class brand. Changan Automobile plans to invest US$10 billion in the overseas market, with a product focus on intelligent low carbon core technology. Changan's focus is to increase its global footprint to Europe, America, Middle-East and Africa, Asia Pacific and CIS, entering 90% of the global markets by 2030. As Changan'sRHD manufacturing hub, Master Changan Pakistan will play a major role in Changan's 'Vast Ocean' plan to cater to RHD markets globally.
The export of 'Made in Pakistan' vehicles is completely dependent on the Federal Government's policies to promote and incentivize the automotive industry. To this end, Pakistan's automotive industry has already submitted proposals to help make auto exports viable in the long term. Danial Malik also said,"We sincerely thank our government for the auto export policy 2021-2026. However, the auto industry needs the government to create policies that increase volumes locally which in turn will improve economies of scale, support deeper localization and encourage automakers to improve their global competitiveness."
The Oshan X7 takes the lead as the largest SUV in its segment, boasting impressive dimensions. It achieves an efficient fuel average of 14-15 kmpl through Pakistan's only 1.5L turbo-charged engine that goes from 0-100 km/h in just 8.23 seconds. Going beyond its remarkable performance, the Oshan X7 showcases a contemporary design, lavish interior, and excels with state-of-the-art features such as ACC (Adaptive Cruise Control), AEB (Autonomous Emergency Braking), FW (Forward Collision Warning), and the luxury of heated and vented seats. Notably, it stands out as the sole vehicle in its class to offer a versatile 5/7 seat layout, providing adaptability to different preferences and needs.
For more information and to download brochure visit https://www.changan.com.pk/oshan-x7