All of us have grown up listening to the very catchy Ding Dong jingle: 'Ek billi moti taazi thi jo mazey se Ding Dong khaati thi'. The child inside of us still enjoys singing this melodious jingle (even if we don't admit it!)
For all the millennials and children alike, it would've been a dream come true to get a chance to meet Billi in person. Well, what if we found out that dreams do, in fact, come true!
Our favorite childhood character, Ding Dong Billi, has made it out of the TV to be with us!
After surprising us across Karachi on her last outing, Ding Dong Billi has taken her furry adventures beyond the city this time around.
Did you spot her recently?
The most sought-after Ding Dong Billi was seen all across the country. That's true, she was spotted at famous monumental locations like Minar-e- Pakistan, Fortress Stadium, Mazar-e-Quaid, Maritime Museum, and some more spaces that signify our cultural heritage and legacy.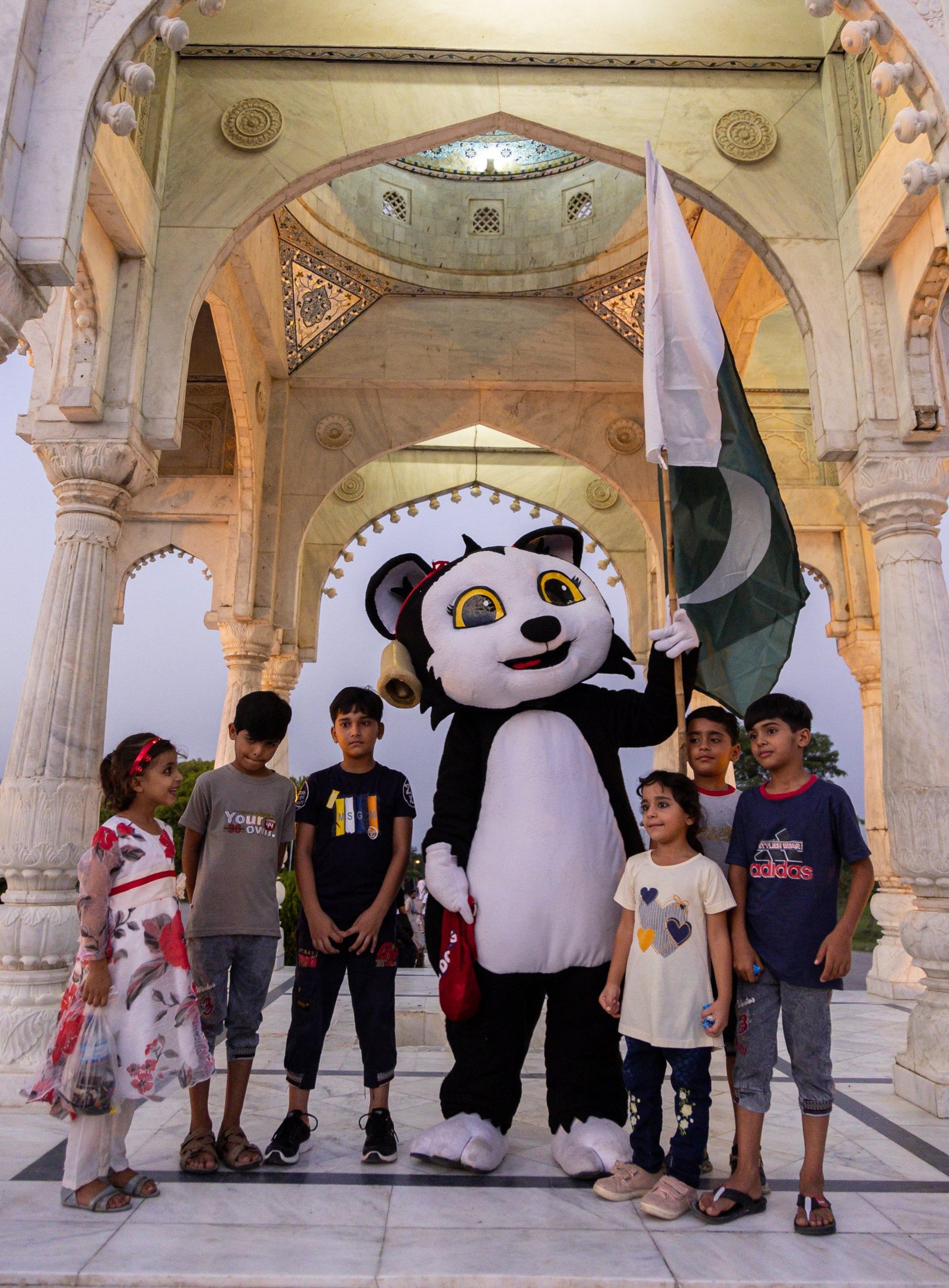 Witnessing Ding Dong Billi's infectious enthusiasm sparked numerous questions in our minds; what she was doing at these places? What was she was up to? And what was her mission this time?
How we wished that Ding Dong Billi could answer all of these questions! 😛
We finally found out that Ding Dong Billi was preparing for The Big Day. Billi was seen waving around the national flag in full celebratory spirit, evoking patriotism, and rallying us for the big day – 76th Independence Day of our beloved country!  It's so inspiring to see that the character we have all looked up to has become the epitome of joy and happiness, spreading the message of patriotism.
But wait, there is more to it! After hyping us all up for Independence day, Billi made her way to the infamous malls of the country, Lucky One in Karachi, and Packages Mall in Lahore, where she wanted to share her enthusiasm and patriotic spirit with kids and families alike!
Billi along with celebrities such as Raza Talish and Daniyal Nasir engaged the audience in various exhilarating activities such as a fun trivia, exciting giveaways and our favorite Hilal Ding Dong treats distribution.
The delightful surprise of receiving a Ding Dong from the sensational Billi herself turned Pakistan's 76th Independence Day into lasting memories for children and their families as Billi has an incredible ability to connect with people of all ages, spreading happiness wherever she goes.
The initiative not only embodied the values of Hilal Foods, spreading smiles across the nation but also united everyone with a wave of nostalgia, evoking memories of the cherished Independence Day celebrations back from our school days.
Hilal Foods has consistently proven its commitment to the well-being and happiness of its customers. With Ding Dong's mascot, Billi, taking center stage this Independence Day, the company continues to live up to its promise of delivering moments of joy and delight to families across the nation.