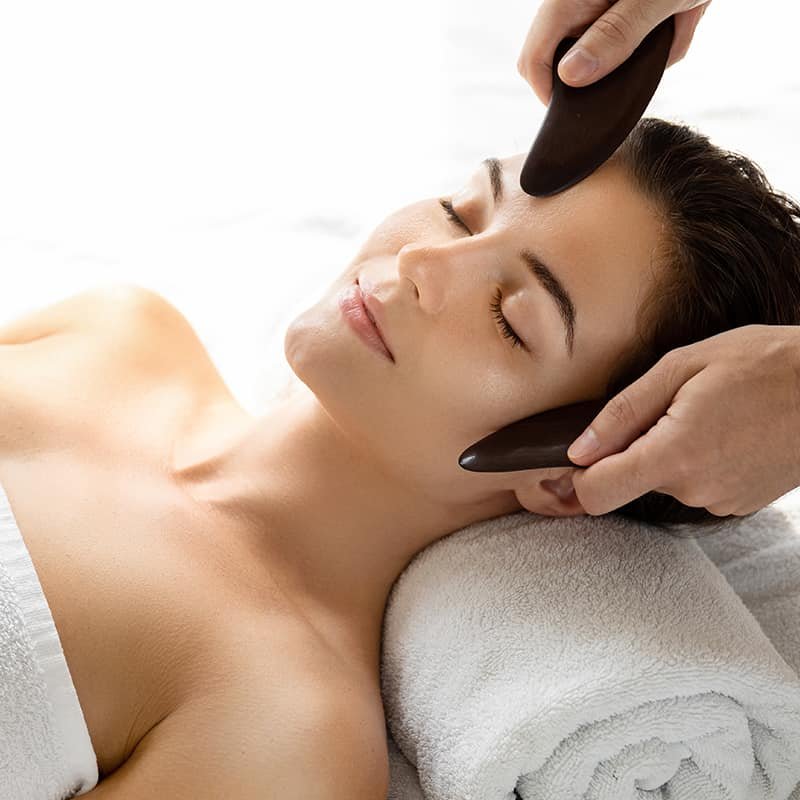 The jade scraper, Also known as a gua sha tool; a  little flat pebble of jade is praised near and far for its ability to chisel out cheekbones you didn't even know existed, and de-puff hangover eye bags But what exactly is gua sha and how can a small stone offer so many beauty benefits? Here is an ultimate guide to the trending skincare routine.

Facial Gua Sha is technically nothing new, but it's having a major moment in the beauty world. And while it feels just as lovely as it sounds, the benefits actually extend way past relaxation and lessened tension—it's linked to clearer skin, fewer wrinkles, and a more sculpted and youthful appearance.

What is Gua Sha?
Gua sha is a technique used in traditional East Asian medicine. It aims to move energy, known as qi or chi, around the body. The treatment involves using a tool to rub the skin in long strokes, applying enough pressure to create minor bruising.
it's a facial treatment that involves scraping a flat jade or rose quartz stone over the skin in upward strokes to relax stiff muscles and promote tissue drainage. But unlike a traditional Gua Sha massage, it won't leave bruise-like marks on your face as it's done with a much lighter hand. Oh, and you can do it yourself at home!
Gua sha may help to break down scar tissue and connective tissue, improving movement in the joints. The treatment does not have any serious side effects but is not suitable for those with certain medical conditions.
How To Use The Gua Sha Tool?
You should start at the neck and work your way up to the forehead. This way, you're creating a clear path for the fluids in your face to drain. Follow these steps to perk up your complexion:
Prep your skin with a facial mist and facial oil
Start at the neck and work your way up to the forehead
Use upward and outward strokes on the neck, jawline, chin and mouth area
Sweep across the cheeks, press gently under the eyes and across the eyebrows
End with upward strokes on the forehead to the hairline.

This whole routine should take around 3-5 minutes. Your skin might look a bit red afterwards, but don't worry — it's just the blood rushing to the face.
Incorporating Gua Sha into your beauty routine is a simple and relaxing way to boost skin circulation, reduce puffiness and tighten the face.
How To Find Your Gua Sha?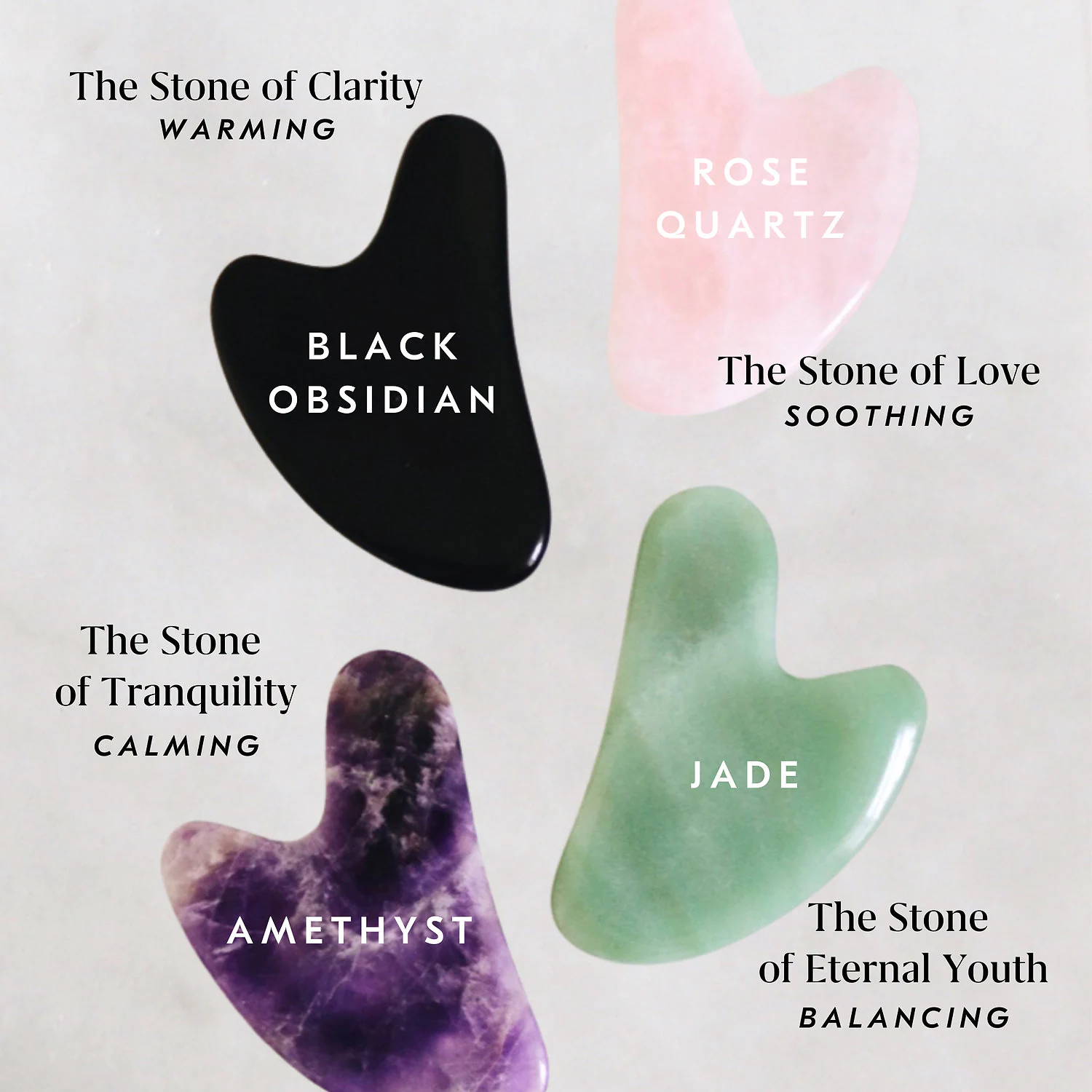 Gua Shas vary in shapes and material, each having its distinct use. We have curated a list of common shapes and materials along with their benefits and uses to help you find your perfect Gua Sha!
Rose Quartz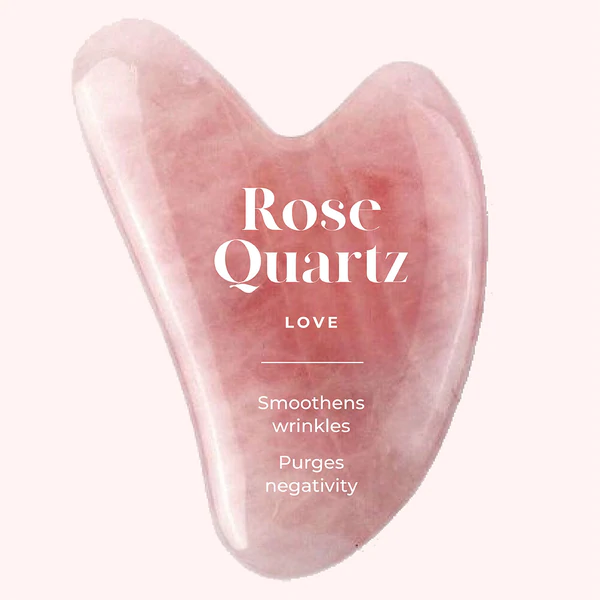 This pretty shade of pink is associated with emotions, compassion, and love. It is the best suited for smoothing out fine lines and wrinkles and getting rid of toxins and negativity that is present in the body.
Jade
This crystal brings the existing imbalances to rest. It reduces puffiness and promotes lymphatic drainage.
Amethyst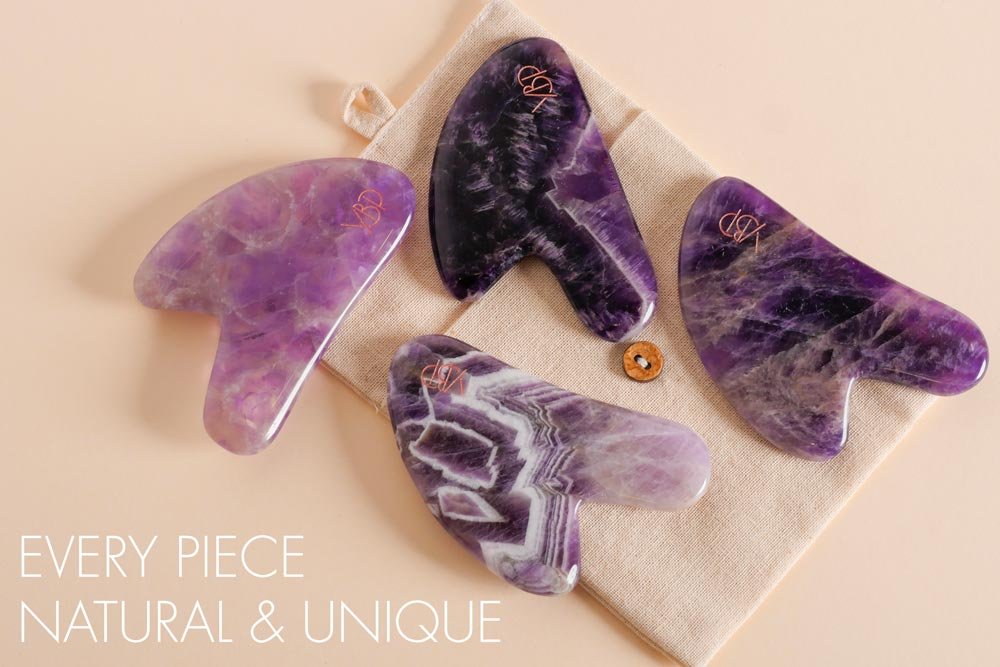 Thanks to its negative charge, it gets rid of negativity and stress by producing negative ions. It helps to cool down the skin and tightens pores.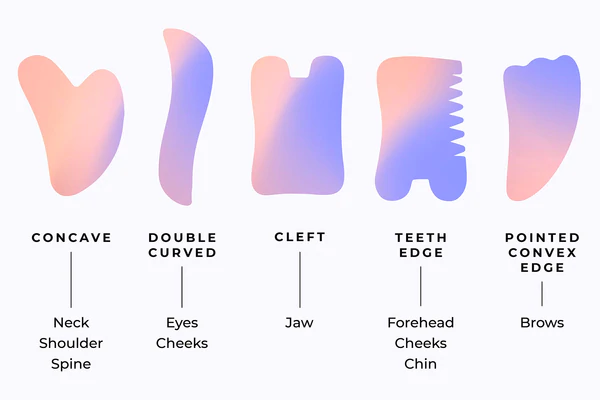 Concave Side – The concave side of a Gua Sha is the most ideal to use on wider areas of your body. It sculps the neck, shoulder, and spine.
Double Curved Side – If your Gua Sha has this shape it promotes blood circulation under the eyes, cheeks, and cheekbones.
Cleft – Since the cleft or the divot is smaller, it is best used specifically for the jaw.
Teeth Edge – Gua Shas that have this type of edge stimulates fine lines and wrinkles. It is used from the chin to the cheeks, temples, and forehead.
Pointed Convex Edge – This part of the Gua Sha is most beneficial to scoop the brows.