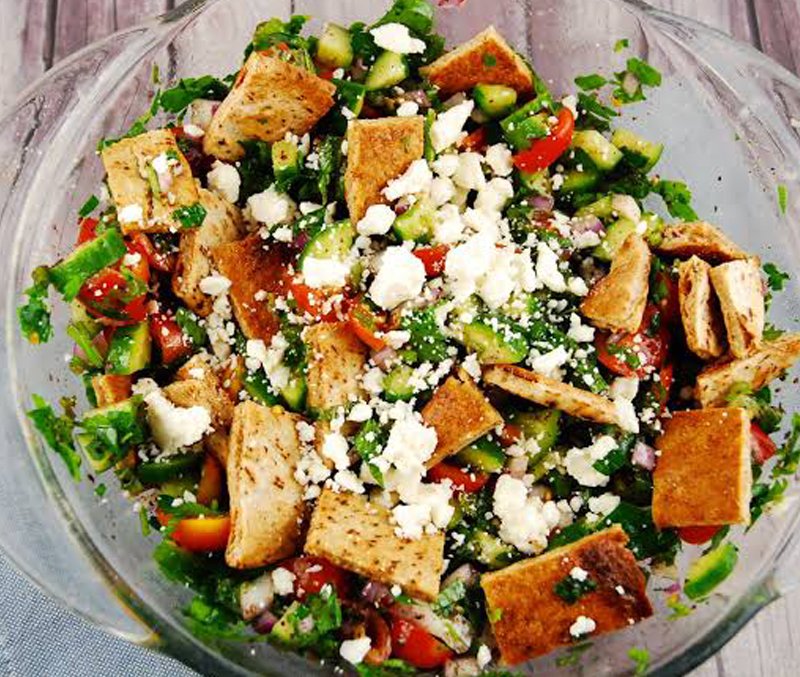 With only 109 calories, this Lebanese salad is best for the weight watchers, as well as those that just love a salad on the side with their mains. Here's a super easy recipe with ingredients you can easily find in your kitchen:
Here's what you need:
2 whole-wheat pita bread, cut into 1 inch pieces
1/4 cup lemon juice
3 tablespoons olive oil
1/2 teaspoon salt
1/2 teaspoon ground pepper
3 cups thinly sliced cabbage
3 cups chopped lettuce
2 cucumbers, sliced
Here's what you need to do:
Preheat oven to 375 degrees F.
Arrange pita pieces in a single layer on a large rimmed baking sheet. Bake, stirring once, until crispy, 10 to 15 minutes. Let cool to room temperature, about 5 minutes.
Meanwhile, whisk lemon juice, oil, salt and pepper in a very large bowl. Add cabbage, lettuce, tomatoes, cucumbers, scallions and parsley and toss. Add the pita chips and toss until combined.
If you want, you can skip on the pita bread, and just enjoy the salad as is, without the crispy pieces of bread.