Cher Sings Praises of PM Imran Khan Over Release of Kaavan the Elephant

Legendary singer, Cher, is all praises for PM Imran Khan after the release of 'Kaavan', the lonely elephant in Islamabad Zoo, was announced:
I was a big fan of you when you played cricket @ImranKhanPTI . I always thought you seemed so kind. Thank you so much for your help. This is a dream come true‼️ @ftwglobal #kaavan

— Cher (@cher) June 1, 2020
Kaavan arrived from Sri Lanka as a one year old elephant, and was kept in chains for most of his life. Since Elephants are very social creatures, Kaavan was in extremely bad shape in Islamabad Zoo, and was often seen banging his head against the walls of his enclosure.
After great effort from 'Friends of Islamabad Zoo, which describes itself as a group of citizens concerned about animal welfare, as well as Mark Cowne, Islamabad High Court finally ruled in favour of placing Kaavan in an Elephant Sanctuary in Sri Lanka for the rest of his life. The news was celebrated by all animal lovers, including 'Goddess of Pop', Cher: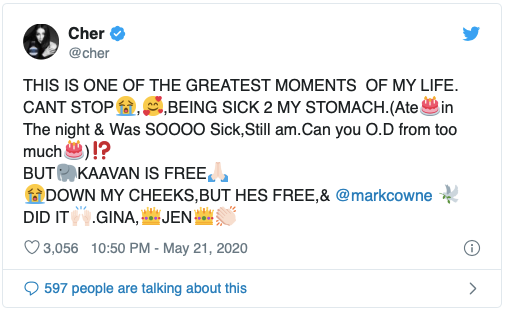 No animals should be caged, be it the tiniest of birds or the largest of mammals. Zoos all across the world should be shut down and all caged animals released to the wild or placed in sanctuaries.
Be free, Kaavan.