A Drive-in Cinema in Lahore? Twitteratis Weigh in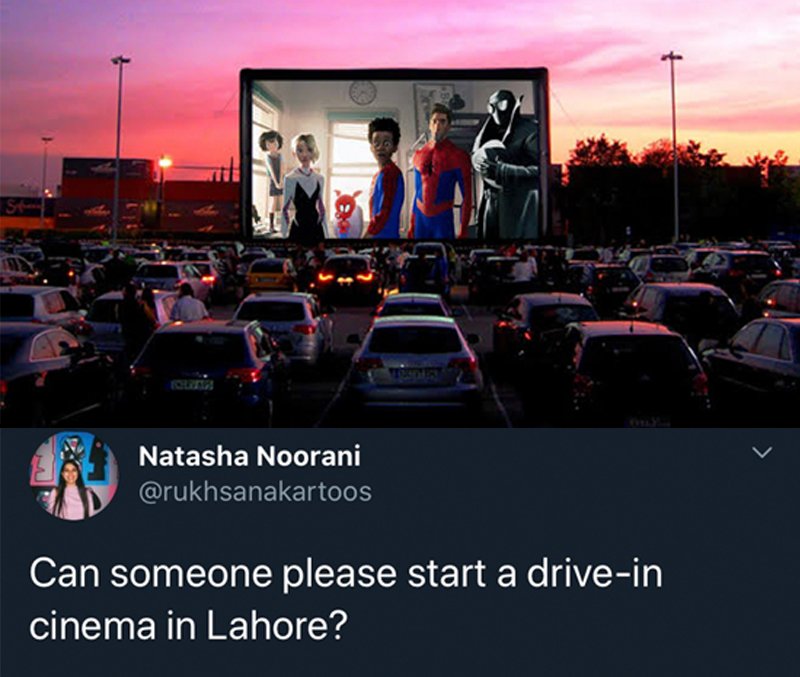 https://twitter.com/JamalNoormah/status/1266335335325319169
What comes to mind when you think of a drive-in cinema? It might be that moment that Christopher took Lorelai to one for date night in Gilmore Girls, or Danny and Sandy's date night in Grease or something more modern, like scenes from the Netflix series Riverdalde. However, being in Pakistan, a drive in cinema has never been one that got the public thrilled. We prefer to have air conditioned theaters with luxury loungers.
However, with the current pandemic in full swing, there have been a few who have been toying with the idea of having a drive-in cinema. Granted, it would be the most ideal way of watching a movie in a cinema like setting while also maintaining social distancing and feeling safe.
Natasha Noorani took to Twitter to plead for a drive-in cinema to open in Lahore, and quite frankly, we like the idea.
Can someone please start a drive-in cinema in Lahore?

— Natasha Noorani (@rukhsanakartoos) May 29, 2020
It lead to Twitteratis offering all sorts of opinions.
https://twitter.com/RafiqueKhokhar/status/1266658311446945794
In garrison instead of Shadi haals. Brilliant idea.

— Zahid Hameed (@Zahid_Hameed_Sh) May 29, 2020
Drive-in cinemas are already a dying breed in the world and your saying that someone should start it in Pakistan? Impossible

— Ahmed Salar (@ahmed_salar) May 29, 2020
That'd be so nice!

I think there used to be OAC in Karachi once upon a time

— Harris A. (@harrisazhar130) May 29, 2020
Bad idea, hamare yahan pe will misuse the service and others wud make their videos and post up on social media.. First and foremost we need a course on civic sense..

— Hamid Sheikh (@h_amidsheikh) May 29, 2020
I watched couple or movies in Karachi, way back. Not sure where it was or what I watched as I was too young at that time but times were good them. Waisay I floated the idea to someone and they will start working on the business model in a weeks time. Lots of ifs and buts though.

— Khattak, Asjad Khan (@KhattakAsjad) May 30, 2020
This only works in the winter, unfortunately.

Otherwise you've got a bunch of cars all with their ACs on for hours, just not sustainable.

Failed in Dubai because of this and other reasons.

— Musad Afzal (@MusadAfzal) May 29, 2020
But machar!

— Nimra Hussain Tirmazi (@nirmazi) May 29, 2020
Would you like for there to be a drive-in cinema in Lahore? Let us know your opinion.