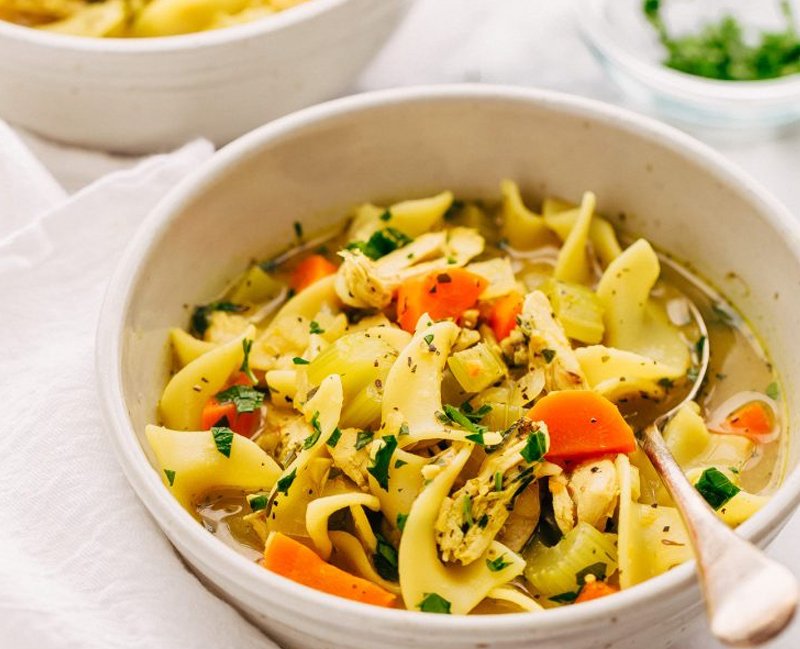 While Winter brings with it the wonders of longer chilled nights that allow you to wear coats that are better than snuggles, they also bring with it the rampant flu and fever. And let's face it, sometimes the flu can be more stubborn than the regular ones. So try this soothing soup that works better than any comfort food. It not only tastes great (something all those under the weather often complain about – TERRIBLE TASTING FOOD), it is also a great immunity booster. Here's the recipe:
INGREDIENTS:
2 tablespoons olive oil
1 medium onion, diced
3 stalks celery, diced
2 medium carrots, diced
6 cloves garlic, minced
2 bay leaves
1/2 teaspoon ground turmeric
1 teaspoon dried thyme
8 cups low sodium chicken broth (plus more)
6 ounces egg noodles
2 cups shredded cooked chicken
1 1/2 teaspoon lemon zest
2-3 tablespoons lemon juice
1/4 cup chopped parsley
DIRECTIONS:
Heat the olive oil in a large dutch oven or stockpot over medium-high heat. Add onions and saute for 3 minutes or until they soften. Add the carrots and celery and continue to cook and stir for another 3-4 minutes. Add the garlic and let cook for 30 seconds before seasoning with the bay leaves and dried thyme. Pour in the chicken broth and let the soup reach a simmer.
When the soup is simmering, lower the heat to medium and add in the egg noodles. Cook the noodles for 2 minutes less than the package directions. Stir in the chicken and let it heat all the way through. You can add a little more broth or water at this time if you prefer your soup soupier.
Turn the heat off, discard the bay leaves. Stir in the lemon zest, lemon juice, and parsley. Taste the soup and adjust salt and pepper to taste. Serve warm.
If you can't make it, call a friend and ask them to come over with this soup and a chick-flick. Enjoy!