Pakistan VS Coronavirus : Here's Where You Can Donate to Make a Difference
[video src="https://www.instagram.com/p/B99gO1epQGq/"][video src="https://www.instagram.com/p/B-ILZl4nooD/"][video src="https://www.instagram.com/p/B91L9BKpVKI/"][video src="https://alkhidmat.org/coronavirus-emergency-appeal/"]
The recent lockdowns and strict guidelines of self isolation and social distancing may leave you feeling helpless in regards to how you can help those who need in their battle against coronavirus. Fret not, you still get to be a good samaritan thanks to the multiples organisations that have popped up to specifically fight all the consequences of the coronavirus on the economy and on the people. Here are a few places you can donate to and help fight the good fight:
Saylani Welfare International Trust :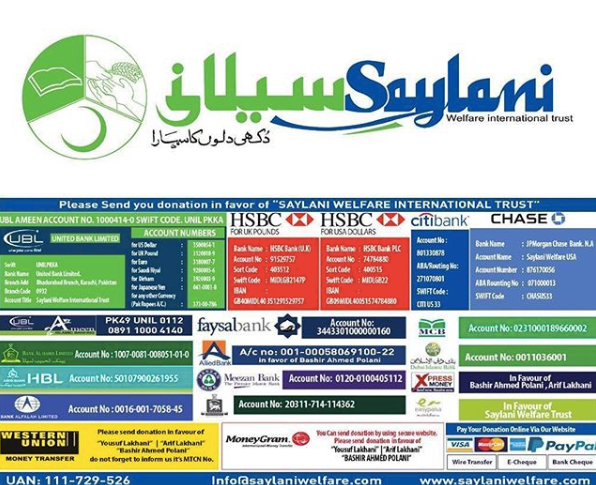 Saylani Welfare Trust is doing it's part and providing ration bags to daily workers who are being effected most due to the lockdowns that have been implemented.
The Trust has made it easy for anyone to donate, whether they're located in Pakistan or abroad so do your part and encourage others to do theirs, too.
http://saylaniwelfare.com/Corona-Effecties
Elaj Trust
With the largest population, Karachi and its daily workers require the most help. This is where Elaj Trust comes in.
Robin Hood Army Pakistan
RHA has managed to help 2000+ families with rations this week alone thanks to the generosity of Pakistanis nationwide. Help them reach more families and donate, donate, donate!
The Indus Hospital
The Indus Hospital is working hand in hand with Sindh Government to screen and treat COVID-19 patients free of cost. They can achieve all the things mentioned above because of YOUR donations and they need them now more than ever.
Alkhidmat Foundation Pakistan
In collaboration with its local and global partners, Alkhidmat Foundation Pakistan has already started taking crucial steps to ensure that the most vulnerable segment of society is also kept safe. These measures include establishment of isolation centers, emergency medical care, provision of precautionary goods and awareness campaigns. However, still millions of underprivileged people remain short of supplies and face a higher risk of infections.
Shahid Afridi Foundation
The Shahid Afridi Foundation is taking donations to provide those in need with ration packs as well as protective gloves and masks and hand sanitizers. Donate now to help the cause.
If you know of any organisations that you would like to bring to attention regarding the fight against the adverse effects of Coronavirus, let us know!