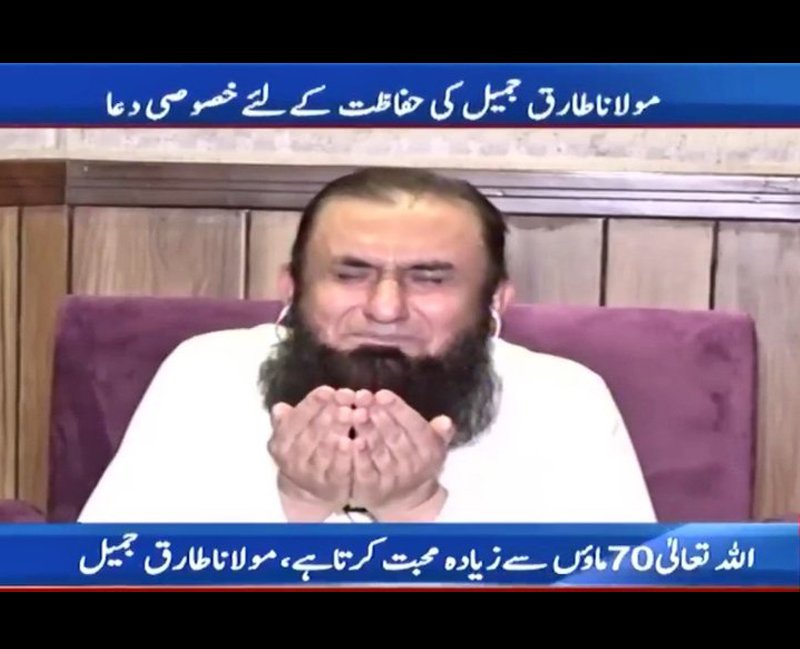 https://twitter.com/cryptotrainers/status/1241769008665370624
The blessed night of Shab–e–Miraj was last night. Shab e Mirah is the night of "Ascendance" and holds immense significance for Muslims all over the world. While the country self isolates, and Sindh goes into lockdown, the country rallied around the tv to listen to the ijtamai dua (congregational prayer – performed live in isolation by Maulana Tariq Jameel) last night. Everyone was left in tears.
Here's how the world reacted to it:
It was needed, it was muchhhh needed. Maulana Tariq Jameel did his best for waking us up, we need to turn to Allah before its too late. May Allah bless u Maulana sb for this favour.#MolanaTariqJameel #CoronaFreePakistan pic.twitter.com/5agmryBF6F

— Mudassir Irshad (@Mudaxxir_143) March 22, 2020
https://twitter.com/shaikhsami20302/status/1241813324955897872
Nothing as emotional as watching Mulana Tariq Jameel's dua and plead him today. #MolanaTariqJameel #ARYNewsUrdu

— Momina Gulalaai A.Khan (@MominaAKay) March 22, 2020
https://twitter.com/sikandar_ar/status/1241809496768380929
If you ever tense of this coronavirus just go and watch Maulana Tariq Jameel's speech & dua on ARY News, I'm sure you'll be relax at all. ❤️ #MolanaTariqJameel pic.twitter.com/1OsbS3yHe8

— Zeeshan Ahmad (@Mr_zeeshuu) March 22, 2020
https://twitter.com/RameezRaza97/status/1241812205278027776
When Maulana Tariq Jameel said say "Tauba, Tauba, Tauba" and cried! The way when Maulana tariq jameel sahab take off his Imama sharif and when he say "hamara dukhra ye hai k tera BAITULLAH weeran hai" that was really heartbreaking!! May Allah accep his prayers#MolanaTariqJameel pic.twitter.com/RytF2APaid

— Aisha Fayyaz (@AishaFayyaz6) March 22, 2020
Mom and dad were crying beside me while praying for the nation. I always feel like i have committed mountains of sins but Allah is most Merciful and #MolanaTariqJameel reinforced my belief it's never too late to seek forgiveness. May Allah SWT bless this nation and forgive us.. pic.twitter.com/TVnazpqNgG

— Dr. SyedMFaraz (@DrSyedMFaraz) March 22, 2020
It was beautiful to see the country come together on a beautiful, blessed night, to pray for the safety of all of humanity. Please remember, it is good to pray to Allah for help but please remember to take the necessary precautions yourself. Allah helps those who help themselves.