LUMS is Under Fire After 41% Increase in Tuition Fees
[video src="https://twitter.com/umairjav/status/1257335698031611916"][video src="https://twitter.com/baewafa2/status/1257334725804535816"]
Esteemed university LUMS has come under fire after an unprecedented fee hike of 41%, without prior communication to the students.
According to reports, the university has manipulated the credit hour calculation to increase its fee by up to Rs. 140,000.The university said that it has increased the fee by 13% per credit hour due to inflation. However, the calculation shows the fee has been increased by 41.7% for the next semester.
In short, the current fees per semester stands at a whopping Rs. 482,000 for 20 Credit Hours, where as before it added up to Rs. 340,200.
Students and Alumni are disappointed at the institute, for obvious reasons:
NUST's per semester fee: 90,000/-
FC's per semester fee: 130,000/-
LSE's per semester fee: 170,500/-
IBA's per semester fee: 237,5000/-
Old LUMS per semester fee: 380,000/-
New LUMS per semester fee: 482,000/- #LumsFeeHike

— Iman Basit (@ImanBasit) May 4, 2020
Woke up to an employee of mine having to reconsider her further education in light of the current #LUMSFeeHike. I am appalled at the sheer cruelty of doing this during a pandemic. This must be reversed immediately. Everyone is sensitive to the current sitch, why is LUMS exempt?

— Aysha Raja (@aysharalam) May 5, 2020
LUMS released the following statement in response to the backlash: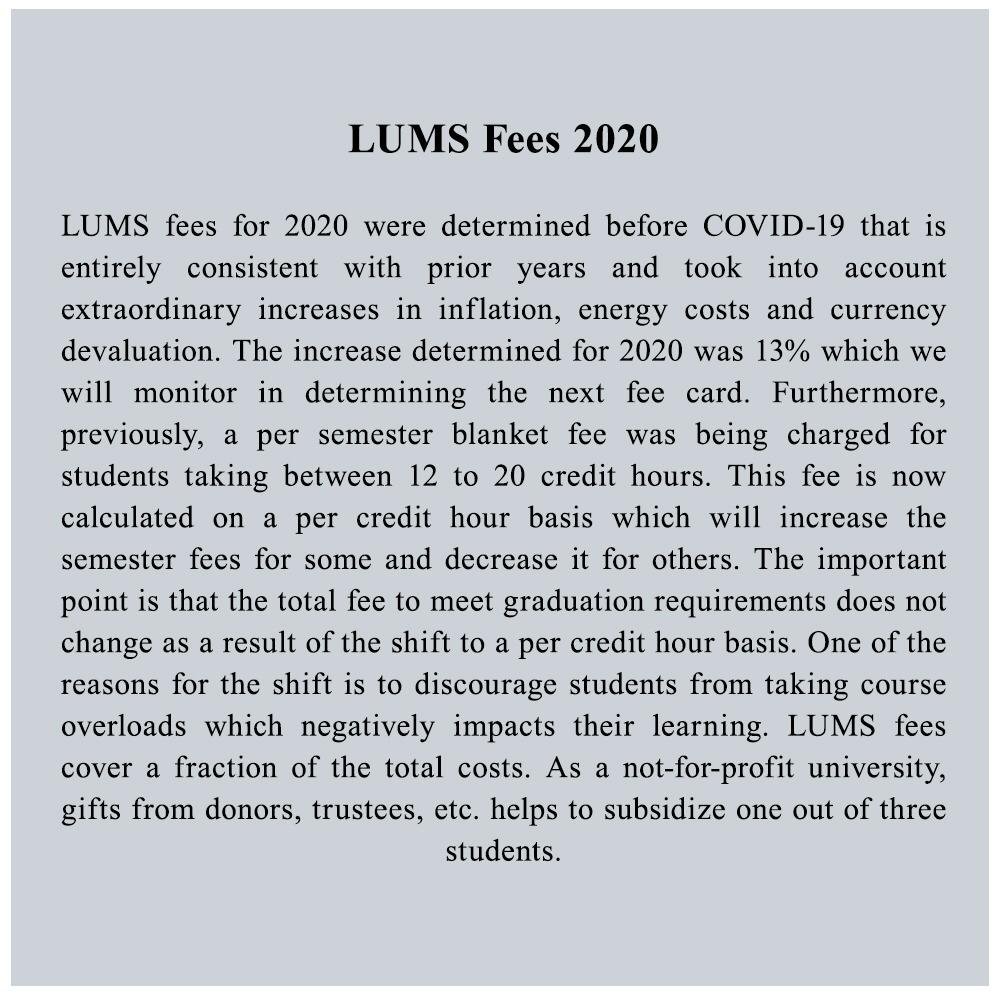 While the university is defending it's decision, majority of the people believe LUMS should have helped and facilitated it's students in these uncertain times of the Coronavirus pandemic, rather than increase fees by such a large number. On one hand the government has directed private schools to reduce their fees by 20% due to the outbreak, and on the other prestigious universities are hiking fees up by 40 percent.
We hope, in the end, education prevails and is put before profiteering and money making.