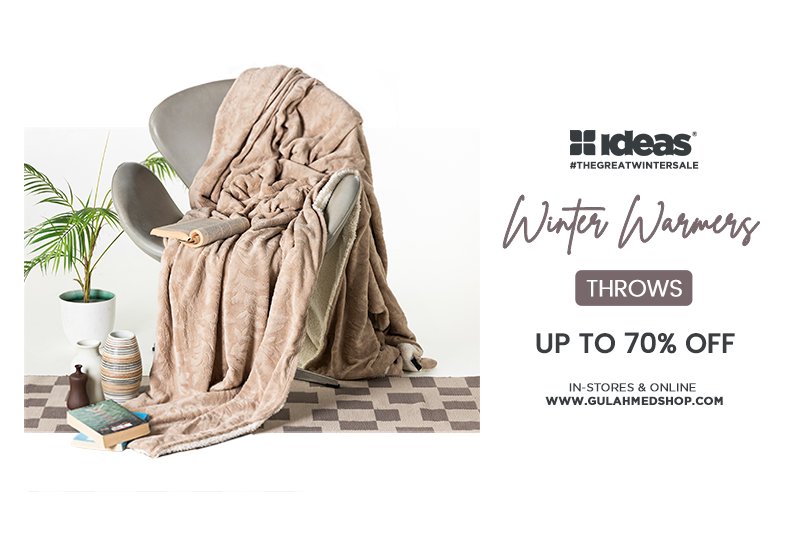 All across the country, temperatures have started to drop in anticipation of the upcoming season and it's time to bring out those blankets. We can all agree that when the days start getting colder, what better way to keep warm than snuggling up under a warm winter blanket or a throw?
But, what are good winter blankets you may ask?
Well, good winter blankets are warm yet breathable, soft, and stylish. Something that should last for years. 
If you're looking for a throw or a blanket that will keep you warm and look great, we've pulled together some of the best available blankets in Pakistan that we're loving right now so you can find one that's perfect for you. All that's left to do is grab some snacks, put on your favorite film, and get comfy.

If you're on the lookout for a pretty throw blanket that you can use all year round, look no further. This beautiful throw from Ideas will add a cozy touch to any room. It's made from 100% cotton and comes in a stylish grey hue that will complement practically any home decor style. 
The matelassé weave of this blanket gives it a unique texture which is super soft to touch and totally made to snuggle. Perfect for throwing over your bed for extra warmth on chilly nights and a great companion for movie nights. Overall, it's a great addition to any space.
Double-ply fleece blankets are pure love! They can be used from both sides which adds to their value. They are super soft and durable. They are elegant and give a truly royal feel to any living space. These blankets are ideal for people who enjoy the finest things in life. Once you use them, they will be hard to put aside. This particular blanket caught our eye because of its beautiful color. 
The single-ply fleece blankets are ideally for those of us who like patterns and designs along with colors. And why not as patterns and designs give a beautiful finishing touch to any furniture. We found this winter blanket to have a velvety touch on one side which makes it extremely soft. The other side feels like felt which simply elevates the whole design. You can also use them as body wraps for extra warm and comfort in the winters
Fleece throws are definitely one of the best blankets in Pakistan and this one has all the elements of becoming a hot seller. Made up of synthetic polyester blend; which ensures extra warmth and the textured design which gives it a soft and comfortable feel overall. 
Both stylish and practical, blankets and throws at Ideas are definitely worth checking out. And with so many styles available, you're bound to find one that will look fantastic in your home. Sit back and relax! You can order all these blankets and more from gulahmedshop.com by paying a small delivery charge of PKR99. Happy shopping!