He Said She Said: Crazy Comments Celebs Made You Have to See to Believe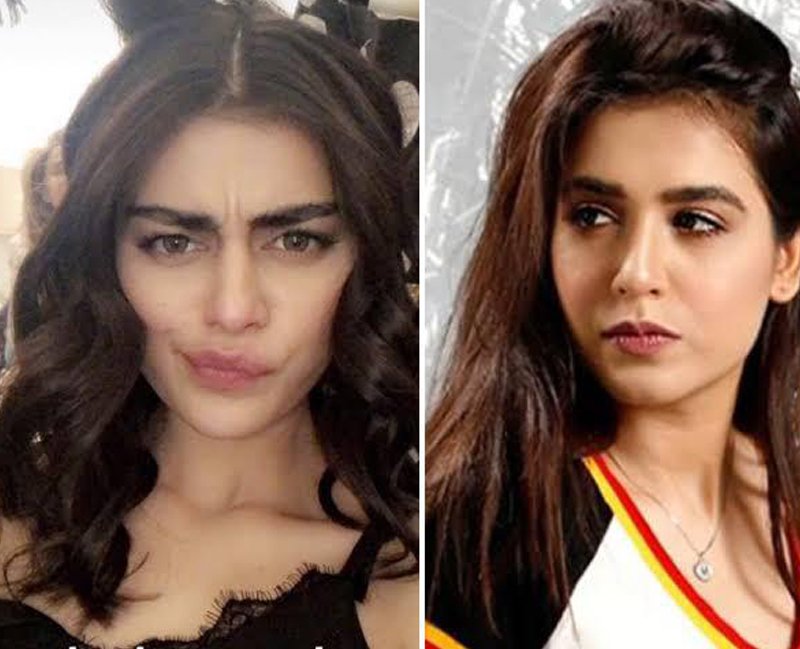 Entertainment industries are always brimming with scandal, and through the years we've gotten some pretty awkward controversies from our lovely celebs. Here's a refresher on everything that's gone down between our faves and not so faves:
Sadaf Kanwal vs. #Metoo & Mansha Pasha
Gorgeous super model Sadaf Kanwal expressed her not so gorgeous thoughts on the Me too movement while on the HSY show. She said ""You know, when you have a #MeToo incident, say it then. Why are you remembering it later? I think when it happens you should say it,"
This comment, for obvious reasons, struck the wrong chord with a slew of fans and celebs alike, including Mansha Pasha, who then tweeted this: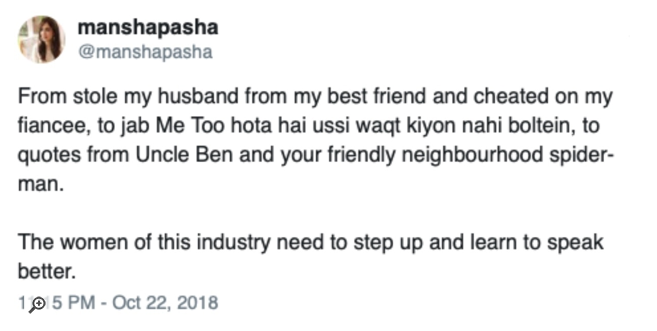 And it' doesn't end there! Not one to believe in the term silence is golden, Sadaf Kanwal responded :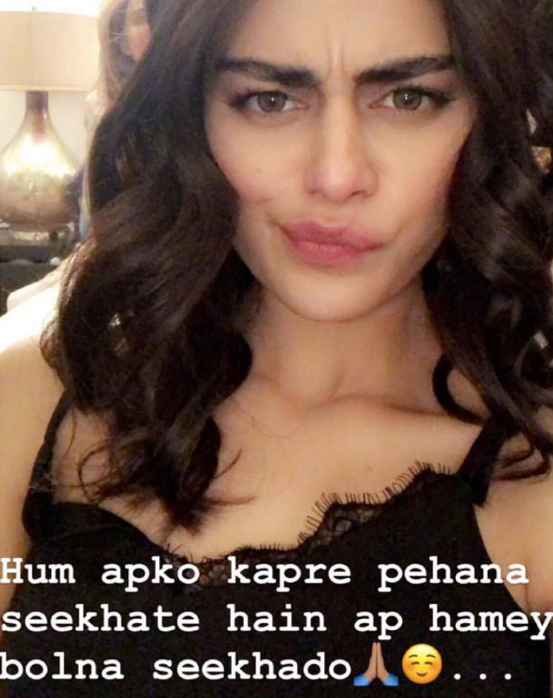 Personally, we love Mansha Pasha's style but to each their own right? The actress took to twitter AGAIN to try to drive her point home but we don't think anyone's listening…
Were you naive enough to think this spat was left behind in 2018? WRONG! Sadaf Kanwal decided to, once again, take a dig at Mansha Pasha when the model appeared on Ahsan Khan's show Bol Nights. The hosts asked Sadaf Kanwal who she thinks doesn't belong in the industry and she answered " Mansha Pasha. She's so beautiful that she should just stay at home."  
Mansha Pasha then responded by having her film Laal Kabootar selected for Oscar consideration and took to her instagram account to share a few words : " Fortunately for us it is Allah who decides kis ko kahan hona chaiyeh. Wo hi ap ko ponchatay hain jahan apko pohanchna hai. For the rest, Thank you, next! "
No response from Sadaf Kanwal as yet, but who knows, maybe in 2020?
Firdous Jamal vs Mahira Khan
Senior actor Firdous Jamal made an appearance on Faisal Qureshi's talkshow, and had some incredibly harsh comments to make about Mahira Khan.
"I'm sorry to say if someone likes it or not, but Mahira is not heroine stuff. She's a mediocre sort of a model, she's not a good actress and is not a heroine." "She's quite aged as well and we don't have heroines at this age, they only play the characters of mothers"
In our opinion, and the entire nations opinion to be fair, Mahira Khan is the only bonafide superstar Pakistan has produced and she is doing one hell of a job representing her country internationally. She further cemented her superstar status by her dignified response to Firdous Jamal's comments.
"Let's choose to love. Let's be tolerant of other people's opinions and let our fight be against the mindset — that a successful woman is a scary thought. No it isn't. It's a beautiful and empowering one," "We are the present. What we do and how we do it, is our future. Thank you to all those who have come out to support me. I did not ask for it and that makes it even more special. I read somewhere that 'stardom' in Latin means thank you to the fans when it was lonely. Stardom it is then! Love and Gratitude,"
Reema vs Meera vs Reema
Reema Khan, without revealing any names, claimed a fellow actress tried to poison her. Now, Meera, confidently and openly taking names as usual, claims Reema is the one who tried to poison her!
Meera made the allegation during an appearance on a talk show. Speaking about Reema's statement of almost getting poisoned by an actress, the host of the show asked Meera if she knew who would do such a thing to Reema.  Meera responded by saying, "Unhon ne mujhay zeher dene ki koshish ki hogi [she may have tried to poison me]".
What should one make of this statement? NOBODY KNOWS. Reema Khan did not respond either.
Firdous Jamal vs Imran Ashraf
Recently, while giving an interview on an ARY News show, Jamal was asked who he thinks is a good performer and has a bright future in the industry, he replied, "There isn't one".
"The thing is all these new actors are actually models. They are all showpieces. They don't know how to act; they don't have the wisdom," said Jamal.
"You know how the manager at the departmental stores sometimes changes their wigs or clothes or turns them into women? Unfortunately, our young actors are in the same boat," he said.
Talking about Imran in 'Ranjha Ranjha Kardi' he told a local media, "It wasn't a spontaneous performance, but only pretension. He was acting, not behaving. Many people have outperformed such characters but unfortunately you haven't seen those precious acts. I don't want to criticize any individual here, but sadly acting is turning into a fashion these days. The fact is that the two professions are polar opposites as modeling is self projection, while acting is self negation".
Imran Ashraf proved why he's Pakistan's sweetheart with his response:

Swoon!
Sadaf Kanwal ( Again) vs Mahira Khan
"Why do people like Mahira Khan?" Sadaf commented, "Because she's pretty. She's nothing special. I love Mahira but she's nothing specific."
THERE SHE GOES AGAIN. Sadaf Kanwal is incredibly hot but her political correct-ness needs to be worked on tremendously. Mahira Khan did not care to respond because she is Mahira Khan.
Yasir Hussain vs Hania Amir and Mahira Khan
During a fan fueled Q&A on Yasir Hussains instagram, a fan asked Yasir to describe Hania Amir in one word. His distasteful response? " Danedar"
Hania Amir has been very vocal about her struggle with acne and has inspired her fans with her transparency about the issue. Yasir Hussain poking fun at his so called friend's insecurity was a big no-no in our eyes.
Hania Amirs response:
'Muaaf kijiye meray dost ko. Inko aaj kal inappropriate jokes marni ki aadat hogayi hai [Please excuse my friend, he has a habit of making inappropriate jokes nowadays]," wrote Hania on her Instagram story. She also added:
During the same Q&A, Yasir Hussain also managed to put down Mahira Khan.
Um, ok.
Syra Shahroz & Alishba Yousuf vs Pakistan's Entire Entertainment Industry
Does anyone remember that episode of Tonight with HSY that aired in 2017? We sure do! The two sisters were out for BLOOD and took a dig at every big celebrity Pakistan has produced.
Alishba Yousuf : Mehwish Hayat will never be seen dancing in the rain because all her makeup would wash off.
Syra Shahroz : Mawra Hocane's acting makes my blood boil.
Syra Shahroz: Saba Qamar doesn't know how to dance.
Syra Shahroz: 4/10 Points to Fawad Khan for his personality. I've worked with him.
Alishba Yousuf: Meera and Mahnoor Baloch are gorgeous but they shouldn't act.
Alisha Yousuf : Sajal Aly is too hyper for me.
Syra Shahroz: Sajal Aly needs to put on some weight!
And there was a lot more but let's not rekindle forgotten anger by recalling it all.
Did we miss any celebrity he said she said's? Sound off in the comments below!