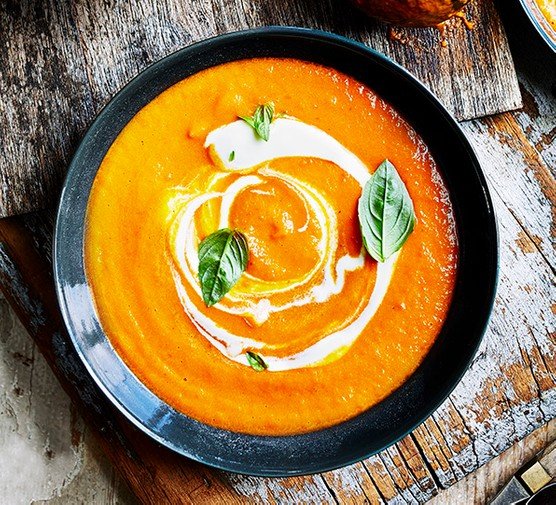 Nothing screams comfort like a hearty, wholesome bowl of soup that warms you up! Whether you are feeling under the weather, or are too lazy to cook up a meal after a tiring day – you can just not say 'no' to soup! It warms the soul and is perfect for easy lunches, or family dinners, and is beyond comforting. Plus, there are so many different kinds to try!
Here are some of our favorite soup recipes to try this Winter season and get cozy!
Desi Chicken Yakhni
View this post on Instagram

Ingredients:
Desi ghee 2tsp
Desi chicken 1kg
Onion 1 med
Garlic cloves 3 to 4
Ginger 1pc
Salt 1tsp
Turmeric powder 1tsp
Crushed Black peppercorns 1tsp
White pepper powder 1tsp (opt)
Cumin powder 1/4 tsp
Bay leaves 2pc
Star anise 1tsp
Black cardamom 2 pc
Water 1liter or as needed
Boiled eggs (opt)
19-B Soup
Ingredients:
•Chicken 300g boneless finely chopped
•Prawns 250g roughly chopped
•Mushrooms 6-7 chopped
•Carrott 1/2 cup chopped
•Spring Onion 1/4 cup chopped
•Water 2 liters
•Oil 3tbsp
•Garlic 2 cloves chopped
•Cornflour 5-7 tbsp(mixed in 1 cup water)
Seasoning:
•  Dark Soy Sauce 3-4tbsp
• Soy Sauce ( light) 2 tbsp
• Chili Sauce 1 tbsp
•Oyster Sauce 1 tbsp
•Black pepper 1/2 tsp
•Sugar 1 tsp
•Salt to taste
•Chicken Cube 2 /Chicken powder 2-3 tbsp
Method:
1. Heat 3 tbsp oil in a wok. Add garlic and fry until aromatic. Add chopped prawns, chicken, and mushrooms. Fry for 2 minutes on high flame.
2. Now add 2 tbsps Dark Soy Sauce, 2 tbsp Light Soy sauce, 1 tbsp Chili sauce along with 1/2 tsp black pepper,& 1 tbsp oyster sauce. Mix and cook for 2-3 minutes.
3. Now add 2 liters of water. Bring to a boil. Remove skin. Add salt, 1 tsp sugar & 2 chicken cubes. Add chopped carrots. Add corn flour slurry while continuously mixing on a medium-high flame until to achieve desired consistency.
4. Turn the flame low. Add 2 whisked eggs. Leave for 10 seconds and then slowly mix the soup. Cook for a minute while mixing. Add 1 tbsp dark soy sauce. Add cornflour slurry to thicken the soup in the end again and cook for a minute.
View this post on Instagram
Roasted Tomato Soup
Ingredients:
-6 tomatoes (each cut into 4 parts)
– 1-2 green chilies
–  6-8 garlic peeled cloves
–  3-4 strands thof yme
– 2-3 Tbsps olive oil
–  1/2 cup cream
–  Spices: Salt to taste/ black pepper 1/2 tsp/ cayenne pepper 1/2 tsp/Crushed pepper 1/2 tsp
–  Sugar 2 Tbsps (to balance the sourness of the tomatoes) -(I forgot to record it)
–  1 Veggies Bouillon cube
– 1/2 cup diced onion
–  2 Tbsps chopped cilantro
Method:
Add tomatoes, garlic, chilies & thyme to a baking tray. Drizzle some olive oil & bake for 15-20 mins. In a pot, add 2 Tbsps of olive oil, onion, cilantro, bouillon cube & crushed pepper. Now cook on high for 2-3 mins. Add roasted veggies with juices that were released during baking, then blend everything very well and add spices and sugar & then cook on high for 4-5 mins. Now add heavy cream, mix, and cook for a few more mins, and your Soup is Ready!
View this post on Instagram
H0t & Sour Soup
Ingredients:
-2 Chicken Thigh Fillets (250g)
– 1/2 Cups Of Vegetables Of Your Choice
– 3Tbsp Each Of Vinegar, Soy Sauce, Hot Sauce
2- Whisked Eggs
-1Tsp Garlic Powder
-1Tsp Ginger Powder
-Salt & Pepper
-3Tbsp CornFlour
-1Tsp Chilli Powder (Optional)
Method:
Boil your chicken in salt and pepper until it is cooked through and shred it into chunks. In the remaining stock add more water, vegetables, sauces, and spices and cook on high heat for 5 minutes. Add your egg and mix well. Pour in your corn flour mixture and cook until thickened to your preference  For an extra kick add chili powder. Serve with pickled chilies.
View this post on Instagram
Chicken Monchow Soup
Ingredients:
Chicken Mince:
350g (coarsely minced): 4 tbsp / 60 ml Garlic:
3 or 4 cloves (chopped)
Carrots: 1/2 cup chopped B
ell pepper: 1/2 cup
chopped Mushrooms:
1/2 cup chopped Cabbage: 1/2 cup chopped .
Soya Sauce: 3 tbsp (light chili sauce)
red chilli sauce:
2 tbsp Vinegar:
2 tbsp Sugar:
1 tbsp Salt: to taste White pepper: literslf tsp.
Chicken: 2 litres
. Cornflour: 3 tbsp Water: 4 tbsp(Make cornflour slurry) .
Egg : 1 medium .
Boiled noodles: 100g
3 tbsp Oil
View this post on Instagram