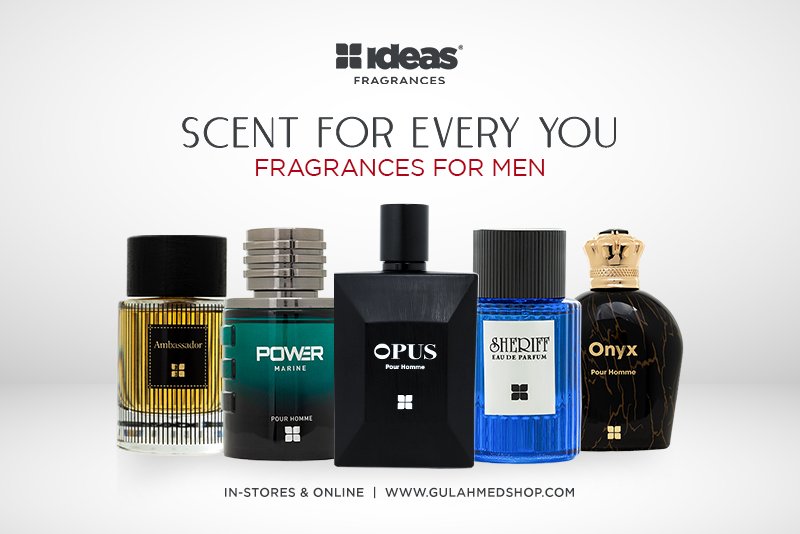 Winters are fast approaching, and you may have already picked out your wardrobe must-haves for the season — but do you have the perfect perfume to go with it? Take a look at our top picks and discover the range of men's fragrances by Ideas that will complement all upcoming events on the social calendar.
Holiday in style with Centurion
Luxurious, classic, and decadent, this men's perfume weaves a sophisticated fruity, and rich fragrance blend that is perfect to carry on a holiday. The scent opens with a blast of apple, bergamot, blackcurrant, and pineapple that slowly transitions into earthy birch, bark, and patchouli undertones and dries down with base notes of vanilla and oak moss to create a well-rounded perfume.
Ace the wedding style with Ambassador
Desi winters are synonymous with weddings and when it's time to hop from one wedding event to another the only perfume that will keep up with your style game is Ambassador. This alluring men's perfume opens up with festive mandarin and zesty bergamot. As the scent goes into development, violet, orris, and suede notes make the composition more aromatic. A nice and strong incense at the base keeps the fragrance well-orchestrated, warm, and alluring.

Be the heart of the party with Onyx
This is the perfect earthy scent to lift up anyone's spirits. Keeping the bergamot in its top notes, Onyx adds a host of decadent scents to it including orange, cherry, and pink pepper while its heart includes lavender, violet, and almonds followed by cedarwood, vanilla, and amber to its base to complete the earthy tones of this men's fragrance.
Stir up your everyday style with Inspiration
Inspiration should be your first choice if you're on the lookout for a perfume that can add class to your everyday style. This powerful, sensual fragrance for men is boosted by the top notes of rum, elemi, and bergamot that beautifully transcend into the middle notes of lavender and davana. The fragrance dries down to woody base notes of chestnut, cedar, and vanilla that give it a timeless long-lasting finish.
Brunch up an aromatic storm with Journey
The perfume is a versatile and unique citrus woody musk that is perfect for all daytime winter events. The scent opens up with notes of bergamot, ginger, and mandarin combined with jasmine and sage which eventually dry down to exquisite sandalwood, cedar wood, and amber wood as base notes. 

Be a trendsetter with Stallion
Stallion is a revitalizing scent that refreshes your inner soul. The fragrance blooms with notes of black currant and green tea, mixed with base notes of ambergris and musk which make you stand out like no other!
Discover your true self with Power Marine
A fragrance that rejuvenates your aura. The top notes of Power Marine include an interesting combination of bergamot, cardamom, zesty lemons, and black pepper which refuels your persona to another level. The heart tones of this scent consist of patchouli, geranium, muguet, Egyptian geranium, lavandin and mandarin making it your most preferred fragrance. 
Flash your elegance with Opus 
From the aquatic family, Opus is a mild fragrance that reflects your originality and uniqueness. The hearty notes of apple, nutmeg, violet leaves and marine leave you feeling refreshed throughout the day.
All these Ideas fragrances are a perfect blend of luxury and affordability combined into one. Fill yourself up with the aroma of a powerful yet mesmerizing scent. Visit your nearest Ideas store today or shop these men's perfumes online to for hassle free delivery at your in just Rs 99 only!