Everything We Learned From Feroze Khan's Q&A with Fans
Actor and heartthrob Feroze Khan took to his Instagram account to answer some questions from fans in a rare glimpse into some aspects of his private life.
Khan spoke about all kinds of topics, from weird fan encounters, to his retirement from acting, to the recent marriage of Sadaf Kanwal and Shahroz Sabzwari. Here's what we found out:
Absurd! About time fans learned to respect boundaries, literally and figuratively. We also learned that Feroze Khan sleeps in often, which most of us can probably relate to quite well.
The actor also clarified that despite what sources were reporting, he has not quite acting completely, rather has decided to let it take a backseat while he pursues his other interests which he deems more important like investing in businesses and projects aimed at the betterment of society.
The 'Tich Button' star also called out the public for their reactions towards Shahroz Sabzwari and Sadaf Kanwal's Nikkah, labelling them as 'too nosey' and letting the newlyweds be: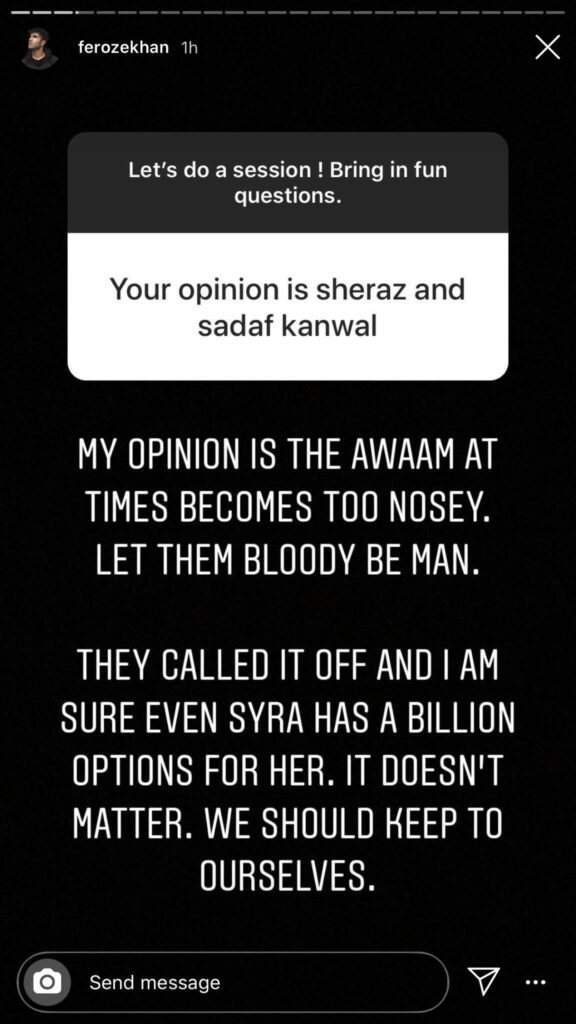 Interviews of Feroze Khan are few and far apart, so this chance at hearing from a fan favourite actor sure made a lot of people's day!