Since Hum TV's "Aangan", the masses were waiting with baited breath for another chance to see Pakistan's favourite couple, Ahad Raza Mir and Sajal Aly back on their screens, and we were right there with them. Their undeniable chemistry which translates so well on screen, partially due to their acting chops and partially due to the fact that they're just SO PRETTY, is a treat to watch. All our prayers were answered with the release of the teaser of "Yeh Dil Mera", a seemingly classic love story between a boy and a girl.
Twitter went craaaazy.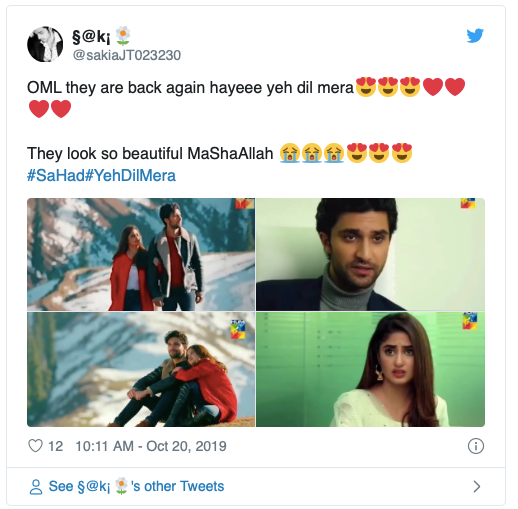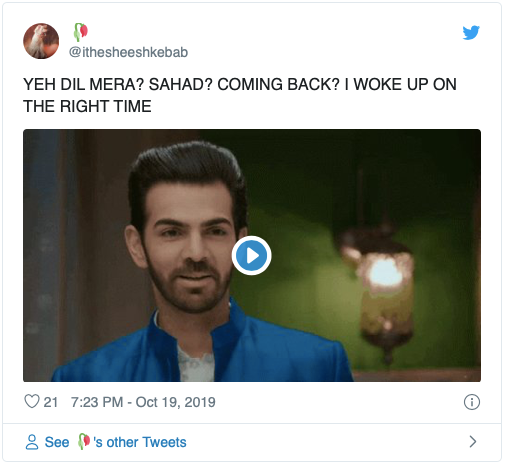 BUT, there was also a downside. Unfortunately, (just as unfortunate as Sajal Aly endorsing "Fair & Lovely HD Glow. We love you Sajal but WTF?) one scene of the teaser seems to be glorifying work place harassment. Ahad's character just straight up asks Sajal's character  " Toh abhi tak interview mei mei tumhe pasand aya hu?", DURING A JOB INTERVIEW HE IS CONDUCTING. (creepy turtleneck , sleazy expressions and all included)  Once again, twitter flipped: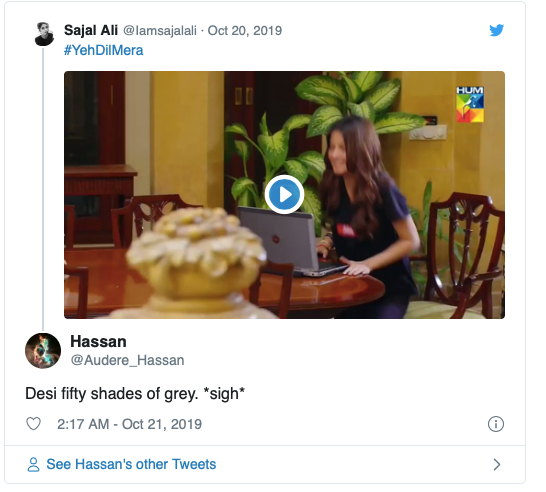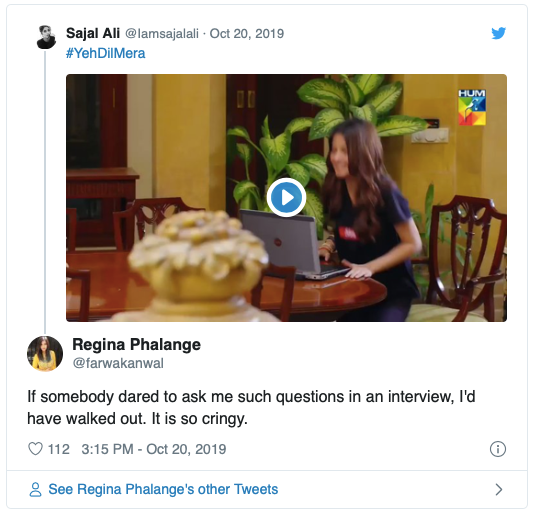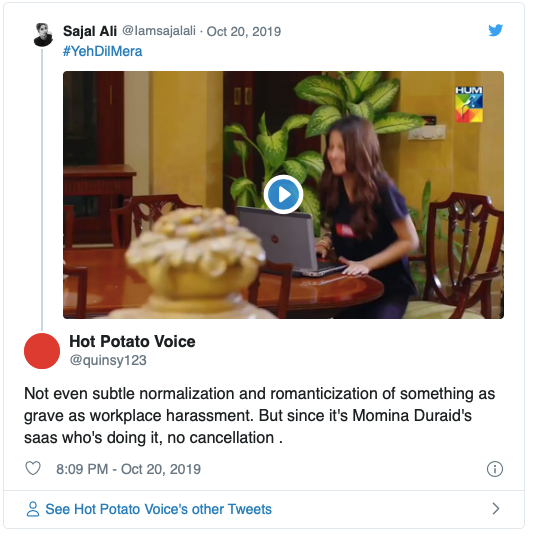 We get what you mean Hot Potato Voice. On the other hand, we also think everybody needs to calm down. It's a small part of an even smaller 47 second teaser. We don't know the context of the scene, maybe they're friends from before? Maybe it's a dream? Or maybe they're already in a relationship and he's just messing with her? They're so many explanations and even if it's what you see is what you get, it's still a long way off from being a desi 50 shades of grey. Come on guys, chill.
This is no way means that we condone workplace harassment or the romanticising of it, we just believe it's best not to judge a book by it's cover. 47 seconds is definitely not enough to start a witch hunt. Especially when the writer, Farhat Ishtiaq herself, who is best known for Udaari, has come forward to say hell to the no; she would never romanticise misogyny and the like: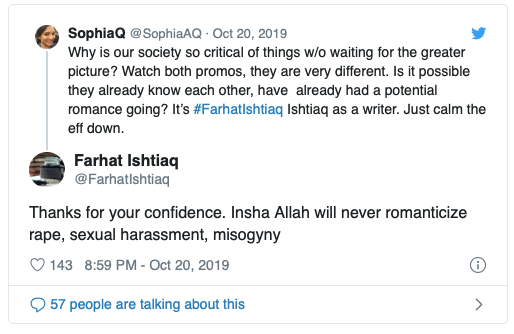 And we're going to take her word for it. Teasers are usually put together in a way to grab attention, and we think that's probably what happened with Yeh Dil Mera too. So before the angry mob with flaming torches departs, please wait for the episode with the entirety of this scene to air, for some much needed context. Sit tight!