Monti From MPTH Has An Unnecessary Problem with Rehmat Ajmal
[video src="https://www.instagram.com/p/B7nRRKgFEMI/"]
As we reported earlier, Rehmat Ajmal distanced herself from Mere Pass Tum Ho due to Khalil Ur Rehman's problematic stance on all things female.  She released the following statement through her Instagram account:
Good for you, girl! But apparently, not everyone was commending her for standing up against sexist loons. The model/actor's co star, Mussadiq, who plays Mehwish's creepy but reformed neighbour, was not happy about Rehmat Ajmal's stance on the whole situation:

When a fan defended Rehmat, creepy neighbour guy responded: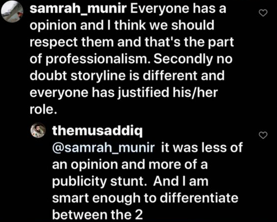 It's kind of like the pot calling the kettle black. Isn't this anger and PUBLIC outrage towards Rehmat Ajmal's personal choices also somewhat of a publicity stunt?
Rehmat Ajmal is one of the few stars who has taken responsibility for her actions. Being a public figure comes with a whole lot of scrutiny , and we are glad at least one celebrity has some sense of social responsibility.