Khalil-ur-Rehman Abuses Marvi Sirmed on Live Televsion & People Are Disgusted!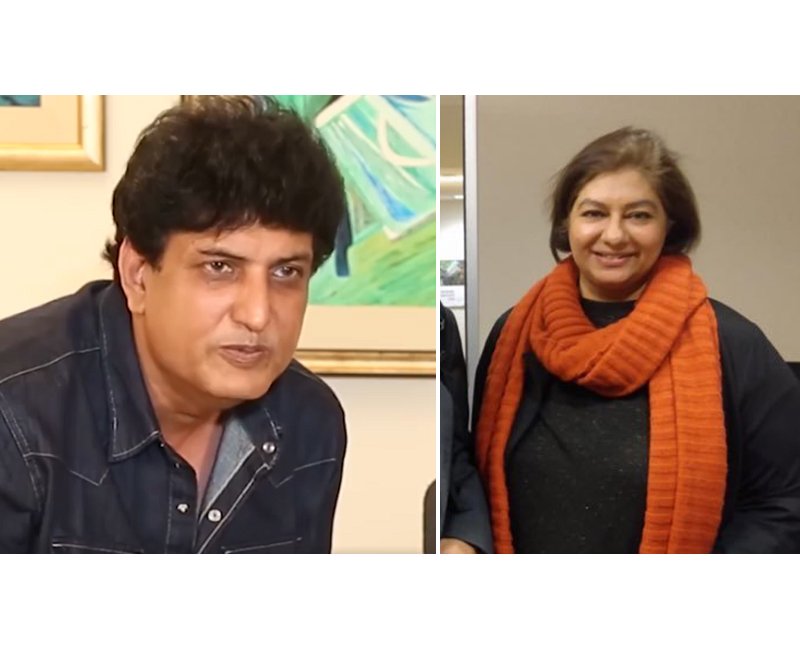 Once again, Khalil-ur-Rehman is making headlines for everything and anything but his writing.
The self proclaimed 'biggest feminist in Pakistan' made an appearance on a talk show on news channel Neo news. The panel of guests also included activist Marvi Sirmed and a JUI-F representative to discuss the pros and cons of the Aurat March.
What was supposed to be a civilised discussion amongst intellectuals, turned into a hot mess when Khalil-ur-Rehman completely lost his composure over Marvi Sirmed saying 'Mera jism, meri marzi'. Watch:
This is the man who calls himself the flag bearer of women's rights. The same man who villainies or victimises every female character in his drama serials, and the same man who just referred to another woman with a slew of profanities on live television.
' Tera jism hai kya bibi? Thookta nai hai koi apke jism par! '
'Behaya aurat keh jism par koi thookta bhi nai hai!'
'Ghatiya aurat'
'You bloody shut up, bitch! Ulu ki pathi!'
All because Marvia Sirmed used the slogan 'Mera jism, meri marzi', which in Khalil-ur-Rehman's book is an incredibly vulgar term, because he is misinformed and does not want to understand what the term even means.
The fact that the host, Ayesha Ehtesham, said nothing to pacify Khalil-ur-Rehman but was constantly asking Marvi Sirmed to settle down is a whole other problem.
Celebrities have started calling the notorious writer out on his absurd behaviour, including Mahira Khan and can we just say, it's about damn time:
I am shocked at what I have just heard and seen!! Sick to the core. This same man who abused a woman on tv is revered and given project after project because of what? We are as much to blame if not more for perpetuating this thinking! #khalilurrehmanqamar

— Mahira Khan (@TheMahiraKhan) March 4, 2020
Don't understand the problem so many are having with #MeraJismMeriMarzi"-Mera jism meri marzi nahi toh kis ki marzi ho gi?? "My body is mine" is a critical component of the Life Skills Based Education classes we teach to help children protect themselves from abuse & harassment

— Shehzad Roy (@ShehzadRoy) March 4, 2020
BOYCOTT KHALIL UR REHMAN QAMAR!

Yes, he is an exceptional writer but he is a pathetic excuse for a human being and it's time we call a spade a spade and put an end to the bullshit which he has been spewing for the past few months. (1/2) #KhalilUrRehmanQamar

— Momin Ali Munshi (@mominalimunshi) March 3, 2020
آپ کو نہیں پسند
ٹھیک ہے
نظریے سے اختلاف ہے ، مناسب !
مگر یہ طرزتکلم تواس مخبر خاتون کے ساتھ مولا علی کا بھی نہیں تھا جس نے جنگ میں مخبری کا کام سر انجام دیا
خلیل الرحمن قمر! تم نے مَردوں کے سر شرم سے جھکادیے اور تکبر سے معاشرے کو تقسیم کردیا@marvisirmed #khalilurrehmanqamar pic.twitter.com/Jx4yf10Wow

— Aamir Liaquat Husain (@AamirLiaquat) March 4, 2020
The way this so called 'writer' shouts at @marvisirmed clearly manifests what he promotes through drama—patriarchy and bigotry. One feels shame that this person is supposedly representing 'men'. This person must be banned on TV. https://t.co/u4zNveVST0

— Khadim Hussain (@Khadimhussain4) March 4, 2020
Is what went down on the talk show enough for other celebrities who constantly work with Khalil-ur-Rehman, like Humayun Saeed and Ayeza Khan, to finally take a stand?
While we don't condone 'cancel culture', it's at times like these when people in power need to unite and put toxic misogynists in their place.
Only time will tell if other influential celebrities will call out Khalil-ur-Rehman for his unacceptable behaviour.