A Tête-à-Tête with the author of Coming Home, Afshan Samee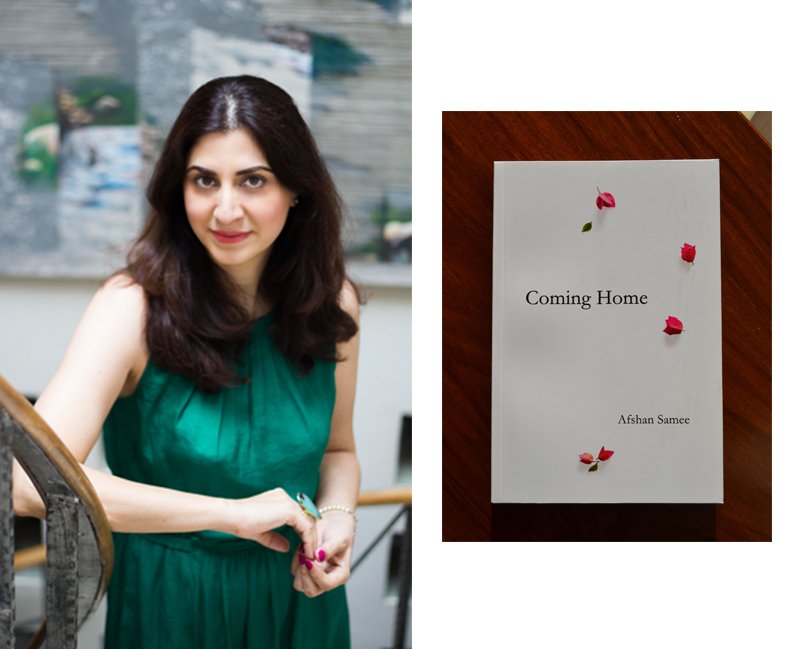 Q. What was your inspiration for 'Coming Home'?
Coming Home is the result of a journey of personal transformation that I embarked upon thirteen years ago.
Q. What other names were in the running for the book and how did you settle on Coming Home?
I did not have a name for the book for almost two years. One name that I considered off and on during that time was Rebirth, which incidentally is also the name of the first poem. However, I felt that there was so much more to the book than what Rebirth implied. Coming Home is the perfect name because it fully captures all aspects and layers of the book.
Q. What's your writing process? Do you need to be in a specific room with a certain drink or do you just wing it?
I never wing it. Having said that I don't always have a finite concept in mind. For me it's always about exploring an idea that's coming up, that I find exciting or that I feel curious about. The way it unfolds is often a surprise for me.
Q.Can you describe your writing space if you have one?
I enjoy writing in my bed when it's quiet, though I'm not limited to it. My desk looks out into my garden and provides a lovely setting. Sometimes I'm in a café with people chatting and that's just as much fun.
Q. What do you like to do when you're not writing?
There are many things. When I want alone time, I turn to nature, whether it's gardening or being at the beach. I love traveling to new places. I also like spending time with my family and friends, exploring new places to eat as well trying out new activities. I have recently found that I love archery.
Q. Who are your favourite authors? Do you have a favourite book?
It is difficult to pick one author or one book. Different writers offer different perspectives. I love A.A. Milne of the Winnie the Pooh series, Harper Lee, Eckhart Tolle, Paulo Coelho, Hafiz and so many others. As for books, the same answer applies. Each book tells a different story. I think the common denominator is anyone or anything that opens my eyes, broadens my understanding and deepens my awareness of life.
Q. Whats your favourite piece of poetry from your book?
It's difficult to pick a favourite piece, each poem is special in its own way. What I love about the poems is that they take us simply and powerfully to the core of ourselves. Our heart.
Q.Is there any significance to the number 52 – as your book has 52 poems)?
I'm sure there is, even though it wasn't deliberate.
Q. Would you say the poetry in your book is based on your own experiences of self- exploration?
Yes absolutely but what I love about Coming Home is that it's not about my story, that it's not limited to me. It could be the story of any human being. It's universal.
Q. What book is currently on your bedside table?
There isn't one at the moment. Although I'm hoping to read 'A course in Miracles' soon.
Q. Can you offer some advice to aspiring writers?
Become still. Become present. Be open to receive, even if it doesn't look or sound as you had planned. And finally be committed.
Q. Did you always know you wanted to be a writer?
On one level I always did, although after twenty years of no writing I was beginning to have doubts.
Q . Have you experienced writer's block? How did you handle it?
The twenty years that I did not write was a block. Looking back, my life at that time was so busy that there was no space for it. I think when we become stuck, not just as writers but as people we need to ask ourselves what is keeping us there and what is it that we need to resolve within the situation so that we can move on.
Q. Describe a typical writing day.
The hours that I'm writing I'm very deliberate to not allow anything or anyone to enter that space. Once I'm done I'm back to whatever the daily routine requires.
Q. If you could choose an author to be your mentor, who would it be?
I am also a life coach and my niche is helping connect people to their inner voice. I truly believe that when we are in alignment with the truth of who we are, we have access to the best guidance. We are blessed to have all kinds of mentors who help us but it is through listening to our own voice that we create our best life.
Q. Is there another book you are working on? What can we expect from you in the near future?
You can expect more writing from me, at least in my bimonthly blogs. I am also considering an idea that may culminate in another book but most of all I'm excited to see what's in store for me. Creativity and inspiration are forces far greater and richer than any ideas we can hatch with our heads. If I have learnt one thing it is that writing always brings me to a magical place where I feel both free and grounded. It connects me in such a way that leaves me in a state of profound gratitude.