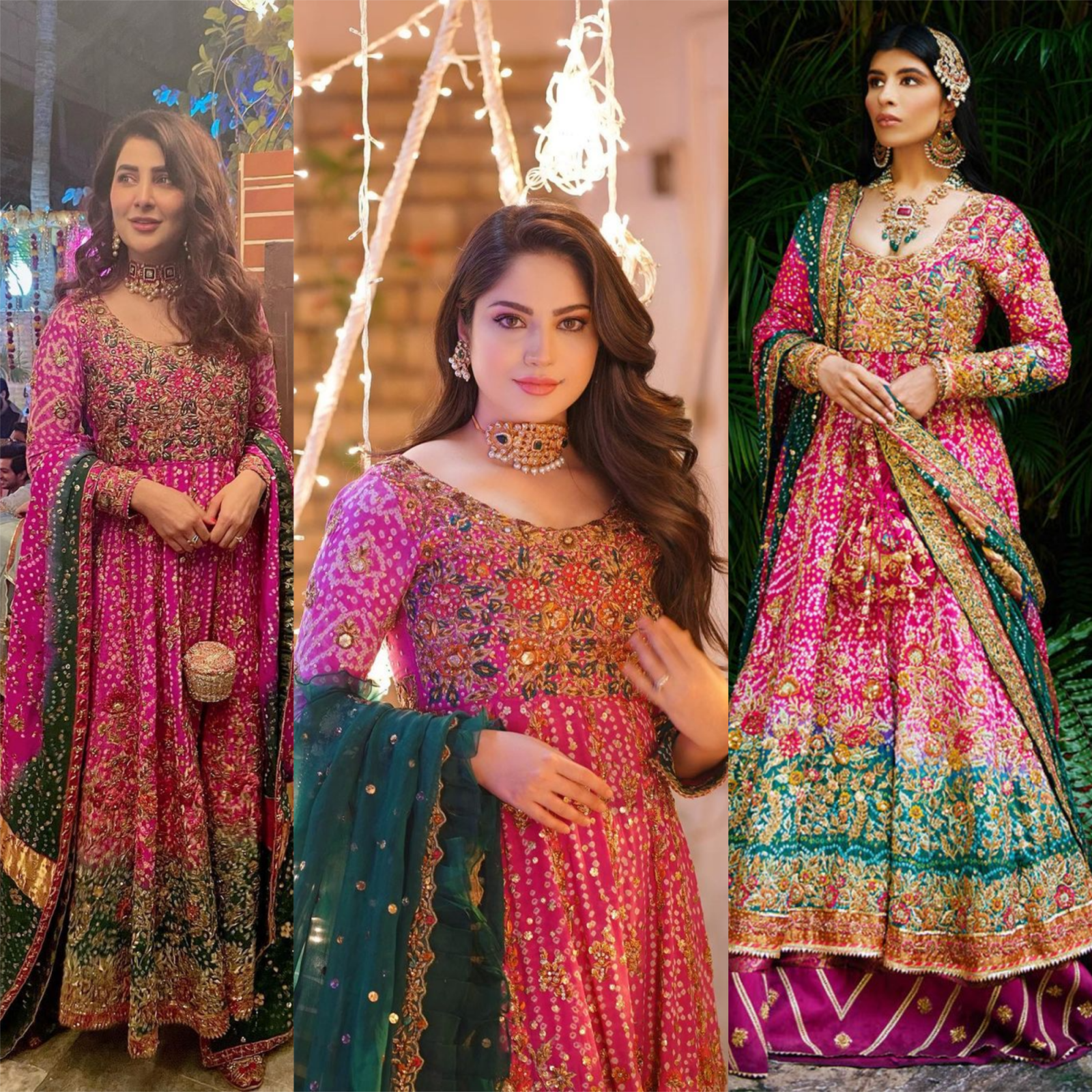 The beauty that eastern wear holds has a separate fan base. The alluring and charismatic colors paired with intricate design and craftsmanship pull the whole look together, preserving timeless charm. Ansab Jahangir's collection holds masterfully handcrafted ensembles, keeping the glam and tradition alive.  Each ensemble reflects detailed craftsmanship, that adds allure and charisma to the overall look.
Let's break down the glamorous eastern look that our Pakistani models threw showcasing the most popular, Ansab Jahangir Ensemble, that has caught our eye!
View this post on Instagram
Neelum Munir
Neelum glammed up in a spectrum of traditional colors in Ansab Jahangir's chunri kalidar, richly embedded with gold embellishments-is a sight to behold! The full-length pishwas is paired with a dark green dupatta giving it a distinctive grace.
The jewelry by Bukhari accessories complimented the whole look. The necklace and earrings are studded with dark green stonework in combination with white pearls. The hair and makeup are done by the makeup maestro, Jackson Samuel who gave Neelum a minimalistic yet mesmerizing look, keeping the hair untied with loose curls. The overall look is a symphony of pure elegance with a hint of ethnic regality.
View this post on Instagram
Rohma Siddiqui
Rohma is seen wearing the classical charm of Ansab Jahangir's chunri kalidar, in the shoot for her collection; 'Amani'. The gorgeous festive ensemble is a combination of gota work, gold embellishments, and rust chunri work. The magnificently crafted piece exudes radiance enough to add a touch of glamour to your festivity, is paired with a plum gold lehenga styled with a chunri dupatta.
Rohma paired the fully embellished kalidar with an intricately designed necklace and a jhoomar stoned with plum, green, and gold shades. The jhoomar complimented the overall look bringing a touch of eastern glam. The overall look was spellbound by the beautifully crafted necklace.
Rohma's overall look with stunning makeup and hairstyle by, 'Glam By Mevi' and styled to perfection by Anila Murtaza has caught our eye!
View this post on Instagram
Areeba Habib
Areeba is appareled in Ansab Jahangir's pink and green-hued, fully embroidered kalidar.  She kept the look very minimal yet empowering. She chose a simple hairdo paired with a beautifully designed jewelry collection by Allure by MHT. She chose to go with a necklace designed with pearl whites and matching stones along with sparkling earrings.
The full-length kalidar with a hint of chunri is richly embroidered with gold, plum, and green hues and embellishments. An exquisite ensemble having flawless intricacy and timeless charm is a treat to wear. Areeba, with her fairy-tale look, chose to pair the enticing attire with khussa to give it more of an eastern charm, looking drop-dead, harmonizing classic jewelry tradition.
View this post on Instagram

This ensemble is a timeless piece that exudes grace and intracity, and we love how these three beauties have styled this outfit! It is definitely on our radar for an upcoming event!