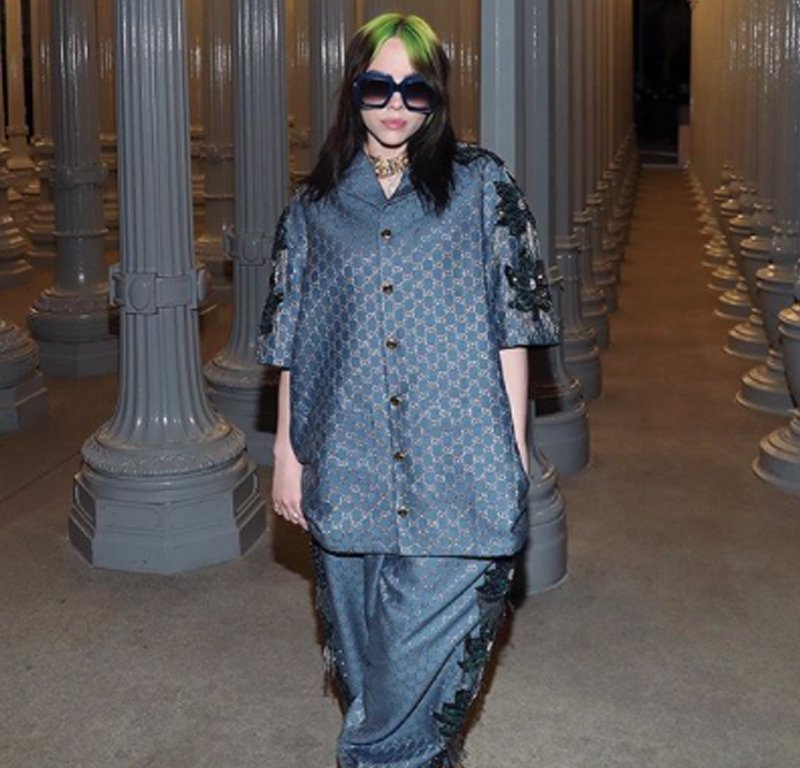 Billie Eilish was seen sporting what CLEARLY looks like a Shalwar Kameez while attending the ninth annual Art + Film Gala presented by Gucci to support LACMA's initiative to make film more central to the museum's curatorial programming, last night.
Gucci calls it a "custom Gucci wool and GG lamé oversize bowling shirt and jogger pants with floral sequin embroideries and crystal appliqués", but to our desi eyes, this is nothing more than a classic shalwar kameez. Come on Gucci, call a spade a spade!
The biggest pop star at the moment, Billie Eilish paired the ensemble with Gucci Flashtrek sneakers and square framed acetate sunglasses to the event. Even her lipstick is Gucci, a Rougeà Lèvres Voile lipstick in shade number 205 'Hold Your Man' and Baume à Lèvres lip balm shade 1 'Joslyn Clair'.
Maybe the star happened to catch a glimpse of Kate Middleton's recent tour of Pakistan, during which she donned several Shalwar Kameezes and wanted one for herself ASAP (we know we know, far fetched,) or maybe it's just a happy coincidence that this look looks SO much like a Shalwar Kameez. Either way, we're loving it and hope everyone in the world recognises our comfortable yet fashion forward style. Nothing airier and more comfy than a shalwar, people!