Footwear plays a crucial role in completing a woman's ensemble, offering both style and functionality. When it comes to finding the perfect pair of sandals, Ideas has a diverse range of options catering to different preferences. 
From everyday wear to casual outings and semi-formal/formal events, Ideas offers a variety of footwear styles. The best part? Right now, you can get your hands (or rather, feet) on these fabulous sandals for women at discounted prices as part of the Great Summer Sale. Let's delve into the world of Ideas sandals for women and discover the stunning options available.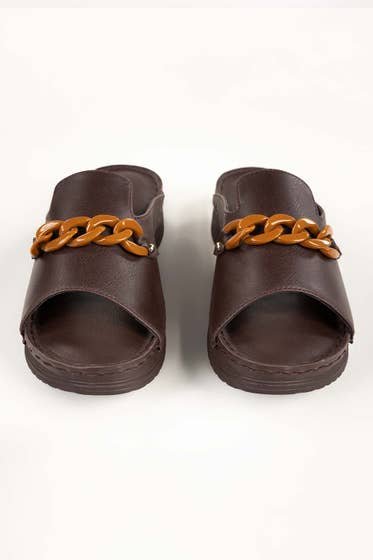 Indulge in both style and comfort with these chocolate brown comfy slippers. The rich brown hue adds a touch of warmth to any outfit. These slippers feature a cushioned sole and a comfortable fit, making them perfect for everyday wear. Style them with your favorite denim jeans and a relaxed t-shirt for a laid-back yet fashionable look.
Add a feminine touch to your footwear collection with these pink slippers. The bright pink color and sleek design make them an ideal choice for both casual and semi-formal occasions. These slippers offer a comfortable fit and a stylish silhouette. Pair them with a floral dress and accessorize with delicate jewelry for a romantic summer look.
Infuse a vibrant burst of color into your wardrobe with these yellow slippers. The sunny shade instantly uplifts any outfit. These sandals feature a comfortable footbed and a slip-on style for convenience. Pair them with a white two-piece or any other bright color fit for the ultimate cheerful and chic summer ensemble.
Achieve effortless elegance with these beige slippers. The neutral beige color and minimalist design make them versatile and timeless. These slippers offer a comfortable fit and a sleek appearance. Pair them with any outfit for a sophisticated and polished look.
Elevate your style with these black slippers. The classic black color and sleek silhouette make them a wardrobe staple. These sandals feature a comfortable footbed and a chic design. Dress them up with a black dress and statement accessories for a glamorous evening look or wear them with a casual co-ord set.
Take advantage of the incredible discounts offered during the Great Summer Sale and enhance your shoe collection with these stunning Ideas sandals for women. Whether you prefer shopping in-store or online, you can easily find and purchase your favorite styles.
Ideas sandals for women offer a wide range of footwear options suitable for every occasion and personal style. Don't miss out on the amazing discounts available during the Great Summer Sale. Visit your nearest Ideas store or browse online at http://www.gulahmedshop.com/ to discover your perfect pair of sandals. Step into style, embrace comfort, and elevate your fashion game with Ideas this summer season!