The first female Prime Minister of Pakistan, Benazir Bhutto exuded power and confidence and commanded the room as soon as she entered it. This was not only because she was one of the most intelligent and enduring women of history, it also had a lot to do with her stellar style choices. From colourful florals to solid jewel tones , BB never looked less than impeccable. Here our some of her most iconic looks through the years:
Plaids and Chokers
The first recorded evidence of BB's bold fashion choices comes in the form of this look. The contrast between the girly bow and black choker works perfectly and her side swept fringe further softens the look.
2. Classic Collars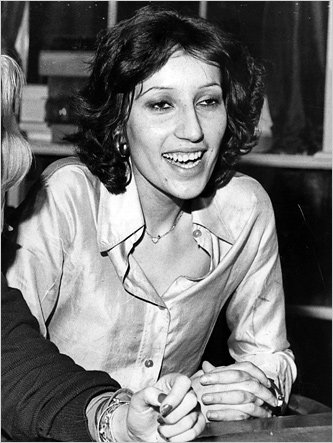 Pictured in a simple button down shortly after leaving Oxford, BB accessorizes her look with a thin chain and chunky hoop earrings, that are SO hot, even today. Her feathered hairdo compliments the whole vibe perfectly.
3. Retro Prints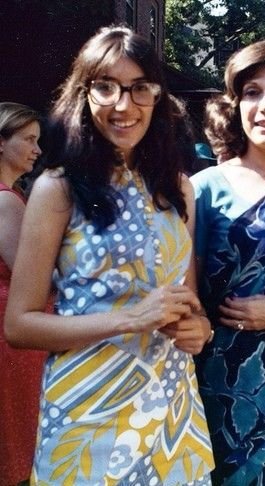 Peak Andy Warhol and Woodstock era, BB shines in sunny yellow matching seperates. Accessorized only with her oversized spectacles and wristwatch,  only a select few could pull off this look as well as BB.
4. Puffed Sleeves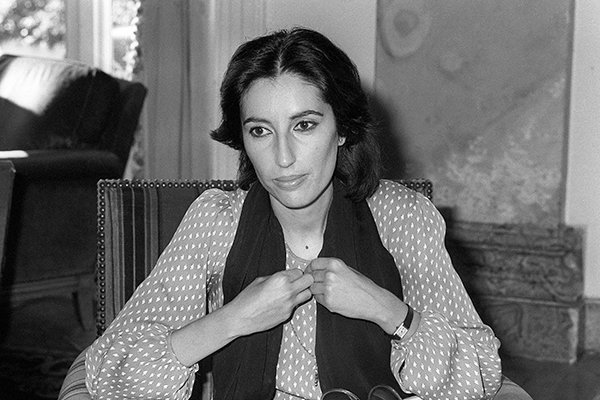 Keeping the rest of her look easy breezy, BB is working a puffed sleeve top with a cute diamond print pattern.  Her classic kajal rimmed eyes make their first appearance and become a staple make up look for the politician.
5. Furry Fire
Everyone should own at least one faux fur coat, proven here by Benazir Bhutto. Exuding retro glam, BB looks like she walked straight off a Hollywood movie set!
6. Wedding Bells
BB  epitomizes elegance on her wedding day, opting for an all white ensemble. She adds a pop of colour with a red hot lip and multi coloured bangles.
7. Emerald Green
Seen here in a classic short shirt and gharara, BB shines at an official government event and proves she can work any type of look.
8. The Moon and Stars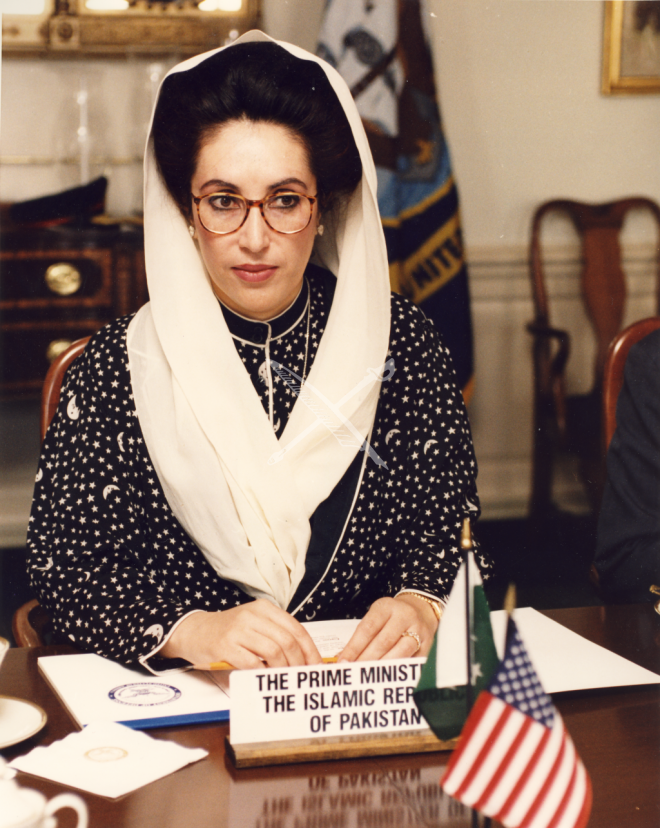 Not one to shy away from funky prints, the unexpected moon and stars kameez is just the right style choice for the first lady PM of Pakistan.
9. Floral Dreams
Head to toe florals in neon green could go so wrong but BB shows us how to pull off the look with her staple solid white dupatta, breaking the monotony, and a dazzling smile.
10. Turquoise Seas
BB rocked a solid turquoise look on more than one occasion. Once, while meeting the queen, and again for a press conference. A scary colour for some, BB pairs her look with a bright red lip and makes a statement.
11. Sapphire Treasure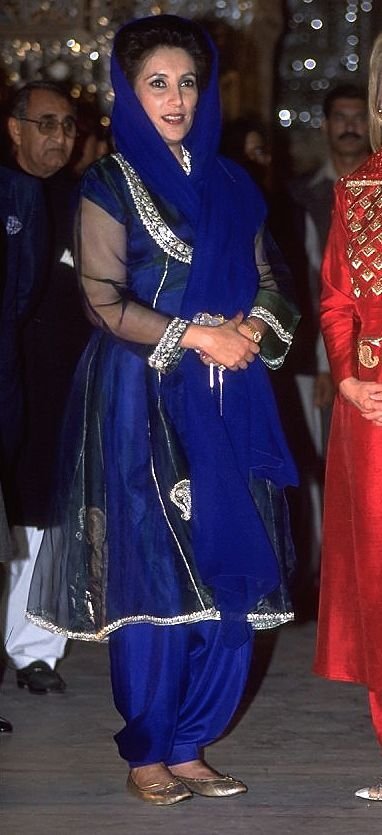 Ahead of her time in all aspects, BB is photographed wearing a sapphire blue angrakha with silver embroidery and simple ballet flats, outshining everyone around her.