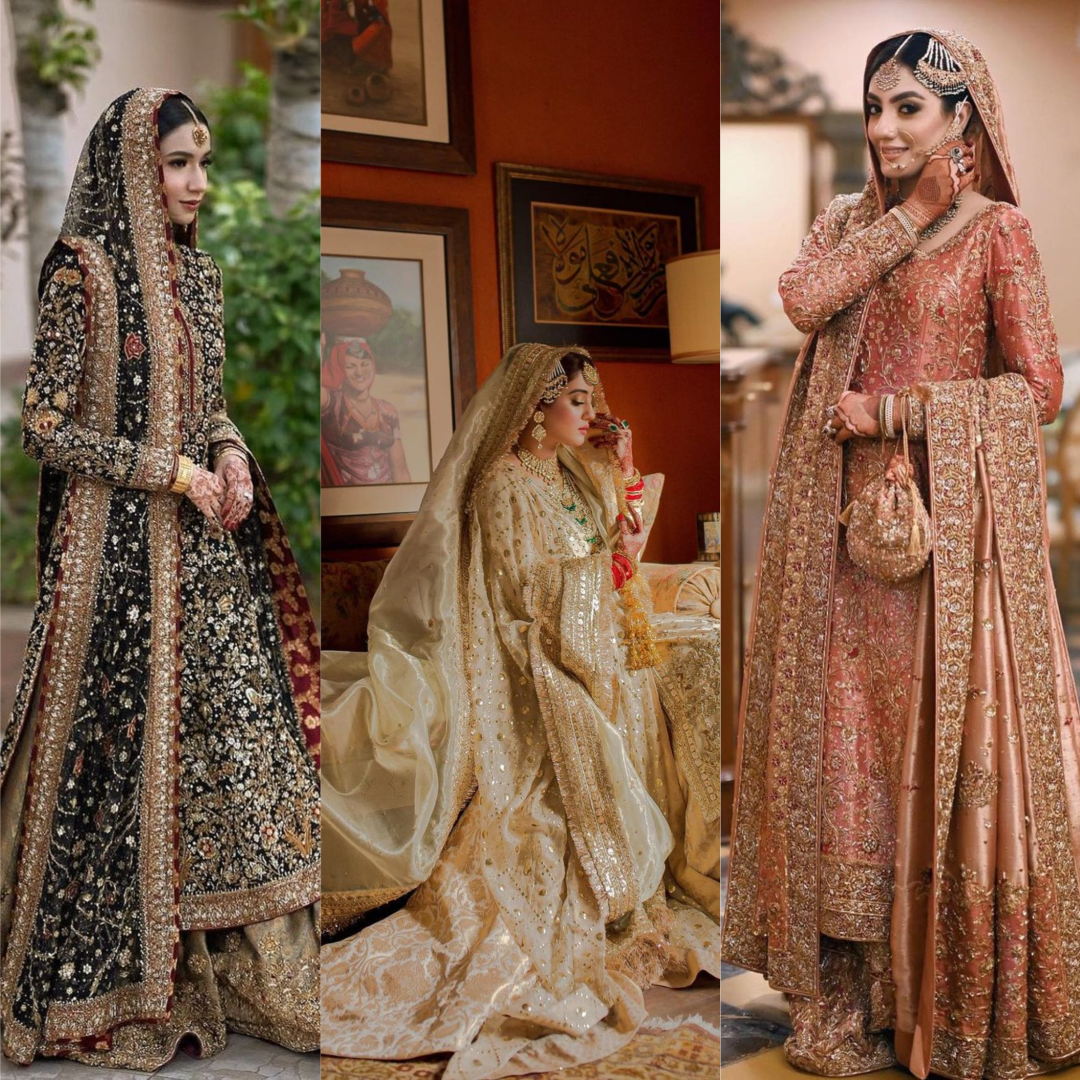 Wedding trends keep on changing and it is amazing how the new one is absolutely unique than the former. Another trend that we have been viewing quite frequently is the transition from a typical red bridal dress. Brides are now more likely to explore different color palettes for their big day in order to look unique. The transition definitely allows us to view different colors making rounds over the internet that we absolutely love and can't wait to see more! The bridal trends 2022 allow us an insight of the gorgeous colors that have been chosen by the brides recently. This is definitely an inspiration for a bride to be who is looking for different colors and ideas for her big day. By viewing all the different colors that brides have been choosing for their wedding, one can better choose the color that they would love to wear!
Coral
The closest color to a red bridal but the difference is visible and beautiful! Coral shade is the perfect color for a wedding out which adds the right amount of traditional as well as a modern touch. An exquisite bridal attire made in this color will make you look absolutely divine and royal. It is definitely a sight for the eyes as the bewitching color makes you stand out. If you are planning a Barat or a Shendi, this color would be the perfect one for the bridal outfit!
Black
No one would imagine wearing black on their wedding but we are here to break stereotypes and bring the latest fashion trends on board! Black is one of the colors that is trending in wedding fashion trends. It not only looks different and unique but also adds a modern touch. It is definitely the perfect color to stand out making you look magnificent and trendy. The heavily embellished black bridal attire will absolutely add a distinct aspect for your overall wedding look. There are numerous ways brides have styled this unique color on their big days which is absolutely an inspiration for the bride to be's.
View this post on Instagram
Metallic Pink
There are various shades of pink that can be chosen out of which one is metallic pink. A gorgeous pink tissue outfit is one of the perfect choices that a bride can make on her big day! It is a beautiful transition from the typical red bridal outfit to a unique shade of pink. The outfit will not only look eye catching but it will also add a glowing effect. With silver embellishments all over the outfit, the metallic pink color will definitely be a treat for the sore eyes. In an attempt to achieve a luxury experience, this color should be your top choice!
Orange
Who thought you could wear orange on your big day? Orange and similar colors are always believed to be mehndi colors but the trends are changing and we absolutely love these. Pairing up the gorgeous color with another one and creating magic is one of the fun fashion trends that we look forward to see! It will definitely add a unique touch to the overall bridal look making the bride look absolutely divine. This will also make the bride stand out and look radiant in this fresh color. The color can be difficult to carry but if done perfectly, it will be the best that you've ever worn.
Gold
Another color that we see on the internet very frequently is gold. Either the color is adorned to perfection separately or it is paired with another color to enhance its beauty. Although it is paired with red very often but the color itself is beautiful. It looks absolutely graceful wearing an all gold bridal. The embellishments looks even more beautiful as they stand out on a neutral color. Neutral colors should not be reserved for receptions only as they can be worn on the big day as well. Other than this, pairing the gold outfit with a red dupatta is also a look that we are head over heels in love with!
View this post on Instagram
Ivory
Another neutral color that we frequently view on internet and is a perfect option for the wedding day. Ivory paired with gold is a match made in heaven as both the colors making a perfect pair. It is a popular trend that is preferred for Barat as well as Walima. The beautiful color can be chosen for any of the two days as it looks absolutely gorgeous. Moreover, it also adds a royal touch turning the overall look into a magnificent one. We cannot wait to see more brides opting for an ivory bridal for the wedding!
View this post on Instagram
Green
Green is definitely a very unique color when it comes to bridal attires. We hardly come across a green bridal but without a doubt, the color looks beautiful. If you are a bride who wishes to break stereotypes and try something different on her wedding, this is the best color for you! It will provide you the unique touch that you wish to add and will also make you a distinct bride. The outfit can be chosen in a silhouette that you like. With modern cuts and gorgeous embellishments, the outfit can the one of your dreams!
View this post on Instagram
Soft Pink
Another shade of pink that is our absolute favorite is soft pink. It gives the perfect dewy look that a minimal bride would wish to achieve. Not only is this the most gorgeous neutral shade but it is also the shade that will allow you to achieve the glowing look that every bride wants. This shade of pink is usually full of silver embellishments paired with silver jewelry adding a unique touch to the wedding day look. It is an absolute treat to watch brides carry this look adding another trend to the bridal trends 2022.
View this post on Instagram