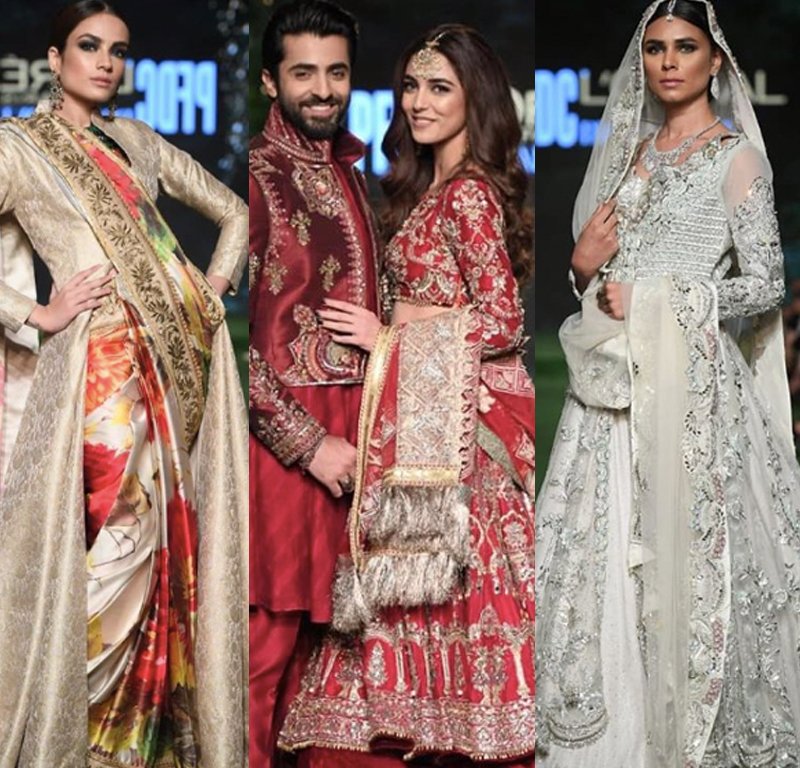 After 2 exceptional days of fashion, expectations were high for Day 3 of PLBW. Adrenaline was pumping as everyone waited with bated breath to see what the designers had in store for it's audiences, and we were not disappointed. From bhangras on the ramp to full on telenovela style dramas, fashion took a backseat as designers opted to forefront theatrics over actual clothing, but hey, we're not complaining! Here's everything that went down on day 3 of bridal week:
The Designers :
Mohsin Naveed Ranjha kicked off day 3 with his mughal inspired collection " Chahar Bagh". The collection started off neutral, with muted shades of beige,white, lilacs and pinks and slowly but surely bright colours like parrot greens and hot pinks seeped onto the runway. The designer paid just as much attention to the menswear line, if not more, as he did to the bridal wear and played into his classic Punjabi aesthetics of bright colours and over the top embellishments.  There was an impromptu mehndi going on on the ramp as the male models broke out into bhangra during their walks, which was super fun and brought a fun twist to the fashion showcase. Power couple Maya Ali and Shehryar Munawar took to the runway in his-and-her wedding looks and their chemistry was off the charts. We loved how Mohin Naveed Ranjha stuck to traditional reds for most of the bridal looks and overall the showing was full of life.
Parwana-e-Husan by FAS Studios was over run with star power, with celebrities like Ayeza Khan, Kubra Khan and Omer Shahzad taking on the runway. The collection plays it safe with mostly light coloured pieces combined with occasional pops of reds and pinks. We're surprised by how much we're into the hot pink jacket-pants combo donned by Omer Shahzad! While some of the bridal and formal designs are beautiful, we believe we could have seen more from this designer and a few tweaks on the fit of the outfits would've made a huge difference in the way they presented on the runway.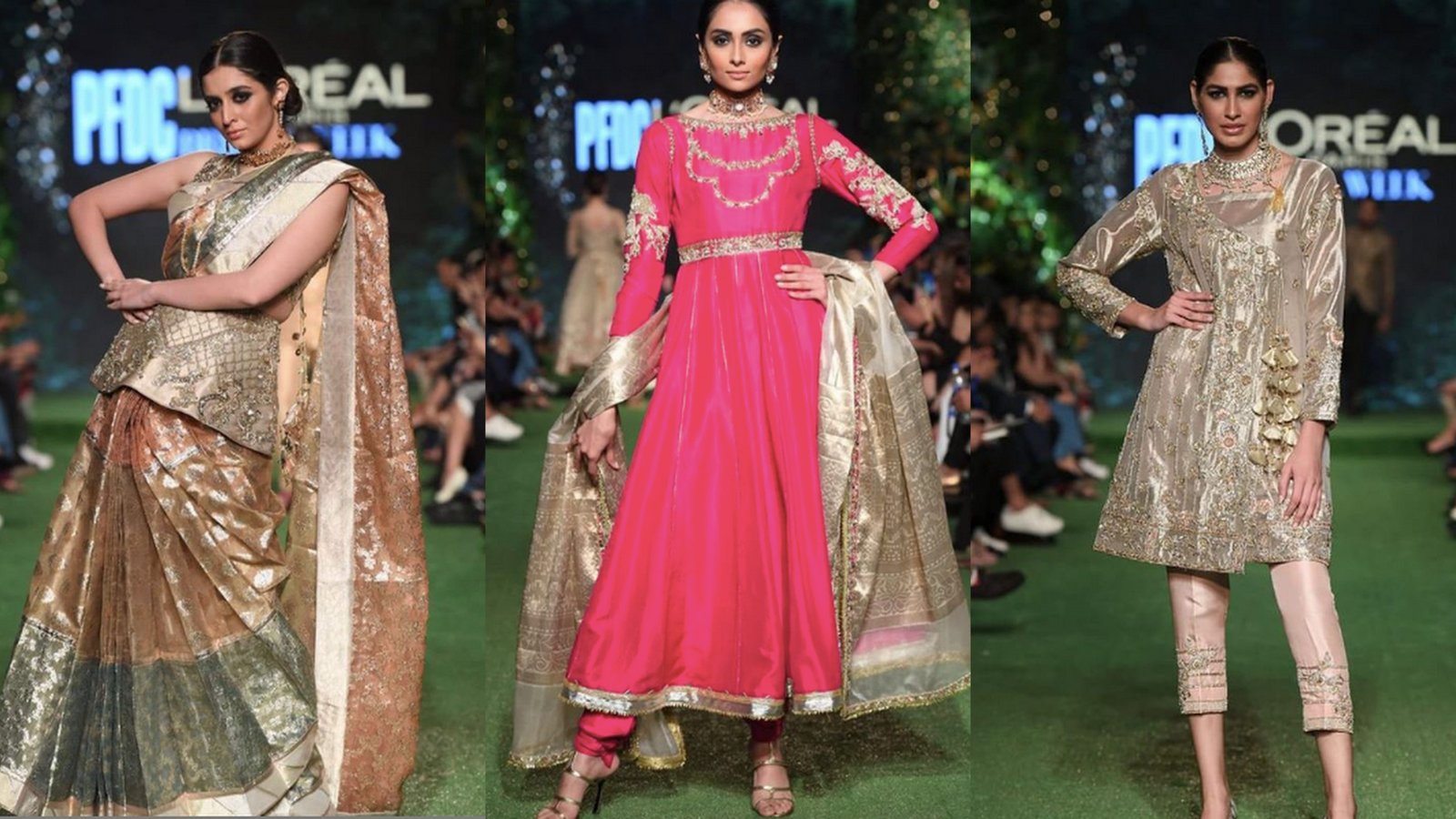 Duo Noreen Neelam and their collection Mumtaz Mahal revolved around mirror work and veered towards neutral beiges and whites. The mirrors made sure the clothes sparkled from afar and up close, the outfits were even prettier. Although their collection was slightly safe, it did a good job in interpreting old world charm, especially the singular black piece with colorful embroidery; LOVE!
Nickie Nina's Gulabkaar is a celebration of regal beauty. The silvers and the reds were lovely, but we especially loved the more colorful pieces with Nickie Ninas signature use of chunri and block print with embroidery. With Hira Mani as a showstopper in a blush pink and silver bridal, Nickie Nina's showcase packed a colourful punch.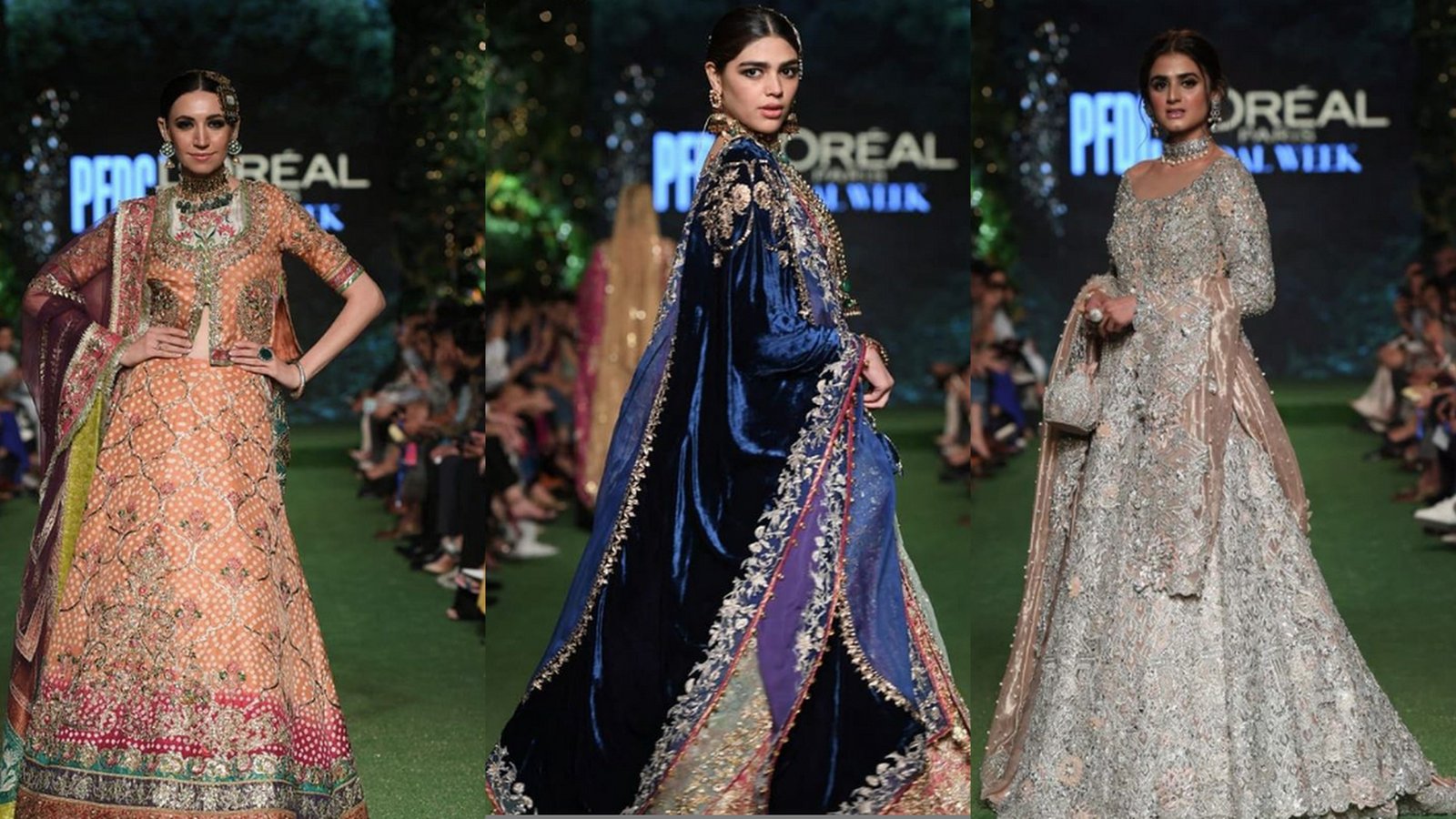 Drama, drama, drama! These 3 words suffice to describe Fahad Husayn's collection for 2019. Models everything but walked down the runway to Aima Baig's live performance and a distraught Hareem Farooq fought off two models because she didnt want to get married? Were not exactly sure but what we do know is that Fahad Husayn is an artist and this was his way of expressing his vision. It may not be for everyone but it was exactly what was needed to lift up an otherwise monotonous final day. He displayed bridals and formals as well as pieces from his Print Museum collection. We particularly have our eyes on the red front open peshwas Rubbab Ali was dressed in. WANT!
The effervescent HSY closed Day 3 with an impactful collection called "Empire." Regal is an understatement as every piece of the collection was fit for a Queen, or King. From golden whites to blush pinks, from icy blues to stark reds, the collection's colour palette lacked nothing. We saw HSY's classic motifs on new cuts and silhouettes and were here for it. Models strutted down the runway in intricately embellished garments that fit like a dream. Unsurprisingly HSY's favourite model and showstopper Mehreen Syed took the final walk and ended PLBW with a bang.