Last night was the inaugural day one of PFDC L'Oréal Paris Bridal Week 2019 and we were all about the art, creativity and overall talent display of the entire night. From hand embroidered ethnic pieces to western inspired gowns, there was a little something for everyone.
The Designers:
We kicked off the night with designer Hussain Rehar displaying his collection "Fateh Pur – The Amour Porpre of Punjab" which was a collection of impeccably crafted bridals and formal wear. While some of the embroidered motifs and colour schemes remind us of his previous collections, his modern twists to classic Punjabi cuts left us wanting more. From warm purples to pastel pinks, to shimmering gold and deep teal, no palette was untouched and we were glad to see him experiment with different palettes for each ethnic and eastern piece. With a surprise walk by besties Sophiya Salim Khan and Rehmat Ajmal, to the glamorous Iffat Omer as the showstopper, Rehar truly put on a show that set the tone for the rest of the night.
A fairly new name to the fashion week circuit, Zubia Zainab's collection "Dare to Dream", was a celebratory interpretation of the woman of today. The designer opted for soft pastels, and while the delicate embroidery on some of the pieces was to die for, we wish we had seen a couple of ensembles with a punch of colour to add more depth to an otherwise monotonous show. The most exciting part was showstopper Ushna Shah in a draped blush pink lehenga choli combo.
One to always bring their A game, duo Saira Shakira's collection, "Kali", featured pieces inspired by the flora and fauna of ancient times. It was a balance of intricate cuts and detailed embellishments; A truly dreamy collection, indeed. From soft periwinkle to deep reds and parrot greens, to sleeveless jackets, loud floral prints and ruffle sleeved tops, there was a little something for everyone. We loved their cohesive aesthetic  and while that single floral printed piece felt slightly one off and left us wanting to see more, more, more – Kali is a feminine and flirty collection that will effortlessly take you into the upcoming wedding season.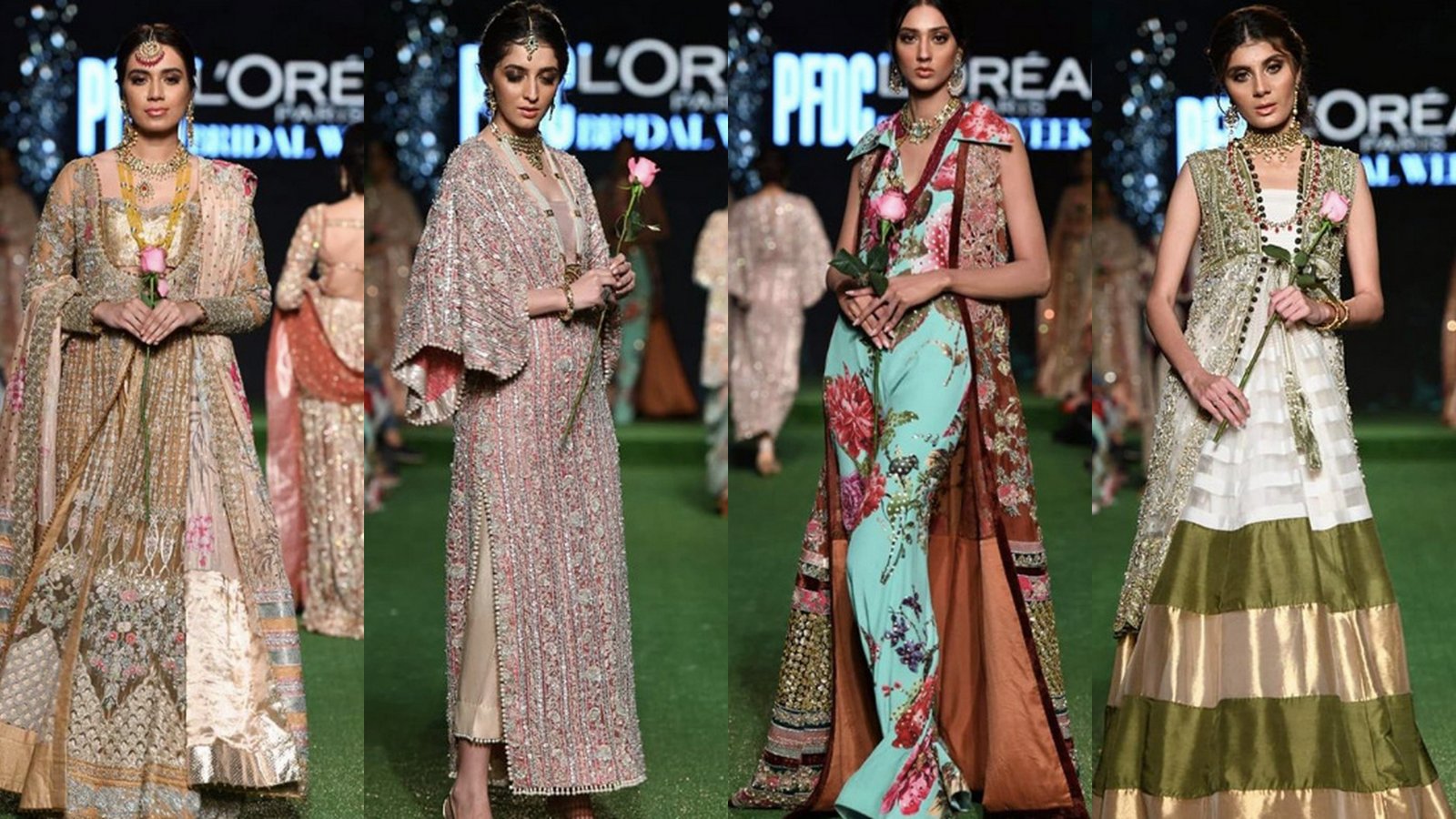 Karachi based designer Nida Azwer closed day one with her collection "Anarkali". Always one to be true to the opulence of the past, every piece of Nida's reflected a timeless element, which resulted in clothes that can be passed down to generations to come. True to her classic aesthetic, the collection comprised of embroidered velvets, draped jackets and traditional silhouettes, all weaved together in tones of broody maroon, deep sea navy, and of course, a multitude of hues in grey, white and silver. We loved the innovation and detail in each piece, with the most delicate detailing that you just have to see up close to appreciate.
New Kids on the Block :
Aquafina's Rising Talented consisted of four fresh designers – Urwah Ali, Abbas Jamil, Neha Yaqoob and Elaha Ahmed. Urwah Ali's take on masculine femininity consisted of redefining the pink tulle skirt, where as Abbas Jamil's collection was based on the Dauphine of Versailles, and consisted of structural pieces reminiscent of the victorian era